Hola que tal, espero que todos mis lectores que apoyan mis publicaciones se encuentren bien, asi como tambien le doy la bienvenida a los nuevos usuarios que leen y me brinden su apoyo, iniciamos una nueva semana de vida y de trabajo donde les deseo a todos sea de exito y prosperidad total.

El día de hoy mercado por segundo dia consecutivo y primero de la semana mercado logra un aumento correspondiente a "0.83%" obtiendo un acumulativo de 0.92% en 2 dias no ha sido mucho pero lo mas importante es que se incremente de a poco.


Graph
El gráfico del día de hoy mercado inicia el dia relativamente calmo hasta despues del mediodia donde empieza un proceso de aumento en la tarde y noche, lo que ha permitido que se cierre con un aumento decente en el mercado, recordemos que vale mas mercado aumente aunque sea poco que a que disminuya, eso ha pasado en las ultimas 48h, hasta BAKKT ha sido similar logra un poco de aumento en volumen hoy llego a 48, lo unico que nos queda esperar es que la segunda mitad de octubre sea de aumentos similares al de dia de hoy para que mercado valla mejorando, aun no hemos iniciado el ascenso pero mientras Bitcoin incremento sea mucho o poco es lo que mas importa.

Hoy es un dia positivo 👍 el top 5 logra cerrar el dia con buenos incrementos que fue donde se observa el aumento de mercado el dia de hoy.
Today is a positive day 👍 The top 5 manages to close the day with good increases that was where the market increase is observed today.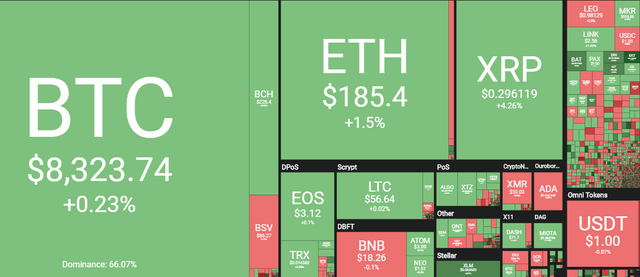 Colors of the Market

Todo el progreso se lleva a cabo fuera de la zona de confort. Michael John Bobak.


Design Made to: sevillaespino