There is a battle going on with the established monetary system and cryptocurrency. The present powers that are want to maintain a hold over what is taking place. Their fiat constructed world served them very well to the detriment of billions of people. Giving up the power is not something they are going to do easily.
However, it is a situation where they have no choice. The next wave of innovation is going to digitize a lot more of the world. This means that their control is going to erode, perhaps rapidly.
The present system took the world and broke it down into different physical regions. To oversee those regions, governments were created. The financial system has a central bank that is in control of the money (debt), which it distributed through its member banks.
Each nation-state has its own currency although there are really only a handful of major ones. At the top of the list is the US Dollar which is the reserve currency. Other ones such as the JPY, EURO, and GBP have enjoyed some prominence over the years.
What currency one uses is mostly determined by where he or she is physically located. Get a job in Tokyo and you will receive JPY. If one goes to Paris and gains employment, EUROs will show up. It is a simple system to follow.
The next generation is not going to mirror this at all. While we will still have our physical world, it will be layered. This means that the digital will expand our physical locations in ways few ever imagined. These different layers are all going to be interconnected creating a global "web" which expands the world.
Augmented Reality is going to play a large role here. We are going to see the digital layer move away from screens to devices that enables us to see "into" this world. Information will be readily available in an instant.
Magic Leap is one of the leading Augmented Reality companies. It presented the idea of the Magicverse which is a multi-layered system of a physical area. Below is an image of what their systems of systems will look like.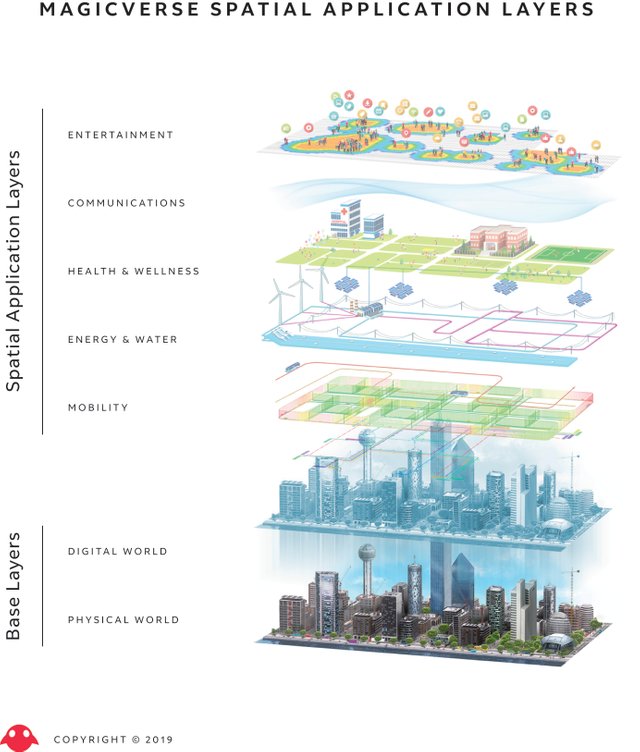 Source
As you can see, there is the physical world with a digital overlay on top of it. The digital world is then segregated into different networks, each interconnecting. Each has a different function and can be "entered" at any time. Of course, one is not going to choose most of the layers he or she utilizes. Instead, AI will handle it, providing the information that is needed from wherever it is located.
So what does all this have to do with cryptocurrency?
To start, it is an idea that is being worked on as I write these words. This is by no means the only project that is out there. Thousands of different start ups (along with some big players) are contributed ideas and research. Microsoft is busy at work with their Hololens project which offers another facet to this idea.
With this type of "reality" being created, what do you think the chances are that the present system remains in tact? Can you see this idea using fiat currency? To take it a step further, if we add spatial layers based upon different areas of interest, will the present system work around that?
The answer is no.
To operate in a world with such advanced technology requires more technology to support it. When it comes to the monetary system, 2D money is not going to cut it. In fact, a replacement for fiat with a digital form is still not going to be sufficient.
In the world that is being worked on, "smart" money is necessary. This means that it has the ability to be programmed and do a lot more than just be used for transactions. Fiat and its digital counterpart is simply too limited.
Our world is limited to one moment: the present. This is going to change also. In the digital world, time is warped. Thus, if we want to go back in time, let's say 3 days, we simply back up like we do with a video. By the same token, we can leap forward in time if we desire.
How will money account for this? I certainly can't say for sure but there has to be a premium/discount depending upon the time one is going. Perhaps money adapts based upon the time frame one is operating in.
My point is there are a host of possibilities that are not even being tapped into presently. As our world becomes more digitized over the next decade, the way we operate is going to completely change. Money is also going to have to adapt in ways we never thought possible. Cryptocurrency offers this solution.
Of course, the underneath layer is vital.
With such a world as I am describing here, the last thing we want is the likes of Google, Facebook, or Amazon to control it. We see what a mess they made of the present Internet, taking control of our world for their own ends. Imagine for a moment, the next few generations of advancement and that being in the hands of a few companies or governments.
Not a prospect that I want to encounter.
While the masses might not care about decentralization, fortunately there are enough developers who do. By building their projects on decentralized platforms, often open sourced, they are ensuring that the global community is able to bring a digital future about in a safe way.
Web 2.0 ended up being all about control and erecting "walls" to keep people in. Effectively, these mega-tech companies mirrored the government system but in the digital realm.
The next iteration of the Internet needs to be about innovation. Without the control, people are free to develop and create what they desire. This is what humanity requires.
Having a monetary system that supports this is part of the foundation upon which it is built. Our present system of fiat and central banks plays into control. Cryptocurrency is the exact opposite.
Fortunately, technology cannot be stopped. While barriers can often be put in place to hinder it, the digital realm tends to find a way to open things up. Today, with so many people adept at programming around the world, it is an impossible situation to stop.
This is where the powers that are find themselves backed into a corner. They look at the world at the same level they always did not realizing there are layers that are about to be dropped right on top of it.
Much of this will emerge over the next decade. That will be the start of it. After that, it will take another couple decades to full develop. While that sounds like a long time, it really is not. Those who are unprepared will find their businesses completely obliterated in short periods of time.
Resistance is futile.
At the moment, I see cryptocurrency as a foundation for what is being created. For this reason, it will not be stopped regardless of what governments and the banking industry try to do.
Quite simply, the world is not going to head backwards.
---
If you found this article informative, please give an upvote and resteem.