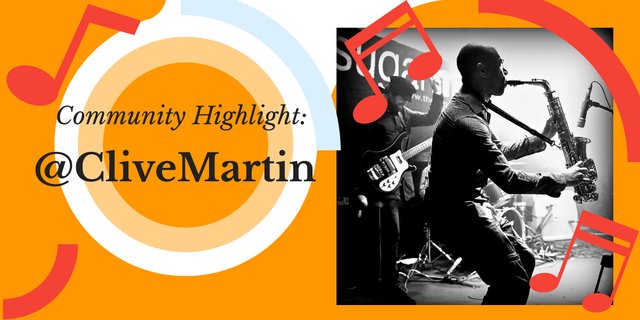 D.Buzz is more than just a Dapp; it's a community. It is a community of people with a passion for Crypto, a passion for censorship-resistant content, and a passion for spreading their message.
We see you, and we love you all.
As a way to give back and express our thanks, we will highlight someone from our community in a post across social media each week. They will be listed as a 50% beneficiary in this post as a way to say thanks!
---
Today, We would like to highlight @CliveMartin !
---
This saxophone playing, artist, multi-talented and faceted individual has been rocking the block since Dec 31, 2017!
It took a while to scroll back to check out his introduction post ( here: https://peakd.com/introduction/@clivemartin/the-only-thing-that-is-stopping-yourself-from-living-your-dreams-is-you-my-steemit-music-introduction ) As it was in 2017, it is genuine today, the only thing that stops you from living your dreams is yourself.
Our man @CliveMartin has a good posting schedule, and he also does a solid job at re-blogging a lot of worthy content. Some of his re-posts are that of newbies to the blockchain and their introduction posts.
He has a history of creative posts, music, sharing, helping, and more. These actions and his dedication to helping his fellow blockchain mates, we felt its time to send a cheer over towards @CliveMartin.
@CliveMartin Thank you for being you! Keep on keeping on and live the dream.
If you don't know @CliveMartin, stop by and say hi to him, follow his posts, and share it.
Much love,
Your Friends over at D.BUZZ
---
Do you have someone you feel we should highlight?
Post their name below and the reason why, and we may just highlight them. :D
Previous Community Highlights :
https://peakd.com/hiveisalive/@dbuzz/community-highlight-iamraincrystal
D.Buzz over and out.