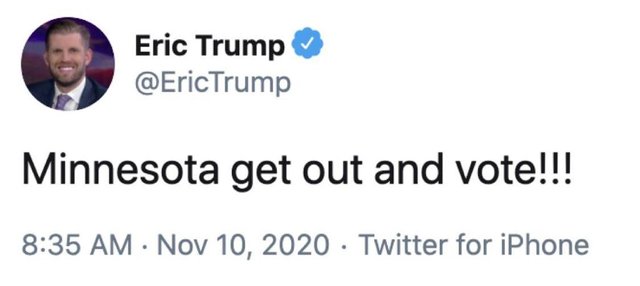 Um, the typical scam is to try to get folks to vote the day after Election Day. But a week after?
Coronavirus News, Analysis, and Opinion:
The U.S. has absolutely no control over the coronavirus. China is on top of the tiniest risks.
Covid Superspreader Risk Is Linked to Restaurants, Gyms, Hotels
Pfizer's Covid-19 vaccine promising, but many questions remain: Pfizer's vaccine is a new type of technology that's never been used in mass human vaccination.
Cryptocurrency, Investing, Money, and Debt:
Coronavirus vaccine hope dampens prospects for corporate stay-at-home darlings
MicroStrategy CEO Explains Why Bitcoin Is 'a Million Times Better' Than 'Antiquated' Gold
Bayern Munich joins the blockchain-based fantasy soccer trend
Donations to Trump's Baseless Election Challenge Also Go Toward Paying Off His Campaign Debt: "60% to DJTP for deposit in DJTP's 2020 General Election Account for the retirement of general election debt," the fine print in one case reads.
Politics and Other Stuff:
Election Officials Nationwide Find No Evidence of Fraud
Election officials in dozens of states representing both political parties said that there was no evidence that fraud or other irregularities played a role in the outcome of the presidential race, amounting to a forceful rebuke of President Trump's portrait of a fraudulent election.
Postal worker recanted allegations of ballot tampering.
A Pennsylvania postal worker whose claims have been cited by top Republicans as potential evidence of widespread voting irregularities admitted to U.S. Postal Service investigators that he fabricated the allegations, according to three officials briefed on the investigation and a statement from a House congressional committee.
Pennsylvania Republicans plan 'extraordinary measures' to delay election results
But Keefer admitted that she and the Pennsylvania GOP do not have anything more than questions. There is no evidence of anything resembling coordinated cheating in the election.
Of course, the only circumstances that would lead any voter to believe there might have been cheating has been the evidence-free complaints from President Trump that such cheating did occur…
Nearly 80% of Americans say Biden won White House, ignoring Trump's refusal to concede. In related news, a bit more than 20% of Americans are delusional.
I know it's a crazy idea but maybe, just maybe, it doesn't make a strong case for "widespread fraud" if you're reduced to offering a $1 million reward for evidence of such fraud.
Trump Burrows Loyalists Inside Government
Sacha Baron Cohen targets Mark Zuckerberg after Trump defeat: "One down, one to go"
Charles Darwin's hunch about early life was probably right
Charles Darwin had some rather good ideas. His most famous is the theory of evolution by natural selection, which explains much of what we know about life on Earth. But he also pondered many other questions. In a hasty letter to a friend, he put forward an idea about how the first life might have formed. Some 150 years later, that letter looks remarkably prescient – maybe even prophetic.


Badge thanks to @arcange