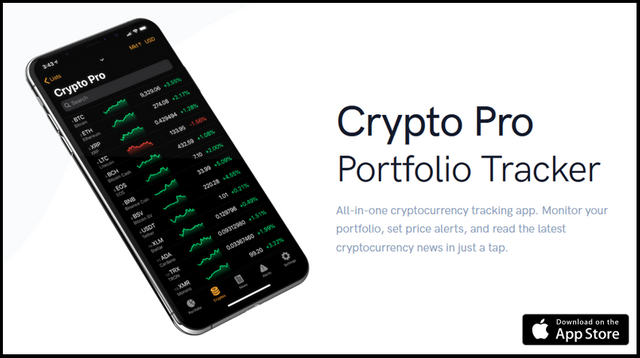 ---
If you're passionate about investing in cryptocurrency, it's incredibly important to have the right tools by your side. A decent crypto portfolio tracker is absolutely necessary to stay on top of your investments in the cryptocurrency space. Ideally you'd look for an app that combines a number of different features, just so you do not need to switch from one tool to another.
I've reviewed a fair number of cryptocurrency portfolio trackers on this blog, but this one is something special. Crypto Pro is a feature-rich cryptocurrency tracking tool for IOS and Apple Watch devices. It distinguishes itself by being focused on privacy, meaning that all your personal data is stored on your device, without sending anything back to the app developers or any third-party. With this all-in-one portfolio tracker, you can automatically keep your eye on your crypto investments and act immediately after reviewing the built-in news feed.
---
Crypto Pro's Main Features
One of the features that immediately caught my eye, was the fact that Crypto Pro not only supports cryptocurrency, but also commodities such as gold, silver, platinum & palladium. Besides that, you can also track your investments in fiat currencies.
I've personally never seen any other app combine these features, which is a shame since many crypto investors do not invest in cryptocurrencies exclusively.
There's support to connect with over 60 different cryptocurrency exchanges, which allows you to automatically track your investments via the exchange's API. You can also set custom price alerts to trigger at price movements on individual exchanges, meaning that it's possible to set a price alert for the BTC price on Coinbase for example.
Crypto Pro supports candlestick charts with indicators, as well as more basic sparklines. There's also a crypto news feature embedded in the app, to allow for rapid portfolio adjustments after major events in the crypto-space.
Being an IOS app, you have access to these very neat features:
Lock Crypto Pro with FaceID, TouchID or a passcode
Create customizable widgets
Set up Siri shortcuts
Customize the app icon (choose between 50 unique icons)
It's easy to back your portfolio data up in the cloud, using your iCloud or Dropbox account. As mentioned before, all your information is stored locally on your device, so it's up to you whether you want to make use of 3rd-part backup services.
Over 5,500 coins are supported on Crypto Pro, as well as more than 100 exchanges. It should be noted that Crypto Pro is one of the most highly rated crypto portfolio trackers on the App Store, with an average rating of 4.7 with more than 25K reviews!
---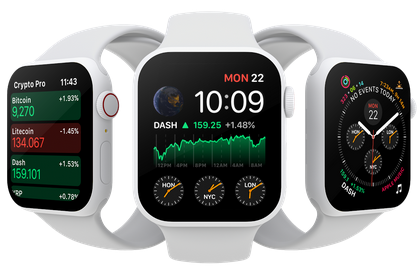 ---
Apple Watch Features
You can use the Crypto Pro app on your Apple Watch to check out prices and charts or add these as a complication which is available on all Watch Faces. Alerts and notifications you've set on your iPhone or iPad will also appear on your Apple Watch. Some Watch Faces offer more customization options than others, so be sure to choose a Watch Face that suits your own needs!
Each Watch Face has customizable complications, allowing you to get access to the information which is most important to you. These complications will update automatically every 15 minutes and you can choose to display 4 to 20 of your favorite cryptocurrencies.
Keep in mind that you can add any cryptocurrency that's supported on Crypto Pro (over 5,500 in total!). Tapping on any coin displayed on your Apple Watch will display a 24-hour chart and some additional information about the coin.
An additional handy feature is the built-in currency converter calculator, which gives you easy access to fiat values of whichever cryptocurrency you're holding.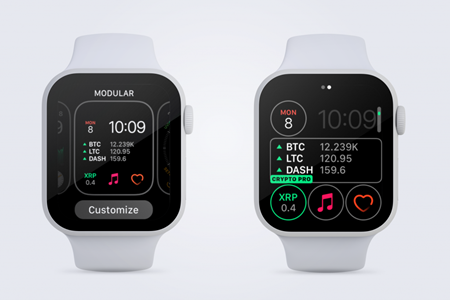 ---
Roadmap & Conclusion
Currently, Crypto Pro is only available for iPhone, iPad and Apple Watch, but there are also Android and MacOS apps in the making. The MacOS version should be released this fall.
Comparing Crypto Pro to other similar applications, you clearly notice that they've put a lot of effort into polishing their app. While their scope may be slightly less grand than other portfolio trackers, the end-product definitely has a much more stable feel to it.
In the end, they're offering you exactly the features you'd need from a portfolio tracker, without taking any shortcuts on design or app stability. Definitely give this app a try if you're an IOS or Apple Watch user, you will not regret it!