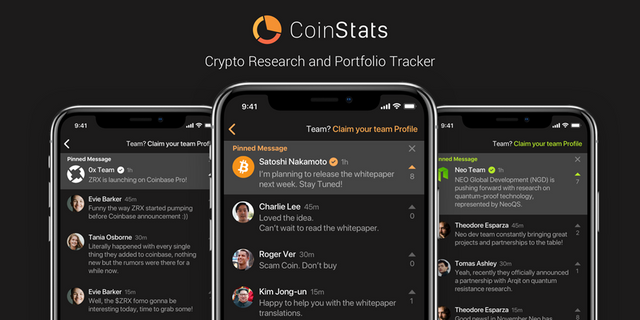 ---
About three months ago, I published an article about CoinStats, a cryptocurrency portfolio tracker. Since publishing that article, development on CoinStats has been moving forward quite a bit. There were a couple of nifty new features added and CoinStats also came out with a new Chrome extension.
I will be taking a closer look at those new features, as well as going over some of the cool features I didn't cover in my previous article.
---
New Profit/Loss Filters
This is a relatively small feature they've added, but an important one nonetheless. It is now possible to see how much profit or losses you've made on your crypto portfolio, by different time-frames or certain actions you have taken (last trades).
You can now see your profit/loss with the following metrics:
All Time
24 Hours
Since Last Trade
Only Current Holdings


Screenshots from the Coinstats website.
This feature is extremely handy if your CoinStats portfolio is logging all your cryptocurrency trades. You can easily see the profit/loss on your current holdings, instead of your all-time profit with previous trades included. On top of that, having the option to watch your daily profit/loss percentages is something that's very useful when you want to keep a close eye on your investment.
---
Quick Trade (Pro Feature)
In order to make use of the Quick Trade feature, you need to have at least one exchange added to your CoinStats account & you also need a CoinStats Pro Account (free trial available!). With Quick Trade, you can quickly create BUY and SELL orders from within the CoinStats app or web interface.
Keep in mind that you will only see the Quick Trade feature on CoinStats's website, once you've added at least one exchange to your account. On the CoinStats mobile apps (IOS & Android), this feature is always displayed, but can only be used if you've added a supported cryptocurrency exchange to your CoinStats account.
In the example below, I've launched the Quick Trade feature, after having added Bittrex to my CoinStats account. You can see that I can now trade whichever coin is present on my Bittrex account. Here, I'm just about to execute a trade, where I sell my Reddcoin in exchange for Bitcoin.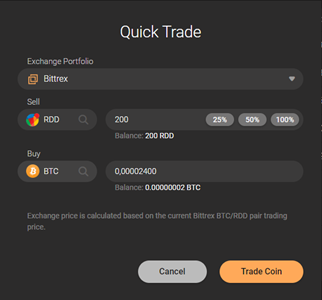 Screenshot from the Coinstats website.
Keep in mind that all trades are subject to the individual exchange's requirements.
It should be noted that everything feels very snappy & orders are executed near instantaneous. CoinStats partnered up with Shrimpy in order to bring trading functionality into their portfolio app.
---
New CoinStats Chrome Extension!
Now there's also a free lightweight Chrome extension for CoinStats, which offers you basic info about crypto prices, as well as the status of your own cryptocurrency portfolio and favourite coins.
The CoinStats Chrome extension doesn't take up too many resources and provides you with a quick and easy way to check your CoinStats portfolio. I've found that it displays most of the info that I most regularly need.
---
---
CoinStats Insights
One of the most unique and exciting new features of CoinStats is the inclusion of CoinStats Insights to coins listed on the live price feed. When you select an individual coin, you will see an "Insights" section, right under the price graph.
These insights provide you valuable information about other CoinStats users portfolio statistics, which are related to the coin you've selected.
There are currently 4 types of Insight metrics included:
How many CoinStats users hold the selected coin.
Where CoinStats users hold their coins, on wallets or exchanges.
Dominance of the specific coin among all CoinStats portfolios. (Pro feature)
Daily trade statistics. (Pro feature)

Screenshot from the Coinstats website.
In order to maintain the large sample-size of the Insights feature, CoinStats uses aggregated data from all CoinStats portfolios. Keep in mind that all data is striped of personal information before it is aggregated. There are currently over 500.000 CoinStats portfolios included in this data-set!
---
Handpicked News, Bullish/Bearish Signals & Poll of the Day
These are some of the features I didn't include in my previous article, but are actually too neat not to mention. I noticed that there was a curated news section on CoinStats, which I found really interesting.
CoinStats offers you a completely custom crypto news experience, which also includes bullish/bearish signals on each article. Quite a few people are using this feature, since you tend to see these signals being added on the most recent articles, as well as the older ones.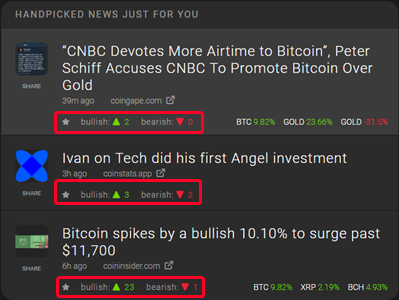 Screenshot from the Coinstats website.
Another nice little feature is the inclusion of a small poll on some of the individual cryptocurrency listings. This poll can be found next to the price graphs when you select a coin from the live price feed. Once you've completed the poll, you'll see how popular your decision is.

Screenshot from the Coinstats website.
---
Concluding Statement
In order to fully try out all of CoinStats's features, I've opted to sign up for a free trial of their pro version. I must say that I was pleasantly surprised by all the additional features included in this pro version. I can highly recommend at least trying out the pro version, especially if you hold a cryptocurrency portfolio of significant value.
It's always great to see new features being added to a portfolio app like this one. I can't remember how many times I've installed a portfolio app, which didn't receive any more updates for months after having installed it. By purchasing the pro version, you actively support development and get many incredible features in return!
---
---