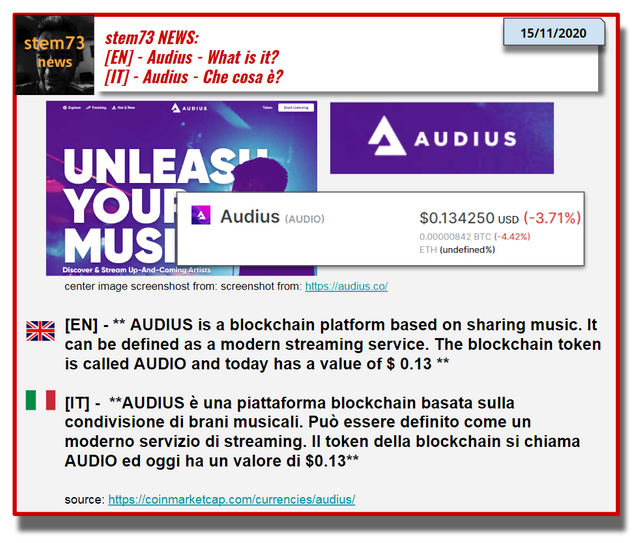 center image screenshost from: screenshot from: https://audius.co/
[EN] - ** AUDIUS is a blockchain platform based on sharing music. It can be defined as a modern streaming service. The blockchain token is called AUDIO and today has a value of $ 0.13 **
[IT] - AUDIUS è una piattaforma blockchain basata sulla condivisione di brani musicali. Può essere definito come un moderno servizio di streaming. Il token della blockchain si chiama AUDIO ed oggi ha un valore di $0.13
source: https://coinmarketcap.com/currencies/audius/
[EN] - My opinion
I believe that the blockchain is very useful for supporting the whole apparatus of emerging music and little-known artists. I will certainly experience this area of application.
[IT] - Considerazioni personali
Credo che la blockchain sia molto utile per sostenere tutto l'apparato della musica emergente e degli artisti poco conosciuti. Io sperimenterò sicuramente questo ambito di applicazione.