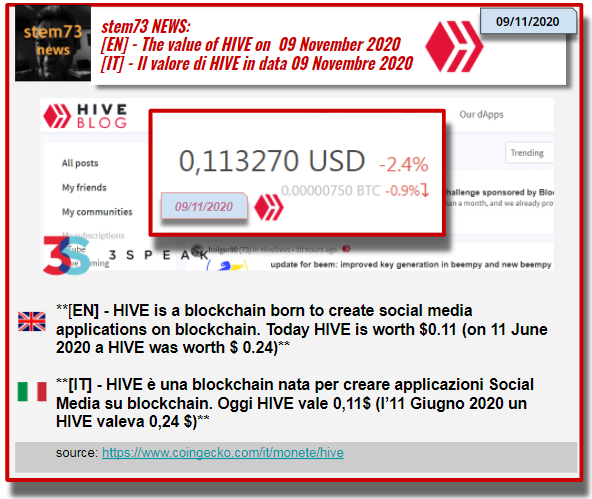 [EN] - HIVE is a blockchain born to create social media applications on blockchain. Today HIVE is worth $0.11 (on 11 June 2020 a HIVE was worth $ 0.24)
[IT] - HIVE è una blockchain nata per creare applicazioni Social Media su blockchain. Oggi HIVE vale 0,11$ (l'11 Giugno 2020 un HIVE valeva 0,24 $)
source: https://www.coingecko.com/it/monete/hive
[EN] - My opinion
HIVE is still down from the end of October at $ 0.13. HIVE's capitalization value today is $ 42 million. The capitalization of its direct competitor STEEM is $ 52 million, practically 25% more. The two capitalizations were similar towards the end of October, now things have changed in favor of STEEM. The price of HIVE has dropped since April 2020. Is this the bottom? It seems to me that this is the bottom line and I hope I'm not wrong.
[IT] - Considerazioni personali
HIVE scende ancora rispetto a fine Ottobre che era a 0,13 $. Il valore della capitalizzazione di HIVE oggi è di 42 milioni di $. La capitalizzazione del suo diretto concorrente STEEM è di 52 milioni di $, praticamente il 25% in più. Le due capitalizzazioni erano simili verso fine Ottobre, ora le cose sono cambiate in favore di STEEM.Il prezzo di HIVE scende da Aprile 2020. E' questo il fondo? A me sembra che sia questo il fondo e spero di non sbagliarmi.