Hi everyone. I'm starting off the week with a project I've been working on seems like forever. I finally finished the design for my Lead Capture Page. It's taken me a while because I have a busy offline schedule this time of the year, and I'm slow at delving into any type of programming / coding projects. But I stuck with it a little bit each day. It took me reviewing the training lessons more than once.
In creating my LCP, I wanted to make sure that my page followed the A.C.A. format taught us by @jongolson: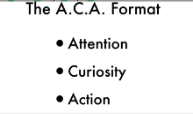 Attention - I feel that my headline would make you want to stop and read further;
Curiosity - I inserted bullet points to make the reader want to read what's different this time;
Action - I inserted my recommendation and invitation to take action.
I hope I accomplished what I set out to achieve. If it weren't for the CTP team providing the lessons below, I wouldn't have been able to do it. If I can do it, anybody can! Let me know what you think. Thanks.
My Lead Capture Page
CTP Lesson: Lead Capture Page-Module #1; (A.C.A.) So You Wanna Make A Lead Capture Page Huh? @jongolson
CTP Lessons: Lead Capture Pages - Module #2 - #5; HTML - Entire Module; Traffic Wave - Modules #3 - #5.
Thanks Blain, and for directing us to these resources: W3Schools & Notepad C++ (although Notepad didn't work for me in Chrome).
You too can learn how to create lead capture pages using the tutorials at Click Track Profit.