Hey JessEconimsits
Trying to manage a world of 8 billion + people is an impossible task, we can see this, trying to plan and control what people do centrally is always going to end up being a failed exercise. Each year more people feel like they are getting left behind and slipping into hardship and poverty.
Millennials like myself might be prissy little princesses that think we're special, we are also seen as softer because we had no "Great War" or "Great Depression" or some civil rights movement like previous generations, but why should that define a generation. The fact that previous generations had to go through that shows how stupid your generation was that you wasted so much time and energy fighting wars or driving segregation.
While we still deal with the after-effects of it, as we're raised and influenced by those previous generations, and they still hold power, we see the previous system come apart at the seams. The fact is boomers don't have the answer and generation X are ageing too and don't have the will power to make a change.
Millenials need to come of age
It's up to the lazy millennial generation and generation Z who are still figuring out TikTok actually to change things. This sounds like a scary idea for the older crowd, but I am sure the GI generation thought boomers were complete cry babies and retards too.
This is the first year that the millennial generation is now bigger than the boomer generation, and while we might not have the same share of the wealth what we do have is time. Time is on our side; we have the next 30 - 40 years to change the way we do things.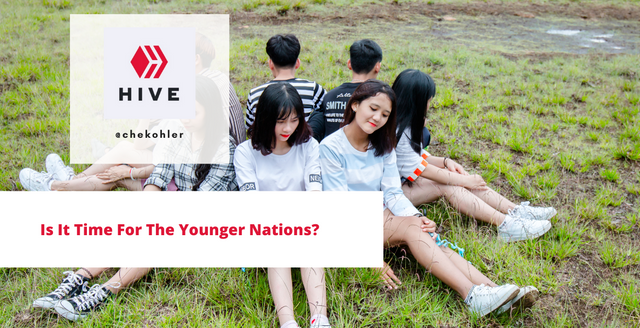 The fact is Europe, China and even the US and Canada are ageing populations, yes there are millennials in every country. Still, the vast majority are coming from the South East Asia, Africa, Latin America. This is the new labour force, will they remain in their countries or move to take up the jobs needed in the developed world remains to be seen, but the fact is that's where labour resources are found.
Countries like Japan, which live relatively long lives have moved towards automation, and while this will help it won't solve all problems and affordable labour is still going to be needed.
I think that with the growing access and speed of the internet, the ability to instantly transfer money online with any device and the growing need to find the cheapest deals to make your money go further is a trend that benefits younger nations.
Young people are agile; they are willing to change jobs, work for less money, they are willing to learn, and these are all traits the world needs right now.
The nation of the internet
Countries are going to treat into their shells and try to protect their own, but not at the cost of too much productively, so they need to strike a balance. What I think has to happen is special programs in ageing countries need to ramp up, bring in younger people, train them up, tap into their potential productivity.
I think younger nations would have to accept they need to export their talent as well as focus on training certain skill sets to make their talent more marketable.
The world is in desperate need of fresh ideas and new vigour, and we're not going to get it from people like Joe Biden.
I think with more of us turning to the internet for work and socialising it also creates a new country; we have our own currency our own language and our own set of rules.
Perhaps even moving away from the nation-state in future and moving towards turning these online communities into real communities and bridging the gap.
Who knows? Millennials and Gen Z's think; differently, the path has not been defined, so I say question everything. If it doesn't work for us, get rid of it, perhaps this all happened in 2020 to give us a fresh start.
Have your say
What do you good people of HIVE think?
So have at it my Jessies! If you don't have something to comment, comment "I am a Jessie."
Let's connect
If you liked this post, sprinkle it with an upvote or esteem and if you don't already, consider following me @chekohler and subscribe to my fanbase
| Browse & Earn Crypto | Stack Sats For Free | Earn Interest On Crypto |
| --- | --- | --- |
| | | |
---