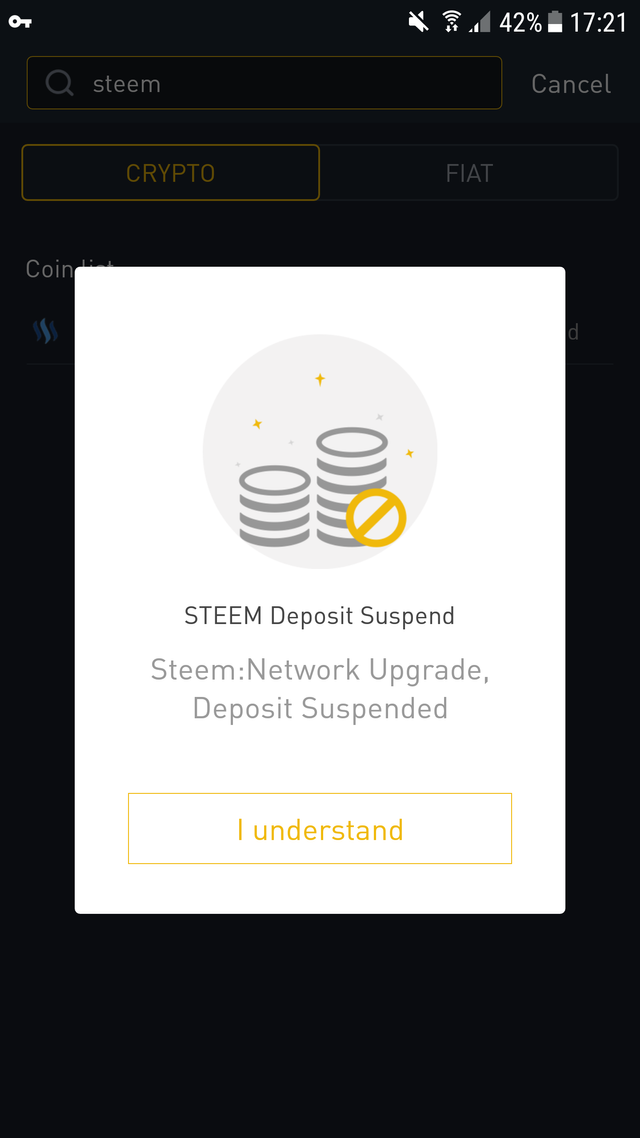 EN] We are all talking about decentralization, crypto and blockchain and how secure and trustworthy the new system is. How do we want to explain to newbies that your capital is not even as secure as we all think. Have we all recently seen with Steem how it is with cryptos and such. Now I want to leave Steem by selling all Steem, but not even that is possible without problems. How so?
Binance does not currently allow Steem to be deposited. WTF ???
These cryptos annoy me slowly, because you are dependent on 10 other places. Even during the HF23 it was possible to deposit Steem on Binance, but as soon as the Steem price is high again, a deposit is no longer possible. You are also not informed when a deposit is possible again. We shouldn't trust the banks, but I've never seen anything like that at a bank.
That pisses me off.
[DE] Wir reden alle von Dezentralität, Krypto und Blockchain und wie sicher und Vertraunswürdig das neue System ist. Wie wollen wir dann Neulingen erklären, dass Ihr Kapital nicht mal da so sicher ist, wie wir alle glauben. Haben wir ja alle vor kurzem mit Steem erlebt wie das so ist mit Kryptos und so. Nun will ich Steem verlassen indem ich alle Steem verkaufe, aber nicht mal das ist ohne Probleme möglich. Wieso?
Binance erlaubt momentan keine Einzahlung von Steem. WTF???
Diese Kryptos nerven mich schön langsam, da man von 10 anderen Stellen abhängig ist. Sogar während des HF23 war es möglich Steem auf Binance einzuzahlen, aber kaum ist der Steempreis wieder mal hoch, ist eine Einzahlung nicht mehr möglich. Man wird auch nicht darüber informiert, wann eine Einzahlung wieder möglich ist. Den Banken sollen wir nicht vertrauen, aber bei einer Bank habe ich sowas auch noch nicht erlebt.
Kryptomichamarsch oida, denn das geht mir auf den Sack.