Hey Jessresearchers
When I first got into crypto with BTC and later ETH I made money, and I was hooked. The altcoin burst came in 2016/17, and I went deep, I researched every project I could find, reading white papers, talking to people on telegram, discord and Reddit, reading medium articles and other independent blogs and trying to find as much information as I can on a project before investing in it.
Crypto gave me the tools to learn how to spot bullshit and how to pick out projects worth spending my time, money and energy in. It's a culture we all push on one another, BTC brings with it critical thinking; I've met tons of people in the crypto space, some smart but all very critical over what they are told and why they should believe something.
I think that culture is something we need to bring to the world at large, be sceptical and be willing to learn. I think it's lost on most people using web 2.0.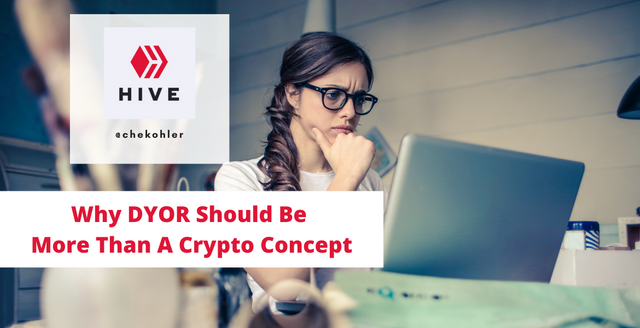 Accepting the messaging
As a marketer, I look at online data all the time, review patterns and trends and try to find ways to funnel users into places my clients require them to be and I know how easily people are manipulated online.
They do not question the messaging, as long as its personalised enough and tailored to their biases, they'll jump on it without a second thought. Its a principle social media sites have used to build their empires.
Learn to learn
Doing your own research, sharing your ideas, coming up with alternative approaches, debating with others is how we avoid pitfalls like scams and Ponzi, it brings with it critical thinking that I think not many are using today.
It's not a skill they teach us at school, school we taught to read everything and accept it verbatim, that idea is crystalised in our minds and taken with us through life, and the internet can exploit it for profit.
I would go as far as to say my crypto education over the past four years has given me more insight and taught me more than my degree or years of schooling!
Start DYOR!
Have your say
What do you good people of HIVE think? Do you do research or do you just take peoples word for it?
So have at it my Jessies! If you don't have something to comment, comment "I am a Jessie."
Let's connect
If you liked this post, sprinkle it with an upvote or esteem and if you don't already, consider following me @chekohler and subscribe to my fanbase
| Browse & Earn Crypto | Stack Sats For Free | Earn Interest On Crypto |
| --- | --- | --- |
| | | |
---