Hey Jessotoshis
Last week I spoke about the race to 1 Satoshi and I see recent news broke that 1 cent in Argentinian Pesos has hit 1 Satoshi Parity, what this effectively means is that 1 Peso should roughly get you 100 Sats, this is not the case all the time as currencies fluctuate but Bitcoins smallest value reaching the individual's national currencies smallest value is a bigger deal than you might think.
It's a great way to show the practical value of a Satoshi as it equals 1 cent in your country and makes it easier to understand, price goods and services and buy and sell goods using Bitcoin.
Granted buying and selling goods in BTC can be quite expensive but with the help of the lightning network it can make it easier for people to use and super cheap too, even cheaper than the bank transfers and is great for unbanked individuals.
If BTC was the way you transfer things on a daily basis a lightning wallet is a great way to store currency you want to use every day unlike us HODLR's who want to store as a long term savings mechanism using things like Ledger wallets or Paper wallets.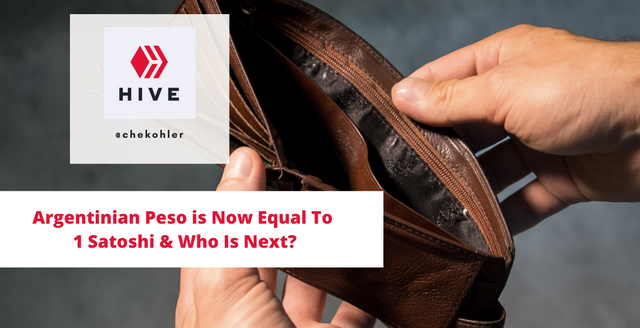 The move to a million
There are now around 43 countries whose national currency is either equal to or less than 100 Satoshis, making 1 Satoshi a practical method of exchange when compared to their local currency.
To take it even further it means these 43 countries could effectively switch to using BTC today and have no problem trading at its current volitlity and some even have room for it to drop and it would still be worth using.
An easy to measure if BTC is practical in your country is if it takes 1 million of your national currency to buy 1 BTC. In South Africa where I am, we're still far off but I have seen prices of R280 000 per BTC during the bull run and I have no doubt BTC will be worth R1 000 000 in the very near future and South Africa will have cent parity with the Satoshi.
For more info, I suggest checking out fiatmarketcap
The move to Bitcoin
As you can tell BTC shows no signs of slowing down as it finds parity with new currencies each year which is why for those of us at the bottom of the fiat pile it means getting in earlier than those in developed nations.
If we are to ride the wave of currency collapse coming soon to a nation near you, I would say put aside a % in BTC. It could be $1 it could be $5 or $10, whatever you feel like you're willing to risk and not feel bad about it.
Alternatively, you can also look at ways of earning some and store that as a way to protect your sweat equity in something other than your national currency.
Have your say
What do you good people of HIVE think? Is Bitcoin close to a Million in your local currency? How far off is it?
So have at it my Jessies! If you don't have something to comment, comment "I am a Jessie."
Let's connect
If you liked this post, sprinkle it with an upvote or esteem and if you don't already, consider following me @chekohler and subscribe to my fanbase
| Browse & Earn Crypto | Stack Sats For Free | Earn Interest On Crypto |
| --- | --- | --- |
| | | |
---