Hey JessChange Activiest
For years we've been screaming for change, we need change, we want change, we should change, and the only change we got was the spare change called our salaries as it inflates away into nothing. If you checked out my post yesterday, you'd see I spoke about how countries are going to change their relationships with one another.
Each countries motivations will be different, and we're going to look into the way the world is going to change over the next decade.
The Era of more is no more
Since the discovery of new continents and the invention of agriculture we've been on a trajectory of more, we could always produce more products and services and more people, it was just growth, growth, growth.
It's been so long that we feel this is the norm but eventually what goes up, must come down and as we peak out in population dynamics, the rest has to follow.
Eight billion people is a lot of mouths to feed, they all have hopes dreams and aspirations, but the planet itself only has so much to give,. When you factor in a system where a few hoard the majority of the wealth, you're going to get scarcity that forces people into certain situations.
Unfortunately, the era of more is at an end; we're going to have to all learn to get by on less as we move into a global depression. It's going to last a long time, who knows when we'll get out of it but it's not the only change we will have to deal with in the era of less.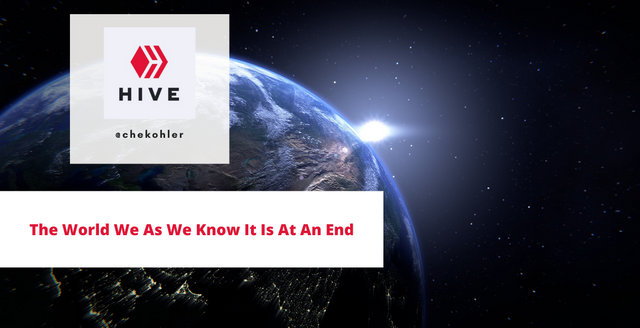 Climate change
We can debate the human influence on climate change, but that to me is irrelevant, the weather is always going to change, its been doing so for the last million years and it's not going to stop for us. The previous humans knew that you had to be nomadic and move as conditions change, but for the modern human we set up roots somewhere, created cities and invested in ways to harness conditions to grow food and sustain these cities.
Like it or not, certain cities are in the shit, their climates are going to change making it less favourable for food production, they will either need to import more which means they need to produce more other stuff to trade to make up the deficient or people need to move on to other parts of the world.
Likewise, other parts of the world will become more favourable for agriculture; they will grow more or even grow a wider range or even grow for longer periods of the year, bringing them more income and with that a wealthy transfer that brings with it, more people.
Climate change can and will drive a global great trek for food.
Deglobalisation & Geopolitics
As I touched on in my previous post, each country is going to look inward and to themselves to see if they can become independent in as many sectors as possible. The industry that they can't they'll now have to pick strategic partners as various relationships mean you will have to choose sides.
This isn't going to be a coming together kumbaya moment; you're going to have to pick the best cards in your hand and play them.
Demographic collapse
Large parts of the developed world were built on the backs of boomers, Europe, North America, Australia and China who are all global powerhouses. Unfortunately, the boomers are getting older and less productive, they had fewer kids and in some cases, the one-child policy.
This means they are going to have a smaller workforce going forward to support the rest of the economy and retired or non-working population.
This will also see mass immigration into these countries to try and supplement growth and see various cultural changes around the world like we see in Europe with the vast middle east population moving in to improve demographics.
Economic collapse
I think its safe to say we're going into an economic collapse and this will change for everyone. Some countries may opt to go bust; others will let their banks go bust as they switch to a non-debt based CBDC, some countries will particularly back their currency to gold, others may do it with BTC, some may launch their crypto.
Each option comes with its pros and cons, and citizens will make decisions to stay or go based on the monetary policy they like best.
Boomer retirement
As I mentioned earlier boomers would be retiring and unfortunately dying, in the process, there will be a massive transfer of wealth as homes get sold, pensions get liquidated, and inheritance moves down generations.
This is going to see wealth move to millennials and gen Z in larger economies, and their buying behaviour will shape a lot of how future investment and purchases are made and where the world moves economically.
Possible wars
As the Americans think more at home, as civil unrest escalates around the world and as I know humans, we're going to pick a fight or two. No one is going to accept living on less if they can steal more from someone else and that logic is going to turn into tension and most likely war.
If the American's aren't going to get involved, I'm pretty sure opportunistic countries are going to take their chances to try and gain ground and resources. I'd even go as far as to say shortly some countries may no longer exist.
Have your say
What do you good people of HIVE think? What do you feel will be the most significant change in the new world?
So have at it my Jessies! If you don't have something to comment, comment "I am a Jessie."
Let's connect
If you liked this post, sprinkle it with an upvote or esteem and if you don't already, consider following me @chekohler and subscribe to my fanbase
| Browse & Earn Crypto | Stack Sats For Free | Earn Interest On Crypto |
| --- | --- | --- |
| | | |
---