It was a common narrative for ICO projects to "bank the unbanked" during the 2017 ICO fever. Fast forward by 3 years, we do not really see much success in that field. However, what we do see now are people who are "banked" choosing to unbank and allocate funds into DeFi.
Why would people do that? The reason is simple. In a low interest rate environment, bank interest rates are essentially non-existent. I did a quick Google search for best fixed deposit rates in Singapore and here is what I found.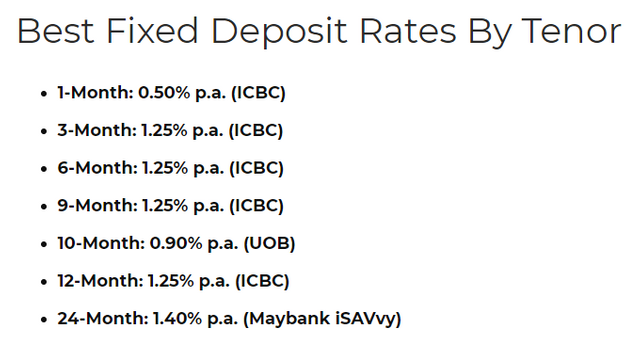 Source
In an open market, capital naturally flows to the places with the best risk/reward ratio. Fixed deposits with banks are considered extremely low-risk, probably just next to government bonds. However, if your the returns cannot beat inflation, then your money are losing value over time.
Because of this low interest rate environment we are in. People have no choice but to take some risk in order to preserve their purchasing power. If we look at traditional investments, how else can people squeeze out more returns on their money to beat inflation? Stocks are overvalued by multiple metrics. The risk-reward for corporate bonds is not there. Outlook for real estates are not great given the pandemic and social unrest.
With DeFi, people now have an extra option. Let's take a look at the basic returns you can achieve with DeFi.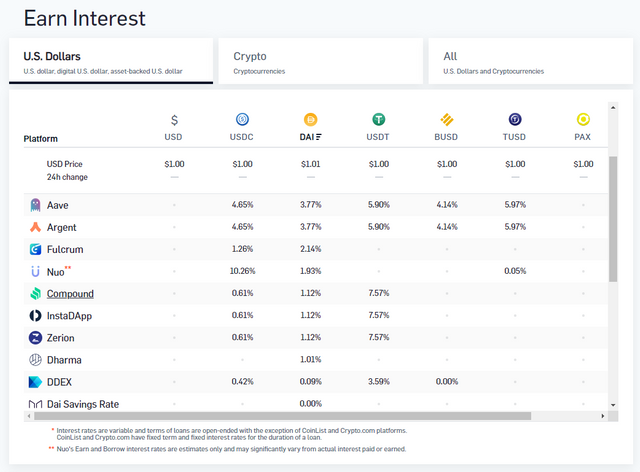 Source
The screenshot above shows the interest you can get if you just put in some DAI into decentralized custodial platforms like Aave or Fulcrum. A 3.77% on Aave is already much better than most fixed deposit savings account.
If we look at centralized custodians, the returns get even better.

Source
---
Risks
No investment is risk-free. So we must always understand the risks of the various investments to have a fair comparison. Since we compared fixed deposit with DeFi loans in the earlier section, perhaps I should compare the risks between the 2 as well. In addition, I will also compare it with a to a corporate bond.
As a quick comparison, I identified the following risks and note that they are non-exhaustive,
Market risk (e.g. Price fluctuation)
Geopolitical risk (e.g. Social unrest)
Technology risk (e.g. Hacks)
Credit risk (e.g. Defaults)
| Investment | Market Risk | Geopolitical Risk | Technology Risk | Credit Risk |
| --- | --- | --- | --- | --- |
| Fixed Deposit | Low | Low - Moderate | Low | Low |
| Corporate Bonds | Moderate | Moderate | Low | Moderate |
| DeFi Loans | Low | Low | High | Low - Moderate |
In terms of market risk, bond price fluctuates in response to the external interest rates (e.g. central bank interest rates). Hence, among the 3, it is the only one with a moderate market risk.
DeFi loans have a low geopolitical risk because it is decentralized and your money is not in any specific country. Depending on where you stay, there are varying amount of geopolitical risk for your country. I rated a moderate geopolitical risk because corporations operate in multiple countries and are hence exposed to risk from various places.
DeFi has a high technology risk as smart contracts are still at its infancy and there is still a strong possibility for hacks. In addition, DeFi requires users to be relatively IT-savvy. There is always a chance of you losing your keys if you do not know what you are doing.
Finally, for credit risk, there is always a chance for defaults to happen when you loan money out. However, I think DeFi has a lower risk because loans are typically over-collateralized. This means that the money you loan out are backed by more collateral. Hence, there is a good chance for you to get back your money in the event of a default.
---
Conclusion
DeFi is an extra option for more financial savvy people to diversify their investments. It has a different risk/reward profile and like any investment, it can be used to strengthen your portfolio.
However, at this stage of DeFi, due to the slightly elevated learning curve, it is not for everyone. I have to admit that you need to be both financially savvy and tech savvy to be able to participate and appreciate DeFi. That is why people who are involved in DeFi now are likely those who are "banked".
Are you ready for DeFi? Let me know in the comments section.
---
This article is created on the Hive blockchain, an immutable and censorship-resistant content platform.
5% of post rewards goes to @peakd to support this amazing project and the remaining goes to @defi.campus to support the community.