My response to @eco-trains' QOTW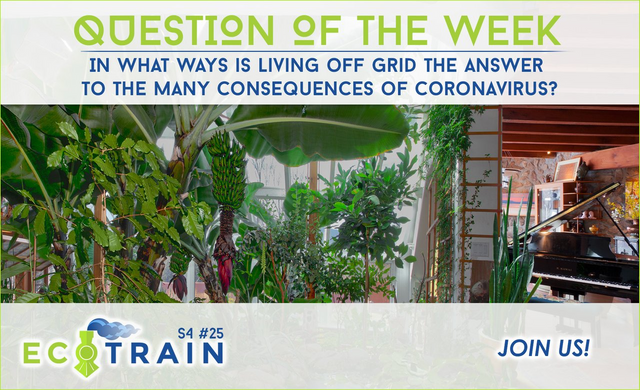 To simplify to the extreme I'm going to identify five main problems with Coronavirus:
The relatively high incapacitation rate and death rate among those who become infected with it, getting worse the older and more immune-compromised the individual is.
It's relatively high level of infectiousness resulting in almost inevitable transmission if you come into contact with someone carrying it within 10 days or so of them having contracted it themselves.
The national level lockdown responses resulting in the restrictions on individual freedom, loss of income and livelihoods and slowdown of international movement and trade.
The uncertainty surrounding the origins and solutions to the virus.
Unhelpful media reporting exaggerating the extent of Coronavirus and promoting fear and suspicion among the general population.
Whether off-grid living can solve any of the above problems depends on how you define off-grid, but let's take a simple definition in which a household or small community is self sufficient in the following:
Water
Human waste management
Energy (electricity/ heating)
50% of food supply
Housing (owned not rented)
Being off-grid probably does make you more resilient to economic shocks...
If you are in a self-sufficient ish set up, clearly you are going to be more shock-proof, so this means that you are better positioned to weather any restrictions in the global supply of food or energy.
And if you're living a low-impact, low cost of living lifestyle then you're going to be better positioned to live a reduced income which could easily be the result of any economic downturn caused by the governmental reaction to Coronavirus.
So in short, I don't think too much needs to be said about off-grid living and its effectiveness at offsetting some of the turmoil to the Pandemic - it's obvious that you are better placed as an off-gridder compared to someone living in a city working in the hospitality sector, for example!
HOWEVER, most off-gridders aren't completely 'off-grid'...
I don't think there are that many people living off-grid lifestyles who are 100% off-grid. Many rely on side-hustles like eco-rentals, busking or selling crafts at local markets to generate income they need for the needs they cannot supply themselves, and here one might find more suffering among such off-gridders compared to people in traditional jobs who have benefitted from furlough schemes. Many living off-grid do earn very small, but necessary incomes, from such hustles and these would have been significantly impacted I imagine by lockdown measures.
Of course you can get around this by skill-swaps and bartering, but only to an extent - I mean let's face it - off-gridding means cars and woodburning stoves and chainsaws, and a whole load of other quite expensive one off purchases that need buying, maintaining, fixing and replacing every now and again, and you're not going to find a mechanic who will swap you an MOT certificate for some homemade incense.
And if Coronavirus lockdown measures carry on, then you might find that the people who supply these 'one off off-grid essentials start to go out of business and the price of things like Yurts and solar systems and so on increase, making off-gridding less accessible to the masses!
Then again, radical change may happen as a result of lockdown measures, so you never know, maybe we will move beyond international trade systems as usual!
Off-gridding and social distancing?
In terms of off-gridding being a solution to the spread of Coronavirus that would intuitively seem to make sense at a certain level - if people are more spread out, and interacting only in small networks a virus should spread less rapidly.
The problem is off-gridding isn't like that is it!? There are so many radicals and free spirits, some of whom dash off to spend the night in the city, come back to their off-grid buddies, get huggy, then those buddies themselves go on little house-calls and also get huggy, so TBH the reality of how off-gridding works means it's probably a great way of spreading a virulent virus around.
In terms of a longer term solution, well, if you think a vaccine is necessary to prevent a mutating virus from killing millions of people every year, you need a damn medical system, so off-grid can't sort you out there, but I'm not qualified enough to comment on anti-vaccs measures for combatting Coronavirus.
Final thoughts...
So is off-gridding the solution to the many problems of Covid-19 - sort of?!? But it's not a panacea.