Hey Jessavers
Storing our excess time and purchasing power in a store of value is not as straight forward as it used to be for previous generations. In years gone by, you could store all your wealth in gold, real estate or cash and live out your life without having much financial knowledge. These days, however, with all the crazy monetary policy changes and debt levels, it becomes harder for the average Joe and Jane to store their value safely.
The way money works in the modern world is trickling up through inflation, taken from fiat nad pushed into assets. Asset holders benefit while fiat users suffer. This is why the majority of the world is split into such big haves and have not, and it continues to get worse.
But If you think the worlds rich are sitting on piles of cash that they swim around in regularly like Scrooge McDuck or they're burying it in drums all over the country like Pablo Escobar, you've got the wrong idea.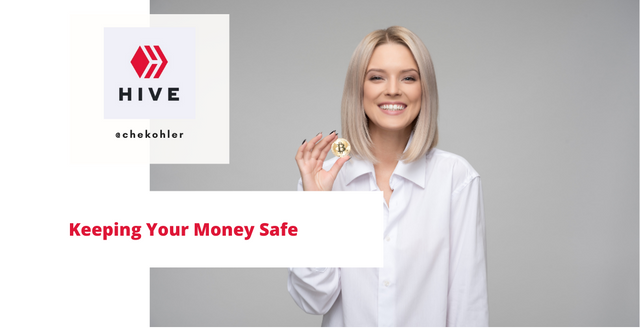 Keeping money safe is a loaded term
In the world we live in there are so many people after your money, from scammers and thieves to tax, inflation and banking fees. There's always someone or some company trying to get your purchasing power and offering you nothing for it in return.
We all think banks are safe because deposits are insured, they accept liability, but I can't tell you how many times I've had fake or fraud on my credit card. How many times people have tried to collect a debt I never owed and all sorts of shit from having your data leaked by these institutions.
Safety from risk
All of us are speculators whether we like it or not if you're a homeowner you banking the land never gets seized, or losses value rapidly due to a migration change. If you're a stockholder, you're hoping this company continues to be profitable. If you're a bondholder you hoping governments and corporates continue to service their debt.
In all money-making, there is a risk, some low, some high and even then the low risk could also go bust as we see with the current climate as companies die out faster than ever before and governments solvency is coming into question.
So now you have to look at ways to hedge that risk in other ways, like precious metals or crypto that has a mind of its own.
Safety from debasement
Fiat money is seen as "safe" because it loses value slowly over time and people have become okay with that. They're happy to see it die slowly one way than something that moves up and down based on supply and demand. So while you have no risk in fiat, you only have the risk of losing purchasing power over time.
This grows each year exponentially so not hedging against it by owning other forms of money will see you lose larger and larger amounts each year.
Safety from theft or loss
Having physical money like cash or gold has its risks, in how you store it. You could store it on your own in a safe, but you risk home invasion or custodial but then take on 3rd party risk and fees for storage.
Protecting your purchasing power
No matter what you do in life, you're always going to lose money/purchasing, that is a fact. All we can do is protect against the worst of it and accept that some of it slip away over time.
Making sure your excess purchasing power is a hedge against major threats can not only give you peace of mind but give you a way to take on risk knowing you have protection.
Protection allows for risk
This can lead to better opportunities as you go further out the risk curve. To make larger returns to make up for what you lose you have to take the risk, but if you're adjusted for risk in your portfolio and have the risk priced in, you're more likely to succeed than fail.
Instead of making one risky bet, you could make five smaller positions that are all risky, when four fail, and one wins, you still make up the losses and profit.
This is how you match your risk and reward.
Have your say
What do you good people of HIVE think?
So have at it my Jessies! If you don't have something to comment, comment "I am a Jessie."
Let's connect
If you liked this post, sprinkle it with an upvote or esteem and if you don't already, consider following me @chekohler and subscribe to my fanbase
| Browse & Earn Crypto | Stack Sats For Free | Earn Interest On Crypto |
| --- | --- | --- |
| | | |
---