Hey JessInvestors
I listen to a lot of investment advice, I read a lot of financial content, and I speak to people to get a feel of what they do with their money to try and improve their lives so that I'm not missing opportunities or make a mistake due to my biases. It's not easy and earning money may be hard, it's the thing we focus a lot of our waking hours on, but managing money is even harder and its the place at which a lot of people fail.
One of the main reasons people lose money is because they have not gotten used to losing money. Losing money isn't an easy thing to handle, and with so many emotional investors and emotional ties to money, it drives us more often than not to make the poor decision.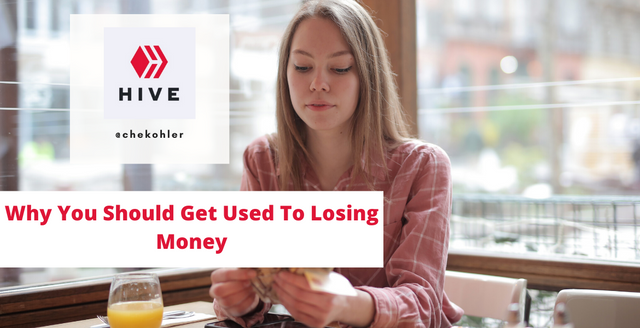 Riding the wave
Most investors want only the upside and will always look to pile in when something is going up, which is why markets tend to become overvalued, and we have bull runs and bubbles. Everyone reinforces the next one's trade and as greed kicks in, so the runs continue.
If you're always trying to chase the update you will make money for sure, but it leaves you vulnerable to when the market corrects and believe me, it will correct eventually, the longer it goes up, the quicker it comes down and leave many hurt.
Losing money is key to a balanced portfolio
When you're investing on your own or using an investment manager, there are two questions you should be asking yourself. One where am I making money, the other is where am I losing money. In some cases, if it's in the same asset class its time could be time to cut, if it's not in the same asset class, it could be time to price in.
You see if you're losing money in a non-correlated asset class, it means people are selling in one class to try and make gains in the other class. A savvy investor sees this and can allocate capital into a place where they will get more stake, so once the market corrects you have a position in that asset class which you picked up at a steal.
Losing money isn't a bad thing
So you can see losing money isn't a bad thing if you know how to read the signs, it's all about gathering as much information as possible and putting your capital to work as best you can. Yes you will make bad calls, yes you will lose, but in doing so, you gain a wealth of information that puts you ahead of traders for the next round.
Have your say
What do you good people of HIVE think? Have you gotten used to losing money?
So have at it my Jessies! If you don't have something to comment, comment "I am a Jessie."
Let's connect
If you liked this post, sprinkle it with an upvote or esteem and if you don't already, consider following me @chekohler and subscribe to my fanbase
| Browse & Earn Crypto | Stack Sats For Free | Earn Interest On Crypto |
| --- | --- | --- |
| | | |
---