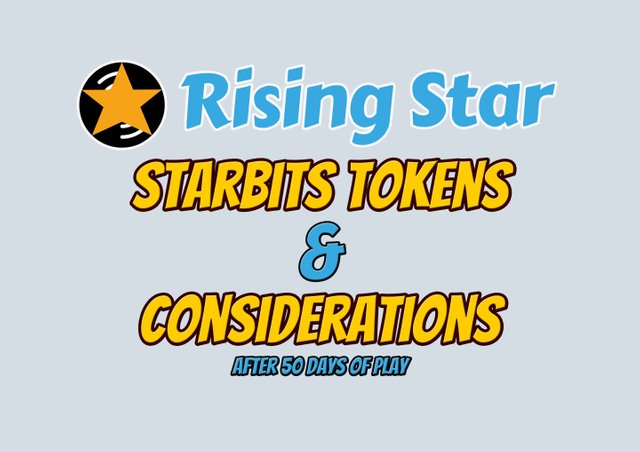 Logo Rising Star owned by Rising Star - Font used is Open Source - Edit by @libertycrypto27
---
Hello Hivers,
About fifty days ago I started playing the game Rising Star.
In this post I'll make a small report of my gaming activity on Rising Star focusing on STARBITS tokens.
If this is the first time you've heard about Rising Star I'll tell you in brief what it is.
---
What's Rising Star?
---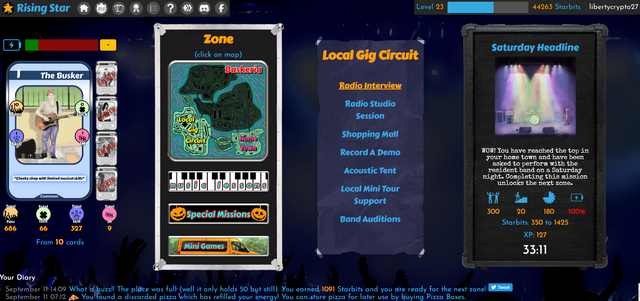 ---
Rising Star is a fun and easy to play game.
The goal of the game is to create a music band and become a music star.
The game is in an early development phase: the Alpha version.
For this reason some features are planned but not yet developed.
Rising Star is a game that I have classified as "No Risk" because it does not require any type of initial investment!
---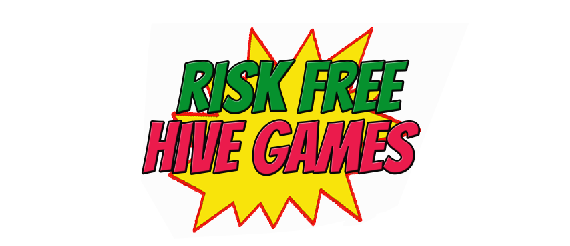 Image owned by @libertycrypto27- Font used is Open Source
.
---
Requirements: You must have a Hive account

Login mode: Hive Keychain only.
---
After this brief introduction I'll move on to the main topic of this post.
---
STARBITS tokens
---
When you play Rising Star, every time you complete a mission, you earn a number of STARBITS tokens.
STARBITS tokens are the non-fungibiles tokens (NFT)** of the game.
STARBITS tokens can be sold and bought on https://hive-engine.com/.
Depending on the mission and level of the game, the reward in STARBITS may be lower or higher.
My current game level, as you can see from the picture below, is level 24.

With level 24 and a fixed number of fans of 600 I can complete about three missions Saturday Headline per day.
The Saturday Headline mission allows me to earn a random number of STARBITS in the following range (350-1424 STARBITS).


So every time I complete three missions I will earn money:
In the worst case 1050 STARBITS per day.
350 STARBITS * 3 (number of missions) = 1050 STARBITS
In average case 2661 STARBITS per day.
[(350 + 1424)/2] * 3(number of missions) = 2661 STARBITS
In the best case 3072 STARBITS per day.
1424 STARBITS * 3 (number of missions) = 4272 STARBITS
To complete the Saturday Headline mission you must have a minimum number of fans equal to 300.

For this reason I bought a card from the game market that allowed me to have a fixed number of fans of 500. To buy the card I spent 4.5 SWAP.HIVE.
The great thing about Rising Star is that it is a game that takes very little time a day.
Every eight hours the energy bar recharges and I can perform a new Saturday Headline mission.
By the way, when my level increases I will be able to perform missions that will earn me more and more STARBITS.
So the gain in terms of STARBITS tokens is destined to grow over time.
In this post I wanted to focus on Starbits tokens and their value.
The first time I checked the value of 1 STARBITS on Hive Engine was on 5 August 2020.
1 STARBITS was valued at 0.0051 HIVE (Highest Bid - August 5, 2020).
Today September 18 1 STARBITS is equivalent to 0.0049 HIVE.
The value remained more or less stable after 43 days.
In the following image you can see the latest transactions.
---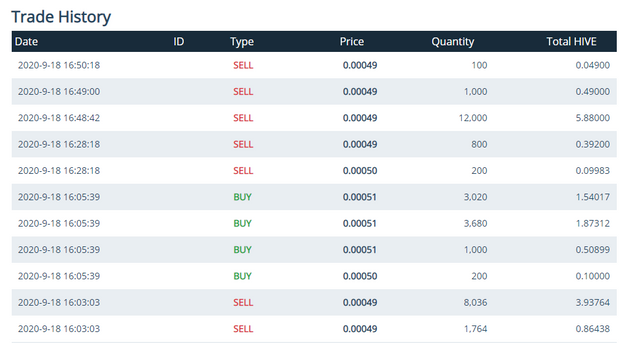 ---
In the following image is the STARBITS token graph.
---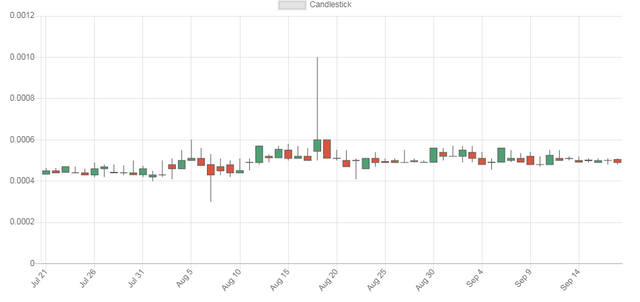 ---
Considerations
---
In about 50 days of play I earned 67206 STARBITS
56206 are in my game wallet.

1000 are in my Hive Engine wallet.

10000 I spent it to buy a pack of cards.

I also spent 9.5 SWAP.HIVE to buy 1 card (4.5 HIVE) + 1 pack of cards (5 HIVE).
What is my profit after 50 days?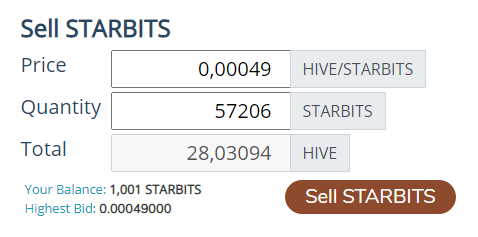 Total STARBITS (value in HIVE) - Card purchase cost =...
.
28.03094 - 9.5 = 18.53094 HIVE
Note: I have not considered the value of the purchased cards that have a sales value and that I could sell on the market. For this reason the profit is higher than 18,53094 HIVE.
The ROI, all calculations and details I will consider in my second monthly report on Rising Star.
The goal of this post is to highlight how much Rising Star is an opportunity for play but also for earning.
18.53094 HIVE are few?
From level 20 on, only 3 clicks per day are required.
The gain is a lot in relation to the time spent!
Rising Star is a game that I recommend to everyone!
Especially to new Hive users who can, without investing anything, increase their HP, playing and having fun.
My adventure on Rising Star has just started and if you like, follow me to read my future posts on Rising Star ;)
---
If you decide to register at Rising Star, you can do it from this link:
https://www.risingstargame.com?referrer=libertycrypto27
of course only if you like to use my refferal link... :)
---
Unless otherwise indicated, the images in this post are screenshots taken from the game's website Rising Star
.
(Font used is Open Source)
---
HIVE ON
---

---