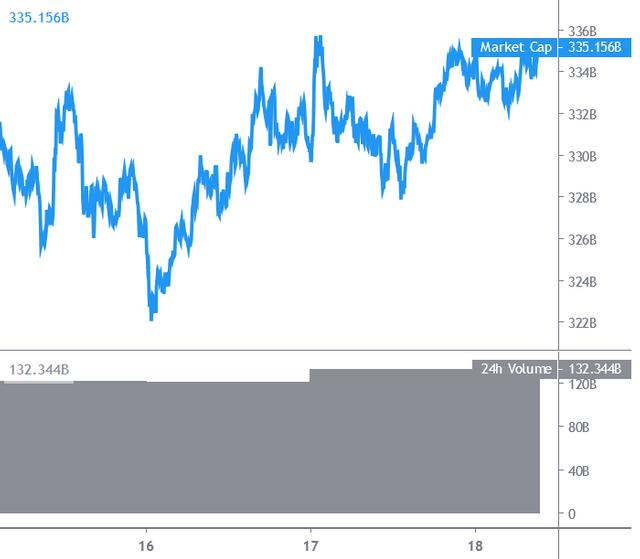 Tradingview Total market capitalization.
In recent days the crypto market is showing signs of a positive continuation, looking at yesterday's Bitcoin price is consolidating above the USD 10,800 level, and it appears that in the next few sessions the bulls are aiming for higher rises above USD 11,000.
The Altcoin sector shows the same positive signal, most of the main altcoins seem to want to continue to rise.
These positive signs give us hope and yet yesterday just when the price of Bitcoin was approaching $ 11,000, according to Cointelegraph it would be better not to have too many expectations, because this level of price can lead to a strong contraction.
But could the Bitcoin price have found support at the psychological level at $ 10,000?
So a spontaneous question arises but is Bitcoin able to break out of this crucial zone and continue its bullish momentum?
Clearly, for traders it is essential to know if there will be a break up or down of the current resistance line, but for those who are on the sidelines accumulating their crypto, certainly do not worry too much about their daily course because what matters is long-term vision.
I always tell myself that I would like to be a trader but honestly I am not very inclined to the too adrenaline-charged side effects that involve constantly following the market trend.
Who knows if maybe one day I'll let myself be carried away by this dream and start following some copytrading services by investing by copying the most established traders.
Never say never.
In the meantime, I continue to find news about Stellar Lumens that I have been following for a while and I strongly believed in its potential given the mass adoption of this electronic currency by investors and users.
According to insiders, one could expect strong growth in 2020 from Stellar given the increasing capitalization of the coin.
This chatter has been heard for a long time, but for the moment there are slight positive movements, however I want to believe those who forecast the Stellar price at 0.13 for December 2020 while today the current price is around € 0.06549.
Meanwhile, I wait with confidence.
Thanks for stopping by here.
---
If you like you can leave a comment, an upvote and why not a rehive. 😜