Welcome to the Daily Crypto News: A complete News Review, Coin Calendar and Analysis.
Enjoy!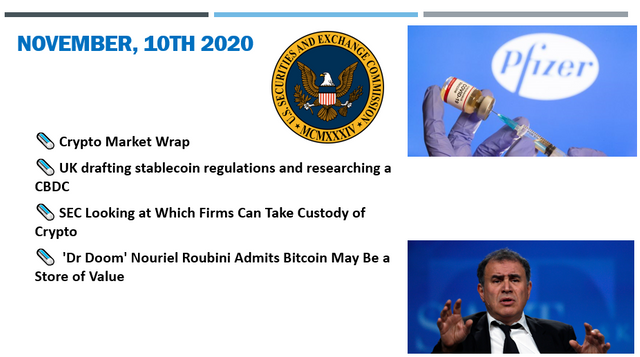 Bitcoin is gyrating amid rallying global stock markets while ether options traders ramp up open interest as the Ethereum network heads for an ambitious upgrade.
Bitcoin (BTC) trading around $15,384 as of 21:00 UTC (4 p.m. ET). Gaining 0.05% over the previous 24 hours.
Bitcoin's 24-hour range: $14,845-$15,842
BTC above its 10-day and 50-day moving average, a bullish signal for market technicians.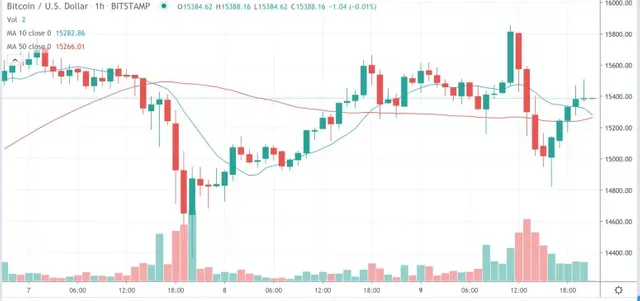 After bitcoin rallied over $200 on news that Pfizer's vaccine trial showed it was 90% effective in preventing coronavirus infections, the price suffered a drop of almost $1,000 within hours Monday. The sell-off went from $15,842 shortly after Pfizer's announcement early in the morning to as low as $14,845 around 16:30 UTC (8:30 a.m. ET). It has since recovered, changing hands at $15,389 as of press time, according to CoinDesk 20 data.
Liquidations on BitMEX, as tracked by data aggregator Skew, are on the decline.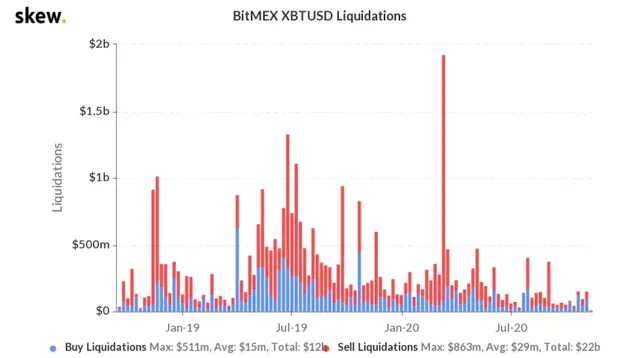 "With the S&P 500 touching a new all-time high today alongside news of a Pfizer COVID vaccine showing strong promise, it will be interesting to see how BTC behaves in the weeks ahead," said Daniel Kohler, liquidity manager at San Francisco-based cryptocurrency exchange OKCoin. "For the past few weeks we were seeing a rise in BTC and S&P 500 correlations — with BTC trading at levels not seen since 2017, it will be interesting to see if that trend reverts or we continue to see outperformance."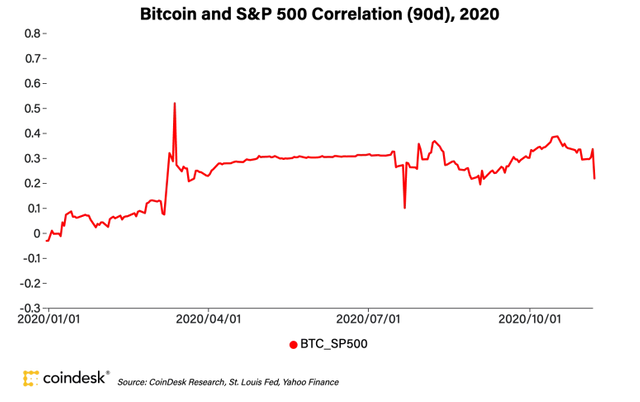 Ether options interest at all-time high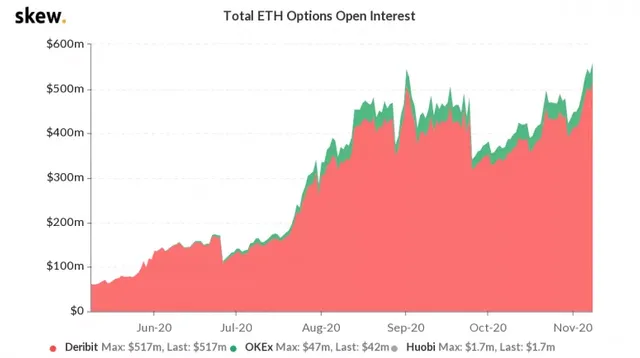 The Treasury Department of the United Kingdom has revealed it is drafting proposals to regulate private stablecoins, while also researching central bank digital currencies (CBDC) as an alternative to cash.
In an announcement published on Nov. 9, U.K. Treasury Chancellor Rishi Sunak noted the forthcoming regulatory proposals alongside other goals for the country's financial services industry — including a review of the U.K.'s listings regime and support for green finance.
"New technologies such as stablecoins – privately-issued digital currencies – could transform the way people store and exchange their money, making payments cheaper and faster."
"We are starting a new chapter in the history of financial services and renewing the UK's position as the world's pre-eminent financial center [...] Our plans will ensure the UK moves forward as an open, attractive and well-regulated market."
A public statement from staff within the SEC's Division of Investment Management indicates the agency is evaluating the term "qualified custodian" as it relates to digital assets.
SEC staff issued a public statement asking questions about the definition of "qualified custodian."
That term is traditionally applied to banks, brokerages, and futures commission merchants.
The Wyoming Division of Banking, however, applied it to Ocean Trust, a wealth management firm.
The statement, from the SEC's Division of Investment Management, follows a no-action letter from the Wyoming Division of Banking to a state-chartered public trust company, Two Ocean Trust. In it, the division judges Two Ocean to be a "qualified custodian" and therefore eligible to "provide custodial services for digital assets under Wyoming law, including virtual currency and digital (tokenized) securities."
This may seem like inside baseball (and it is). However, depending on where the SEC ultimately comes down, it could let traditional registered investment advisors, who may have been reticent to get involved with crypto custody, know what the score is.
Economist Nouriel Roubini, also known as "Dr. Doom," has admitted that bitcoin may be a store of value. Roubini sees a "big revolution" coming in the next three years due to central banks launching their own digital currencies.
Nouriel Roubini Sees Store of Value in Bitcoin
After years of publicly mocking and ridiculing bitcoin, Nouriel Roubini has admitted that bitcoin may be a partial store of value.
Roubini teaches at New York University's Stern School of Business and has his own economic consulting firm called Roubini Macro Associates. Famed for predicting the housing bubble crash of 2007-2008, his gloomy predictions have earned him the nickname "Dr. Doom" in the media.
Dr. Doom has been a long-standing critic of bitcoin. In a Senate hearing in October 2018, he called cryptocurrencies "the mother of all scams and bubbles." He also said that the cryptocurrency world is a "stinking cesspool" and is fundamentally worth nothing.
🗞 Daily Crypto Calendar, November, 10th💰

"11/10 -1:00 Pm UTC time: Azuki farming begins!"
"Based on a snapshot of Wanchain sometime from Nov 6-10, wanTokens will be swapdropped 1:1 for all WETH & ERC20 tokens on Wanchain"
"Wabi product, tech and features updates and announcements @wabitoken."
"On Nov 10th at 10 pm PDT join @chjango on an AMA a/ Cosmos w/ @binance Cameroun."
"ShareRing Smart Contract Upgrade, Tuesday 10th Nov 2020!"
Last Updates


➡️ Be paid daily to browse with Brave Internet Browser
➡️ A secure and easy wallet to use: Atomic Wallet
➡️ Invest and Trade on Binance and get a % of fees back
➡️ Youtube
➡️ Twitter
➡️ Hive
➡️ Publish0x
➡️ UpTrennd
➡️ Read.cash
➡️ LBRY
➡️ Check out my video on Unstoppable Domains and get 10$ off a 40$ domain purchase
➡️ Get 50$ free by ordering a free Visa Card on Crypto.com using this link or using this code qs4ha45pvh


20% of this article rewards wil go to the @hodl-fund account in order to support HODL Community Initiatives.
Find out more about HODL Community: Crypto Social Community and by following our community account @hodlcommunity

If you would like to delegate some HP to our community and support us; we give you back 90% of the curation rewards on a daily basis ! APR > 12% !
500 HP - 1000 HP - 2500 HP - 5000 HP
Make a good APR Curation by following our HIVE trail here