Welcome to the Daily Crypto News: A complete News Review, Coin Calendar and Analysis.
Enjoy!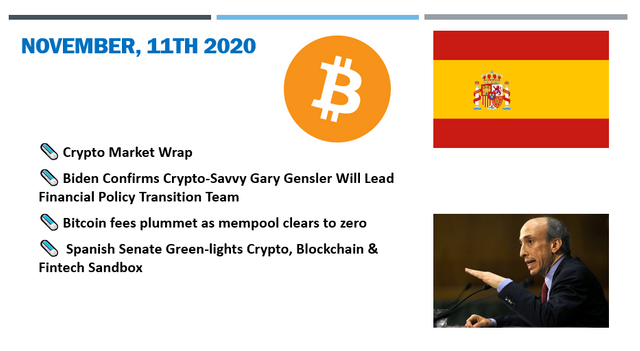 Bitcoin is sideways Tuesday, with little price action. However, traders seem to be jumping into decentralized finance to maximize their crypto yield.
Bitcoin (BTC) trading around $15,345 as of 21:00 UTC (4 p.m. ET). Slipping 0.30% over the previous 24 hours.
Bitcoin's 24-hour range: $15,092-$15,471.
BTC close to its 10-day and 50-day moving averages, a flat or sideways signal for market technicians.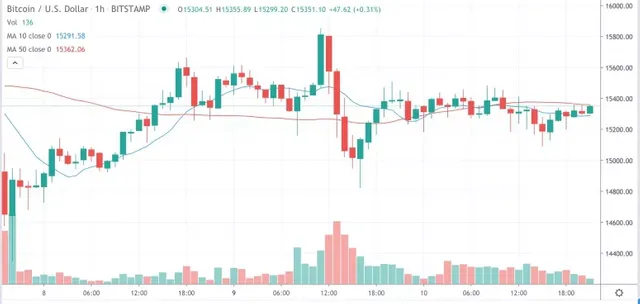 "It is likely that the sharp bounces in BTC price yesterday and on Saturday were retail led – with the perpetual swap funding spiking for the first time since September," quantitative trading firm QCP Capital wrote in its Tuesday investor note. "One reason for the overall strength and stickiness of the rally in the last two months has been the absence of retail over-leverage, as evidenced by the flat funding up till now."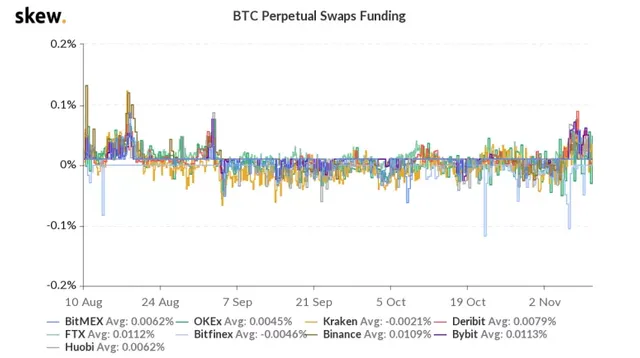 With the sideways price performance Tuesday, a number of traders appear to be moving crypto into decentralized finance, or DeFi, for yield-generating opportunities. According to DeFi Pulse, 168,111 BTC, worth $2.5 billion as of press time, is generating yield in various Ethereum-based protocols.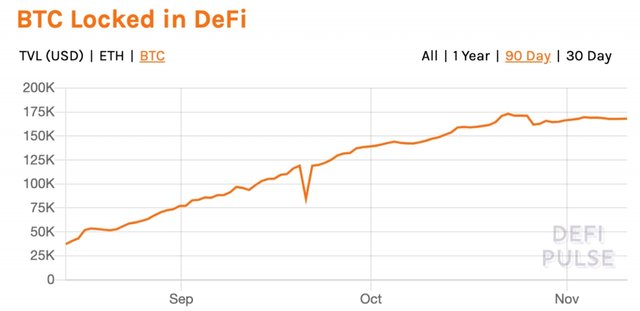 DeFi value locked at a high
The amount of cryptocurrency "locked" or held in Ethereum-based DeFi protocols is at a record Tuesday. Over $12.8 billion is currently being held in DeFi, the highest it has ever been according to data aggregator DeFi Pulse.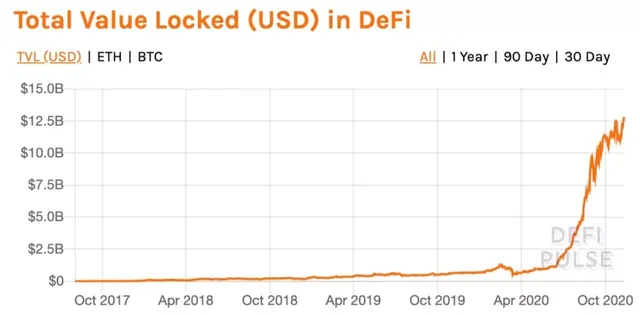 "Total value locked in DeFi is hitting all-time highs likely due to the price increase across all crypto assets and the continued positive sentiment in the space alongside more certainty in the political arena," Mosoff told CoinDesk.
Gary Gensler, a Washington and Wall Street veteran who has closely studied the budding cryptocurrency field, will lead the financial policy transition team for projected U.S. President-elect Joe Biden.
A former chairman of the Commodity Futures Trading Commission (CFTC), Gensler was tapped to lead the agency review team for the Federal Reserve, banking and securities regulators, the Biden campaign formally announced Tuesday, following reports last week he was a contender.
As CFTC chairman, Gensler served as a key financial regulator for former President Barack Obama, spearheading new derivatives rules after the 2008 financial crisis. He also served in the Treasury Department during the Clinton administration.
The Bitcoin network mempool shrank to its smallest size since mid-October this week after the network's hash power soared.
The clear mempool meant that that thousands of stuck transactions pending confirmation were included in recent blocks, leaving very few unconfirmed transactions still outstanding.
The spike in hash power has been attributed to the re-activation of China-based miners who migrated from Sichuan after the end of the province's rainy season. Bitcoin's hash rate increased by 42% over a two day period, Nov. 9 and 10.
A smaller mempool is good news for regular Bitcoin users as it reduces competition among fresh transactions to get included in upcoming blocks. Reduced competition in the mempool helps to drive down Bitcoin transaction fees, as miners can potentially include all transactions in the mempool irrespective of their individual fee amounts.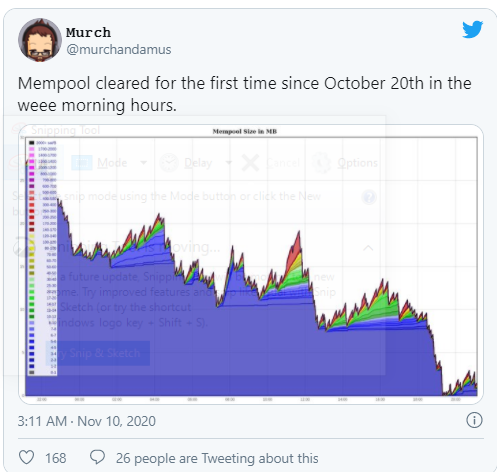 As of this writing, there were approximately 6,000 transactions in the mempool with a median fee of 3 satoshis per byte (sat/byte) or roughly $0.11. Some users have reported fees as low as 1 sat/byte for transactions that have confirmed within a few hours.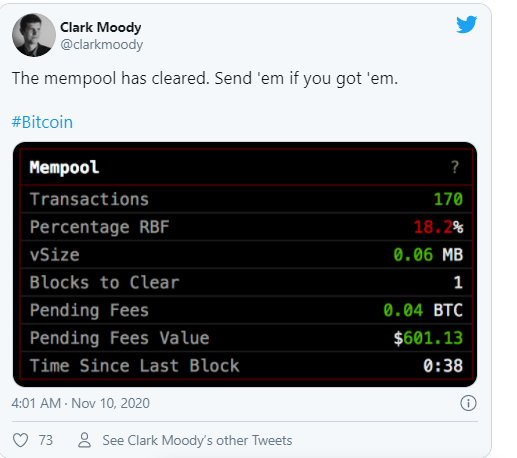 Bitcoin transaction fees had been comparatively low through the second half of 2020. During the last week of October, the price of BTC consolidated above the $13,000 mark for the first time since December 2017 — coinciding with a massive increase in transactions being sent to the mempool and resulting in a backlog of unconfirmed transactions.
Crypto and blockchain advocates in Spain have cause for cheer after the country's senate unanimously voted in favor of launching a new regulatory fintech testbed that will allow companies to launch blockchain, bitcoin (BTC) and other crypto-related projects.
The Senate is Spain's upper parliamentary house, and voted 262-0 in favor of launching the initiative, per the Spanish Association of Fintech and Insurtech (known locally as AEFI).
A proposal to amend the bill was shut down, with only 16 senators voting in favor.
The government approved the bill back in February, and it has since won approval from the lower house, the Congress of Deputies.
🗞 Daily Crypto Calendar, November, 11th💰

The project team will present the updated "VRS GO TOP" roadmap.
Please join us for Freehold's public townhall November 11 at 9:00 AM PST.
"Wabi founders answering your questions and sharing news, announcements in Wabi Telegram group."
"To all @cosmoshub's validators, it's time to participate in the Cosmos Hub's Testnet for #Stargate! Take off scheduled for Nov 11th!"
"On Nov 11th at 11:15am EST during #BGADemoDay @GAMECREDITS will be showcasing something NEW!"
Last Updates


➡️ Be paid daily to browse with Brave Internet Browser
➡️ A secure and easy wallet to use: Atomic Wallet
➡️ Invest and Trade on Binance and get a % of fees back
➡️ Youtube
➡️ Twitter
➡️ Hive
➡️ Publish0x
➡️ UpTrennd
➡️ Read.cash
➡️ LBRY
➡️ Check out my video on Unstoppable Domains and get 10$ off a 40$ domain purchase
➡️ Get 50$ free by ordering a free Visa Card on Crypto.com using this link or using this code qs4ha45pvh


20% of this article rewards wil go to the @hodl-fund account in order to support HODL Community Initiatives.
Find out more about HODL Community: Crypto Social Community and by following our community account @hodlcommunity

If you would like to delegate some HP to our community and support us; we give you back 90% of the curation rewards on a daily basis ! APR > 12% !
500 HP - 1000 HP - 2500 HP - 5000 HP
Make a good APR Curation by following our HIVE trail here