Welcome to the Daily Crypto News: A complete News Review, Coin Calendar and Analysis.
Enjoy!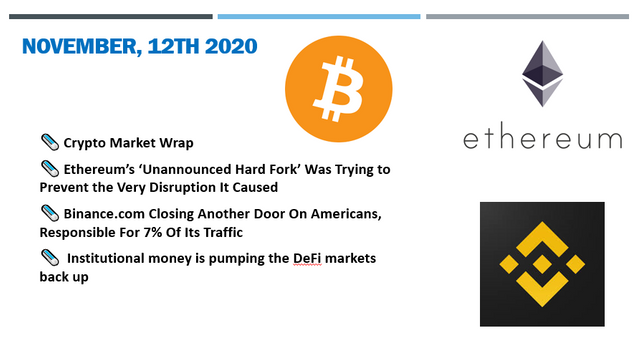 New Daily Crypto News video coming up, until then you can still watch yesterday's 😉
Bitcoin gained Wednesday while Ethereum 2.0 staking has been ramping up.
Bitcoin (BTC) trading around $15,694 as of 21:00 UTC (4 p.m. ET). Gaining 2.6% over the previous 24 hours.
Bitcoin's 24-hour range: $15,293-$15,973
BTC above its 10-day and 50-day moving averages, a bullish signal for market technicians.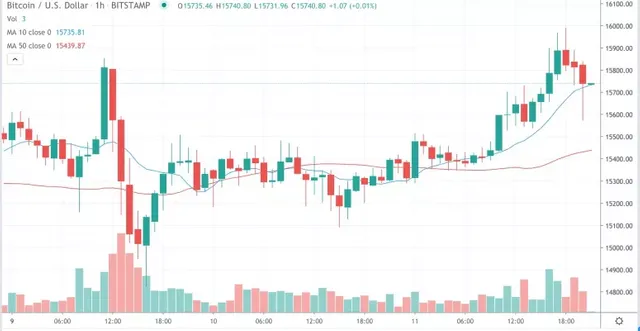 "We've been ranging between $14,600 to $16,000 since Nov. 5. Bitcoin seems to have found a local floor at the $15,000 price," Andrew Tu, an executive at quant trading firm Efficient Frontier, told CoinDesk.
David Lifchitz, chief investment officer of ExoAlpha, echoed a similar assessment. "In the very short term, we may see some consolidation of the bitcoin price around $15,000, which would be healthy after the last powerful breakout, before grinding higher toward $20,000."
Bitcoin's correlation with the S&P 500 has been trending down this week, with Tuesday continuing Monday's drop in the relationship of their price movements.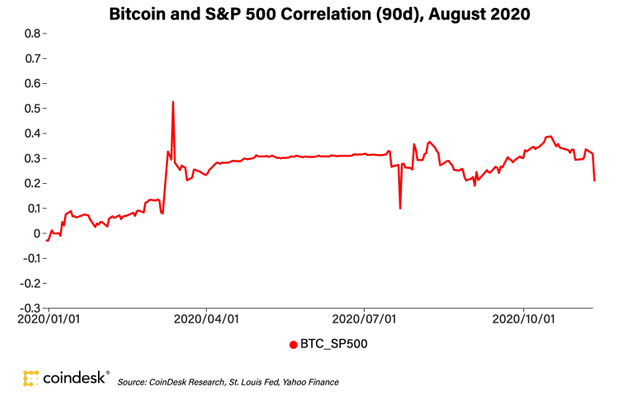 Ether in ETH 2.0 surpasses 50K
The amount of ether that has been staked in Ethereum's 2.0 upgrade smart contract passed 50,000 ETH Tuesday. It's at 50,977 ETH, according to data aggregator Glassnode, and is worth over $23 million as of press time.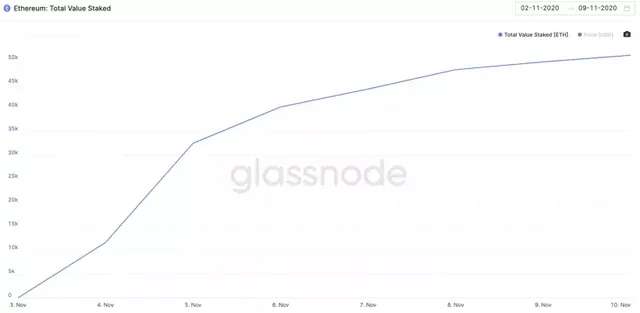 The Ethereum 2.0 contract launched Nov. 3. Users must stake at least 32 ETH in the contract in order to participate in the network upgrade, which is expected to enhance its security and scalability while maintaining the transaction history and functionality of existing ether balance.
The bulk of Ethereum's DeFi ecosystem went dark earlier today after a latent bug in the Ethereum code split the network's transaction history in two.
The split resulted from a code change that was surreptitiously inserted into a previous Geth update; some Ethereum node operators ignored the update, which ironically was meant to prevent the very split that occurred.
The nodes that did not upgrade were under the impression the update was minor and did not know it included a change to Ethereum's consensus design.
A post-mortem released today by Geth indicates that the bug was intentionally triggered. The case is perhaps Ethereum's greatest challenge since the 2016 DAO fork, and it raises questions about Ethereum's oft-touted decentralization and the effectiveness of its developer coordination going into Ethereum 2.0.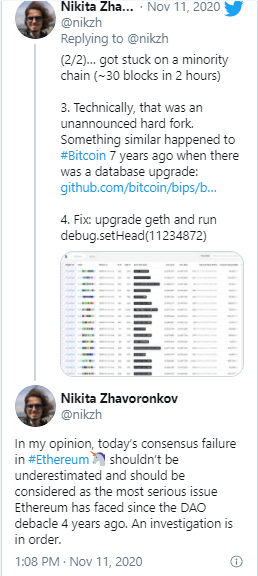 Amid regulatory uncertainty, major crypto exchange Binance seems to have finally taken a stricter approach to the 'no-US residents on Binance.com' policy, evicting them from the platform more than a year after the US platform was launched.
In October, almost 7% of visits (n.b. - not visitors), or 2.1 million, to Binance.com were from the US, according to Similarweb data. It was the second-biggest group of visitors, only after Russia. The website was visited more than 31 million times in October in total, or 12% less than in September.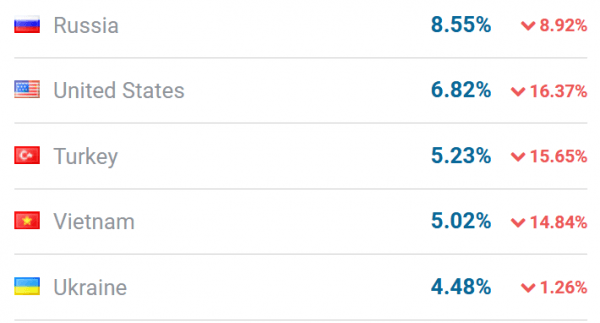 Meanwhile, now Binance has reportedly started blocking the United States-based clients from accessing Binance.com, giving them a 90-day deadline to withdraw all their funds. First reported by The Block, the exchange will reportedly no longer depend on users clicking to confirm that they are not from the US when making an account, but will instead block all US residents based on their IP addresses. Among their options, these users can move to the Binance.US platform.
Institutional money appears to be flowing into the decentralized finance (DeFi) sector, with Yearn Finance (YFI) among the top beneficiaries.
According to crypto market data aggregator IntoTheBlock, on-chain transactions of $100,000 or higher have increased by 282% over the past week — including nearly $134 million worth of activity on Nov. 10 alone.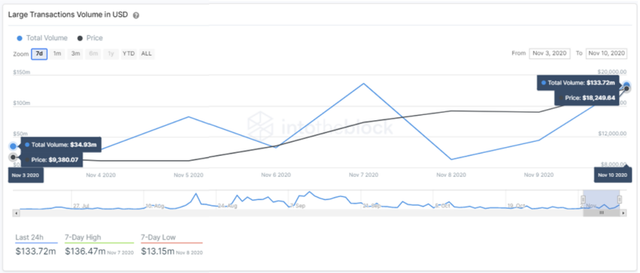 According to crypto market analysis firm Messari, YFI was the top performing DeFi asset of the past week, followed by yAxis with a 78% gain, Loopring with 50%, and Akropolis and Curve with 49% each. However, the DeFi turnaround is very recent and only 11 of 41 DeFi tokens tracked by Messari are up over the last 30 days, while 22 have posted price gains for the past 12 months.
🗞 Daily Crypto Calendar, November, 12th💰

STRAX mainnet released on November 12th.
"The STRAX Token Swap window will be from NOW (15th October 2020) until 9 AM GMT on 12th November 2020."
Indonesian AMA for the upcoming Stacks 2.0 Mainnet launch.
Po.et (POE), Tierion (TNT)
"Binance Will Delist $POE & $TNT on 2020/11/12"
Both flash controller and executor are now up on mainnet Official launch tomorrow with the web interface""
"Wabi CEO sharing updates and announcements. Twitter @alex_taelpay."
Last Updates


➡️ Be paid daily to browse with Brave Internet Browser
➡️ A secure and easy wallet to use: Atomic Wallet
➡️ Invest and Trade on Binance and get a % of fees back
➡️ Youtube
➡️ Twitter
➡️ Hive
➡️ Publish0x
➡️ UpTrennd
➡️ Read.cash
➡️ LBRY
➡️ Check out my video on Unstoppable Domains and get 10$ off a 40$ domain purchase
➡️ Get 50$ free by ordering a free Visa Card on Crypto.com using this link or using this code qs4ha45pvh


20% of this article rewards wil go to the @hodl-fund account in order to support HODL Community Initiatives.
Find out more about HODL Community: Crypto Social Community and by following our community account @hodlcommunity

If you would like to delegate some HP to our community and support us; we give you back 90% of the curation rewards on a daily basis ! APR > 12% !
500 HP - 1000 HP - 2500 HP - 5000 HP
Make a good APR Curation by following our HIVE trail here