Welcome to the Daily Crypto News: A complete News Review, Coin Calendar and Analysis.
Enjoy!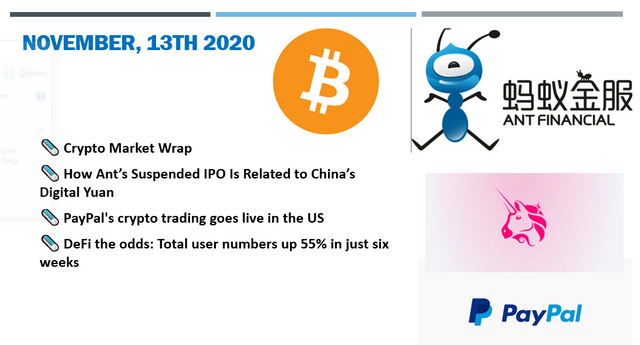 Bitcoin was gaining amid positive institutional and retail adoption signs as the amount of crypto locked in Uniswap signals DeFi continues to be more just than a fad.
Bitcoin (BTC) trading around $16,154 as of 21:00 UTC (4 p.m. ET). Gaining 2.9% over the previous 24 hours.
Bitcoin's 24-hour range: $15,454-$16,186
BTC above its 10-day and 50-day moving averages, a bullish signal for market technicians.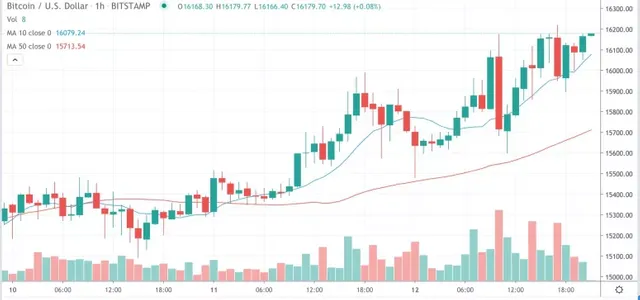 "Bitcoin's struggle to consolidate above the $16,000 price level can likely be attributed to a number of factors including profit taking and capital rotation into some of the small-cap digital assets that have been recently surging," Hirsch said. "If bitcoin can establish a base in the low-$16,000 range, there isn't much resistance on the path to $17,000 and beyond."
"Bitcoin cleared $16,000 for the first time in three years, confirming the existing bullish uptrend," Lau said. "With minimal resistance until $20,000, it's hard to tell how the next few weeks will trade into year end, but signs are positive."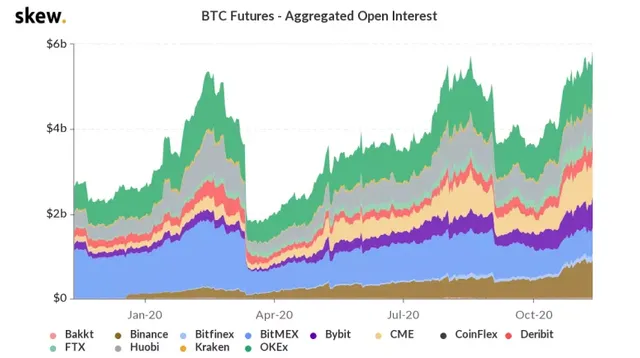 Spot bitcoin volume has also been strong Thursday. It was close to $1 billion as of press time, much higher than the past month's $378 million average daily volume.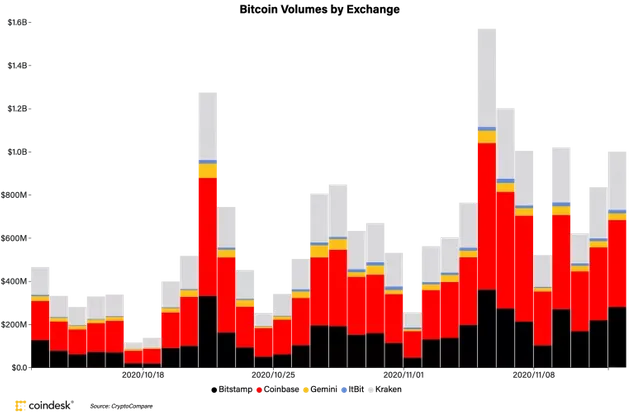 Uniswap crosses $3 billion locked
The amount of cryptocurrency "locked" in the DEX Uniswap crossed $3 billion Wednesday. Crypto investors place assets in smart contracts such as Uniswap's to provide liquidity and, in turn, gain profits, or yield, for doing so in the form of the fees traders pay to use the DEX's liquidity.
Ant Group's suspended initial public offering (IPO) has shed further light on a possible motivation behind China's digital yuan. The Chinese government appears to view the payments giant as a destabilizing force to China's economy, and the digital yuan is a way to keep companies like this in check.
Industry watchers say the People's Bank of China (PBoC) might use the digital yuan as part of a broader effort to curb the growth of Alipay and WeChat Pay. The central bank digital currency (CBDC) could stunt Alipay's micro-lending business and provide the unbanked with financial services, while also drawing back deposits for commercial banks.
Ant's co-lending subsidiary Huabei, which is a built-in virtual credit card in Alipay, facilitates loans between commercial banks and borrowers, while Jiabei is the short-term consumer loan provider. Though it enjoys as much as a 40% cut of loan interest, Alipay bears far less in credit risk than the banks. Only 2% of the loans Ant had facilitated as of June were on its balance sheet, according to its IPO prospectus.
"The bank can make it more costly for digital payment platforms to use the digital yuan to lend money, and this might be something the government might want to force," Ratna said.
"For the central bank, it is very important that the underlying asset becomes the digital yuan," she said. "It can help the bank to solve many chronic problems in the financial system, including shadow banking, non-performing loans and too much informal financing."
Deposits leak
China's payment giants pose other threats as well. Commercial banks in China have been losing cash deposits to non-banking payment platforms. The Chinese mobile banking market saw about $8 trillion worth of transactions in the last three months of 2019, with Alipay taking 55% of the market and WeChat Pay having 39%.
Mass adoption
Still, Alipay and WeChat Pay are standing in the way of the digital yuan's mass adoption. During last month's trial giveaway, some shoppers preferred to use these two mobile payment apps because they are more convenient.
On Thursday, PayPal's crypto trading and payments went live for all eligible customers in the United States.
Per its updated announcement, PayPal ended its waitlist for customers looking to use cryptocurrency in the U.S. Trading features a limit of $20,000 per week, which is double the originally announced $10,000.
PayPal ultimately plans to make crypto payments available at 26 million merchants globally.
A representative told Cointelegraph that PayPal will notify U.S. customers about the general availability of crypto services in the coming days.
"The shift to digital forms of currencies is inevitable, bringing with it clear advantages in terms of financial inclusion and access; efficiency, speed and resilience of the payments system; and the ability for governments to disburse funds to citizens quickly."
While many decentralized finance (DeFi) tokens suffered heavy losses last month — prompting hastily written obituaries about the DeFi "bubble" — metrics measuring user activity saw sustained sector-wide growth.
According to crypto market data aggregator Dune Analytics, the total number of unique DeFi user-addresses is around 860,000, an increase of roughly 10 times over the past year. Note: that's a cumulative figure and users might have more than one address.

Despite many DeFi tokens shedding significant value last month, the sector's user-count increased by nearly 40%, from roughly 555,000 to 775,000, during October.
A further 85,000 users joined DeFi during the first 11 days of November, increasing the number of users by 11% in less than two weeks. In total that means DeFi user numbers have grown 55% from the start of October.

🗞 Daily Crypto Calendar, November, 13th💰

"On 13 November, LockTrip will start accepting ETN, PLUS we'll have an exciting promotional offer for you!"
'We have joined forces with blockchain project @LockTripLOC to bring 2.1 million hotels, flights and accommodation to Electroneum..."
"Trade will stop on 13.11.20. Please withdraw your VN from Crex24. Any VN remaining on Crex24 after 20 of November, 2020 will not be..."
Muneeb Ali, Blockstack Co-founder, will be speaking at the event.
"Wabi masternodes rewards distribution."
Last Updates


➡️ Be paid daily to browse with Brave Internet Browser
➡️ A secure and easy wallet to use: Atomic Wallet
➡️ Invest and Trade on Binance and get a % of fees back
➡️ Youtube
➡️ Twitter
➡️ Hive
➡️ Publish0x
➡️ UpTrennd
➡️ Read.cash
➡️ LBRY
➡️ Check out my video on Unstoppable Domains and get 10$ off a 40$ domain purchase
➡️ Get 50$ free by ordering a free Visa Card on Crypto.com using this link or using this code qs4ha45pvh


20% of this article rewards wil go to the @hodl-fund account in order to support HODL Community Initiatives.
Find out more about HODL Community: Crypto Social Community and by following our community account @hodlcommunity

If you would like to delegate some HP to our community and support us; we give you back 90% of the curation rewards on a daily basis ! APR > 12% !
500 HP - 1000 HP - 2500 HP - 5000 HP
Make a good APR Curation by following our HIVE trail here