Welcome to the Daily Crypto News: A complete News Review, Coin Calendar and Analysis.
Enjoy!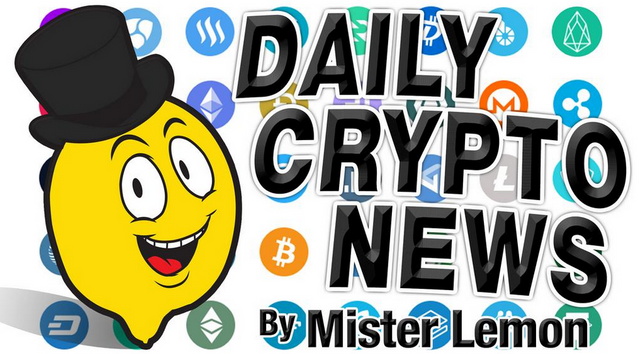 Today is a weekend day so no Daily Video but you can check out yesterday's and read the news below
Analysts are bullish on bitcoin's price but the options market is decidedly bearish on the remaining weeks of 2020. Ethereum's wrapped bitcoin token crosses $2 billion locked.
Bitcoin (BTC) trading around $16,240 as of 21:00 UTC (4 p.m. ET). Gaining 0.30% over the previous 24 hours.
Bitcoin's 24-hour range: $15,971-$16,487
BTC above its 10-day and 50-day moving averages, a bullish signal for market technicians.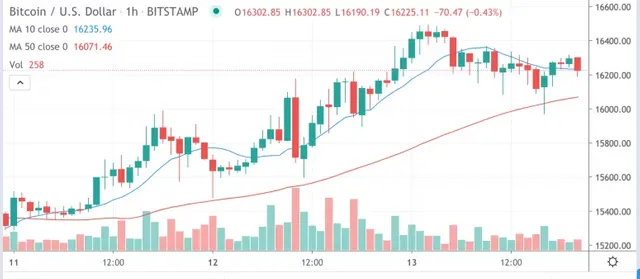 Major exchange daily spot volumes on Friday were at $668 million as of press time, but not close to Thursday's $1.1 billion in volume.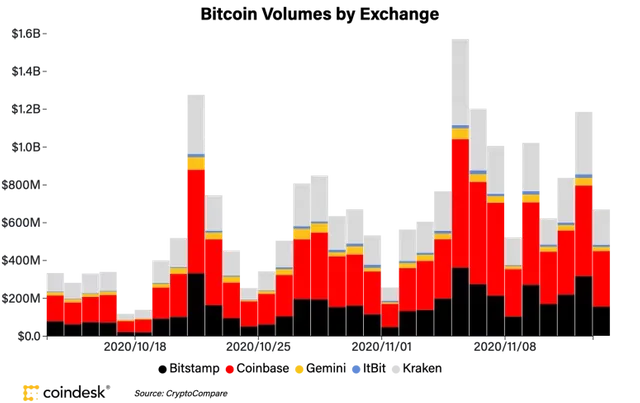 "I'm seeing an increasing demand from more traditional family offices making their first investments into bitcoin as a long-term hedge or as insurance for their existing portfolio of investments," Michael Gord, chief executive officer of Global Digital Assets, told CoinDesk. "I expect this trend to continue as bitcoin keeps maintaining its value and being uncorrelated to most other asset classes."
Bitcoin isn't entirely uncorrelated from other asset classes like equities, but lately the correlation between the world's oldest cryptocurrency and the S&P 500 has dropped a little bit.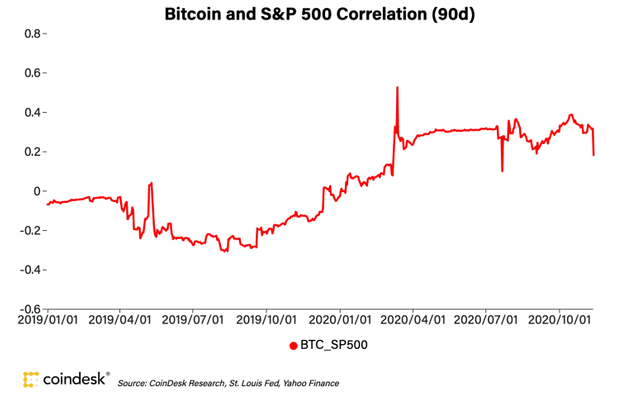 The amount of bitcoin "locked" in the Ethereum-based wrapped bitcoin contract passed $2 billion Thursday, and is staying at that level Friday. In order to use bitcoin on Ethereum, it must be "wrapped" and used as a token on the network using a standard called ERC-20.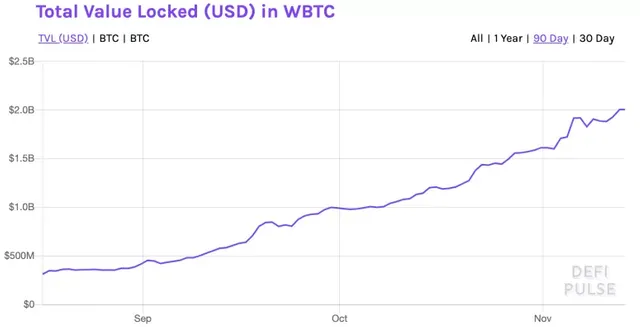 Brian Mosoff, chief executive officer of investment firm Ether Capital, says the parking of bitcoin on Ethereum is giving the network a huge leg up over its up-and-coming smart contract competitors, including Polkadot, Cardano and Cosmos, among others.
*API3 raised $3 million in a seed funding round led by VC firm Placeholder.
*It will use DAO-governed open-source software to provide blockchain-based applications with real-world data.
*API3 plans to lower the cost of oracle data by removing the network of middlemen used by other data providers like Chainlink.
Who needs Chainlink? Well, most blockchain-based projects that use oracles in order to get external data on their apps.
API3, a new oracle provider, hopes to cut into Chainlink's market share. The startup announced on Thursday the closing of a $3 million seed funding round led by Placeholder. The round also drew participation from Digital Currency Group and CoinFund. The funding round shows that, despite Chainlink's dominance, the oracle problem is far from solved, and that there's still plenty of debate over the best way to bring real-world data into decentralized applications.
API3, using existing cloud API providers, aims to cut out the middlemen and lower costs by providing aggregated data directly from first-party data sources.
API3 co-founder Heikki Vanttinen explained the benefit to Decrypt: "This allows us to leverage the data providers' off-chain reputation as collateral, which is only possible with the first-party oracles that we propose. This gets rid of all of the security risks of a third-party oracle node layer and makes the first-party oracle exactly as trustworthy as the API it is getting its data from."
As the Chinese government cracks down on several crypto exchanges catering to traders based in China, many of those customers – and their bitcoin – have been making their way to Binance over the past few days.
Bitcoin flows to Binance from Huobi reached an all-time high since the Huobi chief operating officer, Robin Zhu, allegedly went missing on Nov. 2. According to data provided by CryptoQuant, a total number of 18,652 bitcoin, worth nearly $300 million, was transferred from Huobi to Binance from that day until Nov. 11.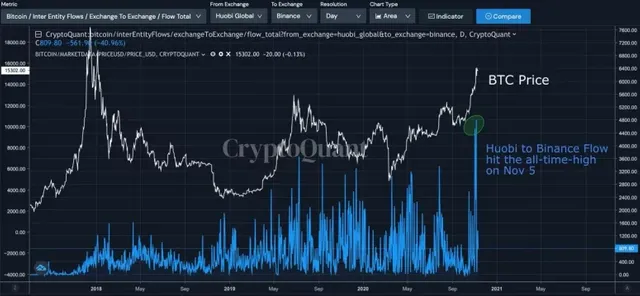 "A lot of users went to Binance because Chinese users are more familiar with Binance and Binance's executives are all overseas," Colin Wu, a Chinese crypto reporter behind the Twitter account @WuBlockchain, told CoinDesk on a WeChat message.
Ripple, the San Francisco-based blockchain payments infrastructure provider, has registered a trademark for a possible new product called "PayString."
Filed with the U.S. Patent and Trademark Office (USPTO) late last week, the application is classified in the U.S. under the general categories "Advertising and Business" and "Insurance and Financial."
A logo for the branding takes the form of "a stylized circle design with four lines radiating from it" in multiple colors.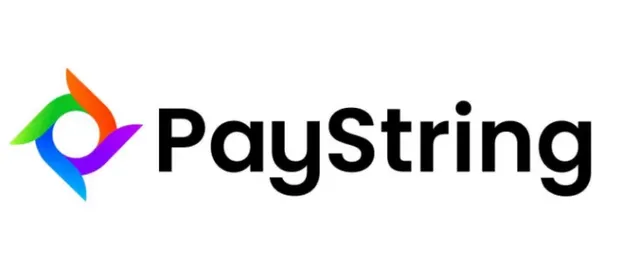 It's tempting to speculate as to what the new trademark will be used for, but there's not a lot of information to go by.
The filing describes use cases in "electronic financial services, namely monetary services for receiving and disbursing remittances and monetary gifts in fiat currencies and virtual currencies over a computer network and for exchanging fiat currencies and virtual currencies over a computer network."
🗞 Daily Crypto Calendar, November, 14th💰

"On 13 November, LockTrip will start accepting ETN, PLUS we'll have an exciting promotional offer for you!"
'We have joined forces with blockchain project @LockTripLOC to bring 2.1 million hotels, flights and accommodation to Electroneum..."
"Trade will stop on 13.11.20. Please withdraw your VN from Crex24. Any VN remaining on Crex24 after 20 of November, 2020 will not be..."
Muneeb Ali, Blockstack Co-founder, will be speaking at the event.
"Wabi masternodes rewards distribution."
Last Updates


➡️ Be paid daily to browse with Brave Internet Browser
➡️ A secure and easy wallet to use: Atomic Wallet
➡️ Invest and Trade on Binance and get a % of fees back
➡️ Youtube
➡️ Twitter
➡️ Hive
➡️ Publish0x
➡️ UpTrennd
➡️ Read.cash
➡️ LBRY
➡️ Check out my video on Unstoppable Domains and get 10$ off a 40$ domain purchase
➡️ Get 50$ free by ordering a free Visa Card on Crypto.com using this link or using this code qs4ha45pvh


20% of this article rewards wil go to the @hodl-fund account in order to support HODL Community Initiatives.
Find out more about HODL Community: Crypto Social Community and by following our community account @hodlcommunity

If you would like to delegate some HP to our community and support us; we give you back 90% of the curation rewards on a daily basis ! APR > 12% !
500 HP - 1000 HP - 2500 HP - 5000 HP
Make a good APR Curation by following our HIVE trail here