Welcome to the Daily Crypto News: A complete News Review, Coin Calendar and Analysis.
Enjoy!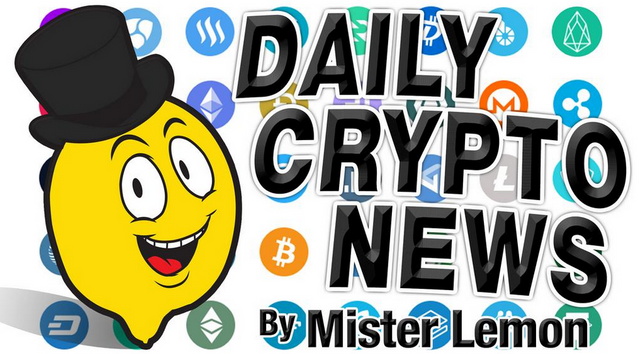 Today is a weekend day so no Daily Video but you can check out the news below !
Bitcoin's price quickly dropped below $16,000 Saturday morning, putting the rapid rally seen in recent weeks on pause.
Around 10:00 UTC, the cryptocurrency dropped as low as $15,750, having hit highs over $16,300 in the Asian trading hours.
As reported earlier this week, analysts had been expecting bitcoin (BTC, +1.56%) to move into consolidation for a time, and possible to see a pullback.
That's because the rally from $9,800 to over $16,000 over the past two months looked overstretched on the technical charts.
They anticipated, however, that the run toward bitcoin's record high of around $20,000 would pick up the pace again, likely in December.
There are still a lot of uncertainties around the scheduled Bitcoin Cash fork event on Nov. 15, but one thing is for sure: The cryptocurrency's biggest advocate, Roger Ver, executive chairman of Bitcoin.com, is not a fan of the scheduled upgrades on the network, which take place every six months.
"If PayPal knew that this sort of contentious hard fork was likely to happen, maybe they wouldn't have added bitcoin cash at all to their roadmap," Ver told CoinDesk in an interview, referring to PayPal's recent announcement to add cryptocurrencies – bitcoin cash included – to its system. "So it is really a big problem to have these contentious hard forks. I'd like to see that come to an end."
As of press time, PayPal hasn't responded to CoinDesk's request for comment on the upcoming fork event. Paxos, the company that provides crypto service for PayPal, rejected CoinDesk's request to comment on the topic.
https://www.coindesk.com/roger-ver-contentious-forks-paypal-support-bitcoin-cash?jwsource=twi
Grayscale, which runs the Grayscale Bitcoin Trust (GBTC), bought this week another 15,114 Bitcoin ($241 million). GBTC holds 481,711 Bitcoin, representing 62% of all Bitcoins in the ownership of publicly-traded companies.
Grayscale this week bought another 15,114 Bitcoin ($241 million), bringing the total number of Bitcoin the company owns to 506,000, or $8.1 billion. The company now manages a total of $10 billion worth of cryptocurrency.
Grayscale Bitcoin Trust (GBTC), which was created in 2013, is the company's biggest trust. The total value of assets managed by Grayscale Bitcoin Trust (GBTC) now exceeds $8.2 billion.
GBTC holds 481,711 Bitcoin, which corresponds to 62% of the 814,359 Bitcoins in the ownership of publicly-traded companies.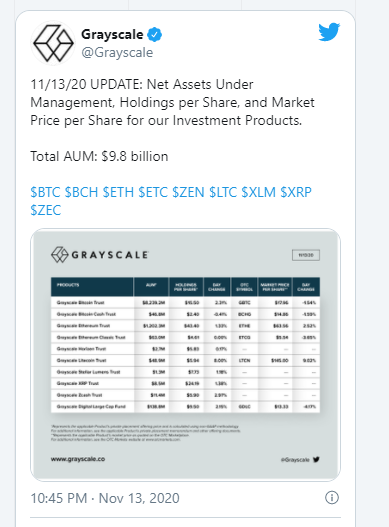 Bitcoin prices have been volatile during the last few weeks, but have managed to climb higher in value at the same time. This week bitcoin derivatives markets, specifically futures and options, show that crypto asset traders should expect more swings going forward. Some traders believe that the digital currency's price could fill two unfilled gaps on CME Group's Bitcoin Futures chart with an upward trajectory toward $18,000.
During the last few days, bitcoin (BTC) spiked over the $16k handle, as numerous cryptocurrency markets have seen some significant gains this week. On Sunday morning, November 14, 2020, BTC's price slid under the $16k zone to a low of $15,750 during the early morning trading sessions (EST).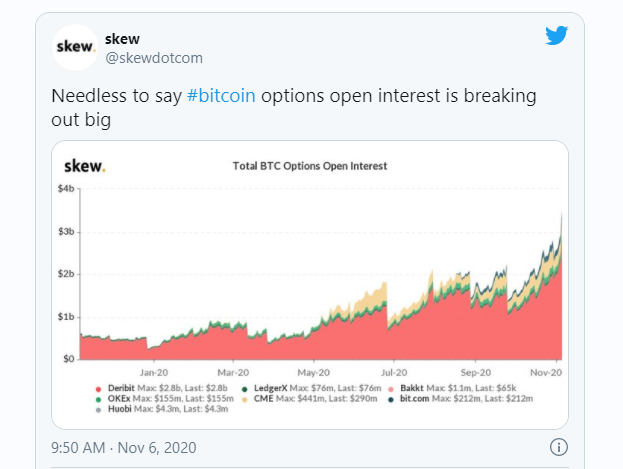 CME Group, Okex, and Ledgerx follow Deribit's lead, and CME's open interest has been growing massively. In crypto derivatives markets that tend to bitcoin futures and perpetuals, open interest has also reached an ATH this month.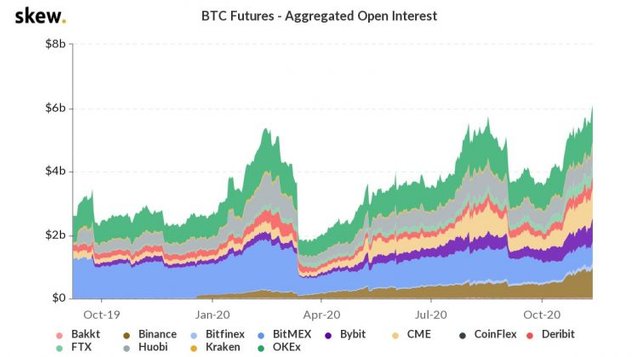 🗞 Daily Crypto Calendar, November, 15th💰

"Bitcoin ABC and [Amaury Séchet] have announced they are forking away from Bitcoin Cash on November 15..."
"Token Swap start", during early Q4 2020.
"... IP-based rate limiting will be put in place from 15 Nov 2020..."
"We are Glad to announce that our Mainnet on BSC is coming out on 15th November."
Last Updates


➡️ Be paid daily to browse with Brave Internet Browser
➡️ A secure and easy wallet to use: Atomic Wallet
➡️ Invest and Trade on Binance and get a % of fees back
➡️ Youtube
➡️ Twitter
➡️ Hive
➡️ Publish0x
➡️ UpTrennd
➡️ Read.cash
➡️ LBRY
➡️ Check out my video on Unstoppable Domains and get 10$ off a 40$ domain purchase
➡️ Get 50$ free by ordering a free Visa Card on Crypto.com using this link or using this code qs4ha45pvh


20% of this article rewards wil go to the @hodl-fund account in order to support HODL Community Initiatives.
Find out more about HODL Community: Crypto Social Community and by following our community account @hodlcommunity

If you would like to delegate some HP to our community and support us; we give you back 90% of the curation rewards on a daily basis ! APR > 12% !
500 HP - 1000 HP - 2500 HP - 5000 HP
Make a good APR Curation by following our HIVE trail here