Welcome to the Daily Crypto News: A complete News Review, Coin Calendar and Analysis.
Enjoy!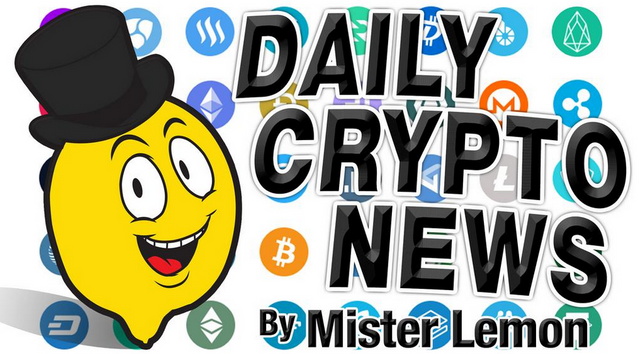 Bitcoin (BTC) begins a new week with stocks rising and the U.S. dollar falling — all while trading back above $16,000. What's next for price action?
Cointelegraph takes a look at the factors which could shape how Bitcoin moves in the coming days.
Stocks near all-time highs while USD sinks
This week's macro environment feels somewhat different to the last — stocks are gaining, boosted by a major Asian trade deal, while the U.S. dollar is losing ground.
According to the latest data on Nov. 16, the U.S. dollar currency index (DXY) has declined over the past week to hit 92.58 from post-election highs of 93.2. Traditionally, Bitcoin moves inversely with DXY, and despite this relationship becoming less pronounced recently, heavy moves in either direction can still impact BTC/USD.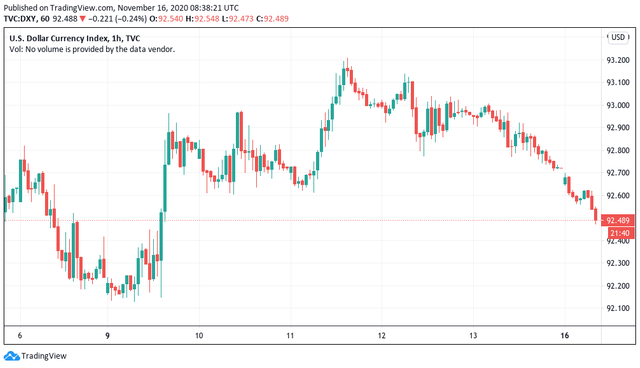 Bitcoin in 3rd highest weekly close
Bitcoin's weekend price action has allowed it to start its third best week in history after sealing a weekly close above the seminal $15,890 area.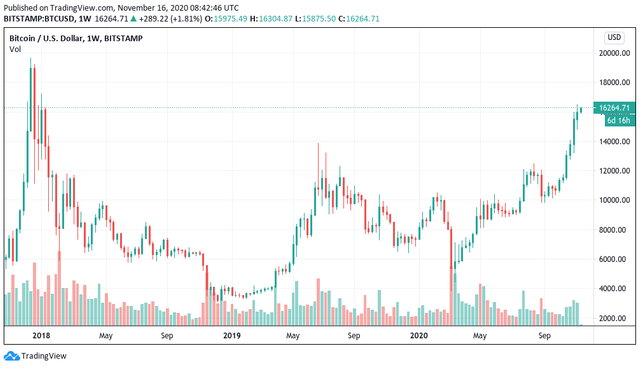 Institutions aren't selling
In the event, $16,000 returned, with publishing-time levels circling $16,250 prior to Wall St. opening.
Fundamentals trend upward
Signs of bullish change already permeate Bitcoin's network fundamentals despite the increasing warnings of a price dip.
Estimates from monitoring resource BTC.com on Monday show that Bitcoin's mining difficulty is now set to increase by around 4% in the coming hours. The latest automated readjustment for difficulty, estimates previously forecast a drop of approximately 6%, but subsequently reversed direction.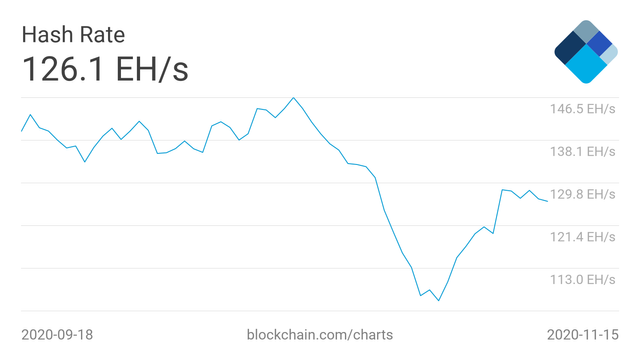 The Bitcoin Cash network, a result of a hard fork from Bitcoin, has split into two new blockchains, again. At press time, Bitcoin Cash ABC (BCH ABC) has received no hashpower, meaning that it is possible Bitcoin Cash Node (BCHN) will become the dominant software of the Bitcoin Cash network, according to data from Coin.Dance.
The last "common block" among bitcoin cash (BCH, -1.16%) miners was #661647, mined by Binance. The first block that split the Bitcoin Cash blockchain was mined by AntPool. Since then, hashpower has been in BCHN's favor, as miners have mined multiple consecutive blocks on the network.
Before the fork, 80% of miners were signaling support for BCHN.
To recap, a group of Bitcoin Cash developers led by Amaury Sechet, known as BCH ABC, proposed an update on the Bitcoin Cash network, which has included a controversial new "Coinbase Rule," which requires 8% of mined bitcoin cash to be redistributed to BCH ABC as a means of financing protocol development.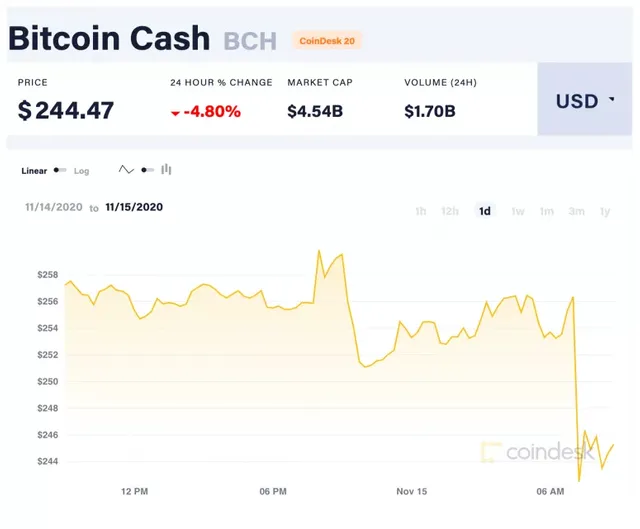 Many Americans are in need of second stimulus checks and a new coronavirus relief package. As Congress resumes stimulus negotiations, President Trump has called for a "big and focused" stimulus bill now. Meanwhile, several analysts have predicted when lawmakers will pass the next stimulus package.
Stimulus Package Status
Stimulus negotiations have resumed after the presidential election but lawmakers still have not been able to come to an agreement. This has left Americans with little hope of receiving their second stimulus checks to help them cope with the coronavirus-led economic crisis.
After the election, House Speaker Nancy Pelosi continued to push for her $2.2 trillion revised HEROES Act while the White House has reportedly stepped back from negotiations on a new stimulus package. Prior to the election, Treasury Secretary Steven Mnuchin discussed stimulus terms with Pelosi almost daily but the two could not come to an agreement. Now, it is up to Senate Majority Leader Mitch McConnell to revive talks with Pelosi.
Referring to Pelosi and Senate Minority Leader Chuck Schumer, McConnell said: "I gather she and the Democratic leader in the Senate still are looking at something dramatically larger. That's not a place I think we're willing to go." He elaborated:
But I do think there needs to be another package. Hopefully we can get past the impasse we've had now for four or five months and get serious about doing something that's appropriate.
The U.S. Securities and Exchange Commission (SEC) is once again asking about qualified custodians and how crypto custody fits into this regulatory framework.
Last month, the Wyoming Division of Banking granted a no-action letter to Two Ocean, a wealth management firm hoping to offer custodial services for digital assets (which include virtual currencies) and call itself a qualified custodian.
In the letter, the division said it "would not pursue enforcement action against Two Ocean for holding itself out to the public as a 'qualified custodian' if Two Ocean operates in conformity with applicable laws and rules surrounding the safekeeping of customer assets, including both Wyoming and federal law."
Qualified custodians
The term "qualified custodians" is a legal one, defined by the SEC as a bank, broker-dealer, futures commission merchant or other entity that maintains client funds and securities in specific ways. The federal regulator can designate an entity as a qualified custodian, while state-level regulators typically cannot.
Good sign
The SEC's letter is encouraging, Land said. The SEC is highlighting that investment advisers must consider their fiduciary duties when acting as a qualified custodian, and in his view the federal agency is just laying out questions around this issue.
"The SEC letter and our letter both agree we have shared power over this area, the custody area, but I don't think that line has been drawn with the precision that the banking industry and the securities industry might like, and I think that's one thing we're both going to have to work together [on]," he said.
🗞 Daily Crypto Calendar, November, 16th💰

"Mark your calendars: Stellar's 2nd annual Meridian conference is set for November 16 to 20, 2020 — coming to you as a virtual event..."
Last airdrop round for UVU Holders of VYB. All holders which didn't receive coins in previous rounds can participate.
Team updates at 3:30 PM UTC/ 11:30 AM EDT: Engineering, Node network, Product/UX, Helpdesk, Legal, BD, Marketing, CEO Closing thoughts, AMA.
Every week our dev-team shares our progress and updates to the Community.
Stacks 2.0 Mainnet AMA.
Last Updates


➡️ Be paid daily to browse with Brave Internet Browser
➡️ A secure and easy wallet to use: Atomic Wallet
➡️ Invest and Trade on Binance and get a % of fees back
➡️ Youtube
➡️ Twitter
➡️ Hive
➡️ Publish0x
➡️ UpTrennd
➡️ Read.cash
➡️ LBRY
➡️ Check out my video on Unstoppable Domains and get 10$ off a 40$ domain purchase
➡️ Get 50$ free by ordering a free Visa Card on Crypto.com using this link or using this code qs4ha45pvh


20% of this article rewards wil go to the @hodl-fund account in order to support HODL Community Initiatives.
Find out more about HODL Community: Crypto Social Community and by following our community account @hodlcommunity

If you would like to delegate some HP to our community and support us; we give you back 90% of the curation rewards on a daily basis ! APR > 12% !
500 HP - 1000 HP - 2500 HP - 5000 HP
Make a good APR Curation by following our HIVE trail here