Welcome to the Daily Crypto News: A complete News Review, Coin Calendar and Analysis.
Enjoy!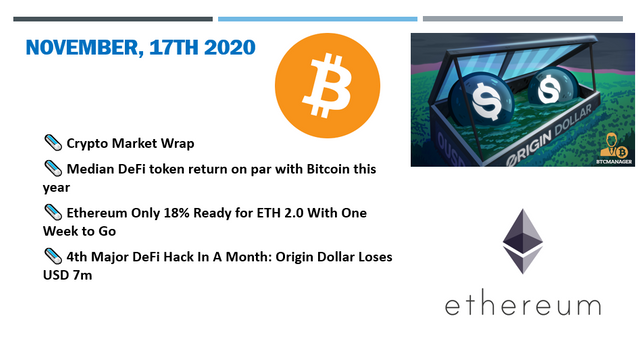 Bitcoin is knocking at the gates of $17,000 while Ethereum's transaction growth in 2020 is a positive indicator of future financial use cases.
Bitcoin (BTC) trading around $16,829 as of 21:00 UTC (4 p.m. ET). Gaining 6.1% over the previous 24 hours.
Bitcoin's 24-hour range: $15,792-$16,851
BTC above its 10-day and 50-day moving averages, a bullish signal for market technicians.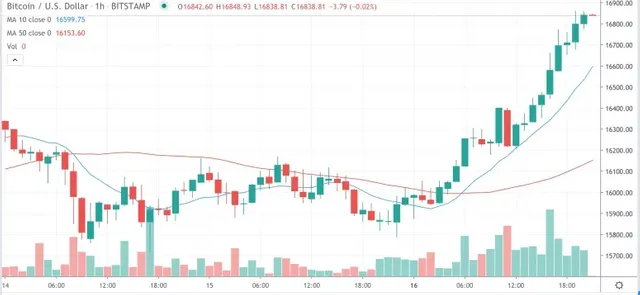 Momentum, as measured in the form of volume, was at $688 million as of press time, higher than the past month's $404 million daily average on major spot exchanges.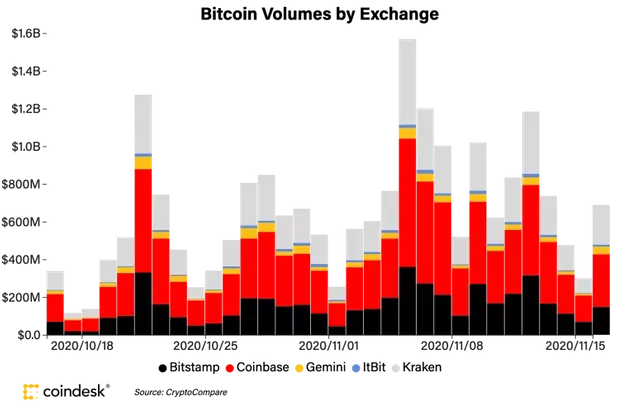 According to several analysts, the climbing value of bitcoin is also giving the world's oldest cryptocurrency an increasing use as value storage for lending, both from centralized players and in decentralized finance, or DeFi. Since November 2019, the amount of bitcoin "locked" in DeFi, for example, has skyrocketed from 1,422 to 174,673 BTC, a 12,183% increase.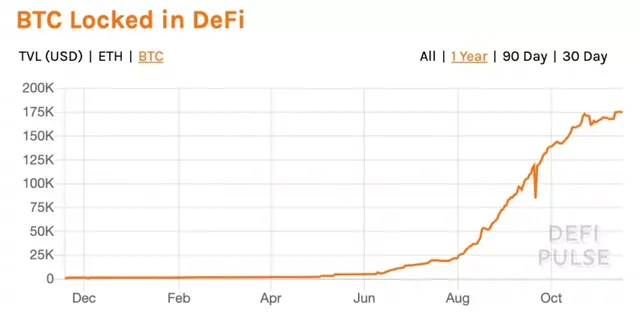 Uniswap, tether dominate Ethereum transactions
Since the start of July, the Ethereum network has been averaging over one million transactions per day, according to data aggregator Glassnode. That number of transactions was first experienced three years ago during the 2017-2018 crypto market bubble.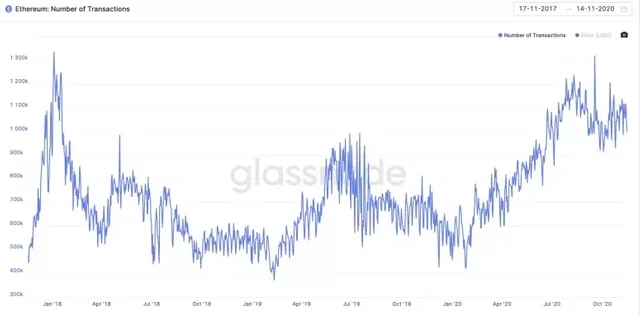 Despite a pull back from the meteoric bull market for decentralized finance, the average DeFi token return has vastly outperformed Bitcoin and Ethereum. The median performance is a different story however.
On Nov. 17, pseudonymous crypto analyst 'Ceteris Paribus' shared data with his 12,000 followers compiling the YTD median and average performances of 40 top crypto assets, comprised of 38 top DeFi assets, Bitcoin (BTC) and Ether (ETH). Around 26 of the DeFi assets are currently posting YTD gains.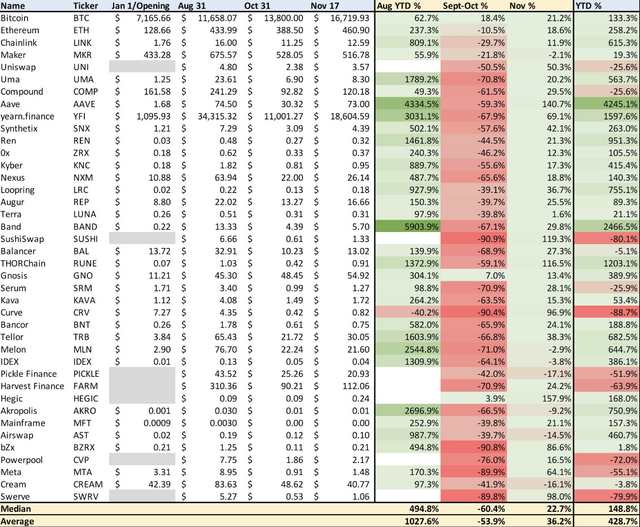 The analyst found that the median return sits around 148.8%, which is 15.5% above Bitcoin's 133.3% YTD gain. So half of DeFi tokens are above that level, and half below. Paribus said it was pretty much even:
"Strong rebound in November so far but unlike summer, median token return has matched $BTC, not outperformed."
Ethereum's 2.0 upgrade needs over 524,000 ETH by November 24 in order to launch on December 1, as planned. Right now, it's only 18% of the way there.
Ethereum's long-awaited 2.0 upgrade is contingent on users pouring a large amount of ETH into its deposit contract.
The upgrade is set to be released December 1, but only about 18% of the required amount has been staked.
If the full amount isn't deposited in time, the project will face delays. Again.
Ethereum 2.0 aims to do away with this puzzle process altogether. On a proof-of-stake blockchain, the network validates new transactions by choosing a "staker," and the person chosen is determined by how many tokens they hold. This system requires a certain amount of total tokens in order to begin operating, which is why Ethereum 2.0 needs 524,000 ETH. (That's roughly $243 million worth of Ethereum, at today's prices.)
Most of the investments so far have come in large chunks, with Ethereum cofounder Vitalik Buterin himself committing 3,200 ETH ($1.4 million) to Ethereum 2.0. One address, bb84d966c09264ce9a2104a4a20bb378369986db, has committed a whopping 17,088 ETH (about $8 million).
"A superior stablecoin for the Ethereum network," Origin Dollar (OUSD), has been hacked, becoming at least the fourth decentralized finance (DeFi) project, attacked less than in a month.
"There has been a loss of funds of around USD 7m, including over USD 1m of funds deposited by Origin and our founders and employees," confirmed Matthew Liu, Co-Founder of Origin Protocol (OGN), a San Franciso-headquartered peer-to-peer commerce startup, that launched OUSD in September this year. OUSD automatically earns yields from DeFi protocols while it's still sitting in a wallet.
"We are not going away. This is not a rug pull or internal scam," Liu said, adding that they're "actively working on measures in an attempt to recoup the funds." Also, they're asking the hacker to return the funds and promised to "hire you as a security consultant" and "not to pursue you or any legal action against you."
Liu also claims that the team has now traced funds and knows that the attacker used both Tornado Cash and renBTC to wash and move funds.
"Currently, there is still 7,137 ETH and 2.249m DAI sitting in one of the attacker's wallets," Liu added. According to him, the attack was a re-entrancy bug in their contract. One of the most well-known re-entrancy attacks was the DAO hack in 2016, which drained it of some ETH 3.6m, at the time valued at some USD 50m.
The Co-founder said that the attacker was able to sell some OUSD on Uniswap and Sushiswap decentralized exchanges for USDT.
🗞 Daily Crypto Calendar, November, 17th💰

Halving
Join STX Co-Founder Muneeb Ali in the Binance Youtube Channel as he talks about the upcoming Stacks 2.0 Mainnet Launch.
"IMPORTANT: Dentacoin is delisting from Vindax exchange. Please withdraw your DCN tokens until November 17, 2020."
"#CNTX (@centexio) currency is going to be delisted from Crex24 on 17.11.20 due to the CNTX developer request."
Geeq's Web-Based Staking is coming, find out more in the Staking Overview.
Last Updates


➡️ Be paid daily to browse with Brave Internet Browser
➡️ A secure and easy wallet to use: Atomic Wallet
➡️ Invest and Trade on Binance and get a % of fees back
➡️ Youtube
➡️ Twitter
➡️ Hive
➡️ Publish0x
➡️ UpTrennd
➡️ Read.cash
➡️ LBRY
➡️ Check out my video on Unstoppable Domains and get 10$ off a 40$ domain purchase
➡️ Get 50$ free by ordering a free Visa Card on Crypto.com using this link or using this code qs4ha45pvh


20% of this article rewards wil go to the @hodl-fund account in order to support HODL Community Initiatives.
Find out more about HODL Community: Crypto Social Community and by following our community account @hodlcommunity

If you would like to delegate some HP to our community and support us; we give you back 90% of the curation rewards on a daily basis ! APR > 12% !
500 HP - 1000 HP - 2500 HP - 5000 HP
Make a good APR Curation by following our HIVE trail here