Welcome to the Daily Crypto News: A complete News Review, Coin Calendar and Analysis.
Enjoy!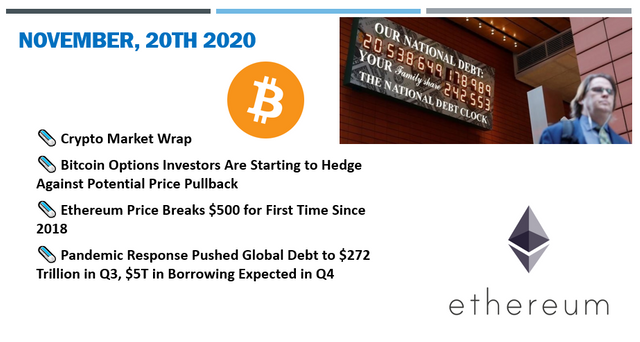 Bitcoin steadied around $18,000 after record volumes on Wednesday while Ethereum 2.0 may be causing some investors to move ether out of decentralized finance (DeFi).
Bitcoin (BTC) trading around $18,026 as of 21:00 UTC (4 p.m. ET). Gaining 2.1% over the previous 24 hours.
Bitcoin's 24-hour range: $17,364-$18,170
BTC above its 10-day and 50-day moving averages, a bullish signal for market technicians.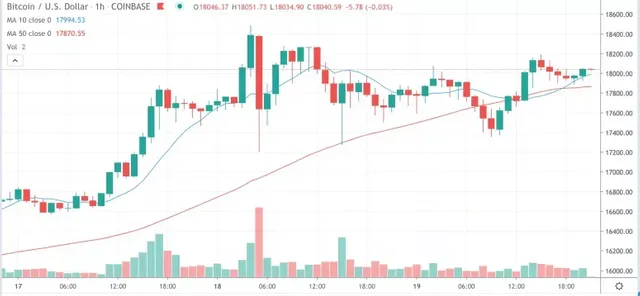 Volume contributed to the weakening price action. At $1.79 billion, Wednesday was the highest volume day for major USD/BTC spot exchanges since way back on March 13, when volumes hit $1.98 billion the day after the "Black Thursday" crash. Today, daily volume on these exchanges were at a comparably tepid $867 million.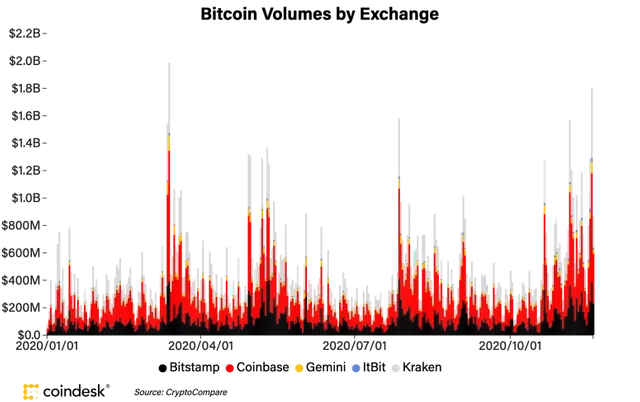 Since Oct. 20, bitcoin's 30-day volatility has been steadily rising, indicating that some price gyrations may still be on the horizon.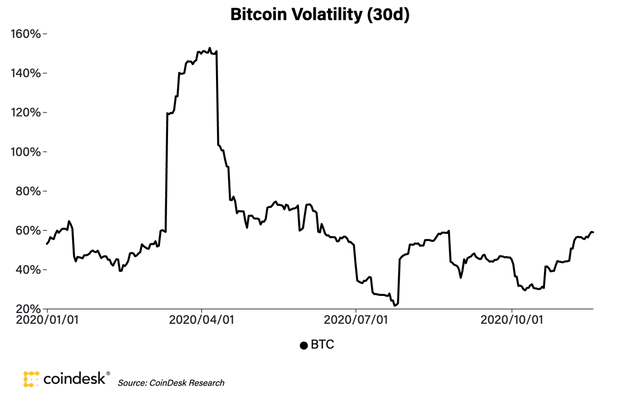 Ether moving out of DeFi
The amount of ether "locked" in decentralized finance, or DeFi, is declining. The fall began Nov. 14, going from 8.9 million to 7.7 million ETH as of press time, according to aggregator DeFi Pulse.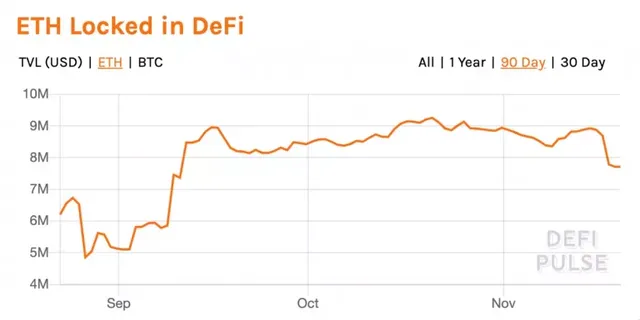 Jean-Marc Bonnefous, managing partner for investment firm Tellurian Capital, suspects some of the ether movement out of DeFi might have to do with Ethereum's ambitious "2.0" project. This requires some capital allocation to a smart contract set aside for staking something known as the "beacon chain" to launch the new network.
Bitcoin's options market data shows investors are beginning to position for a temporary retreat from the cryptocurrency's steep bull run.
The one-month implied volatility, which is influenced by the demand for call and put options, jumped from roughly 55% to a four-month high of 70.5% in the past two days, suggesting increased expectations for price turbulence over the next four weeks.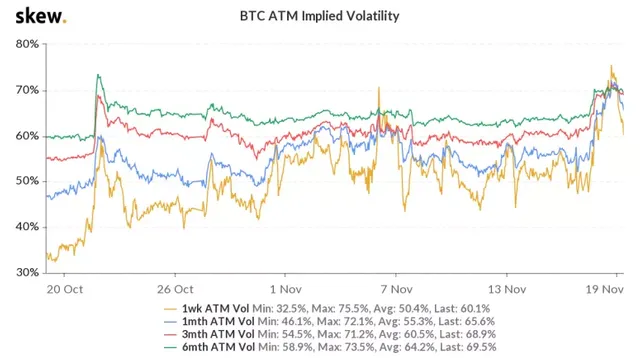 The one-month gauge is currently seen at 65%. Implied volatility metrics for longer durations have also recovered from recent lows.
Options are derivative contracts that give the purchaser the right but not the obligation to buy or sell the underlying asset at a predetermined price on or before a specific date. A call option gives the right to buy, and the put option represents the right to sell. Implied volatility, a key component in calculating the price of an option, is the expected standard deviation of returns over a selected period and is expressed in annualized terms.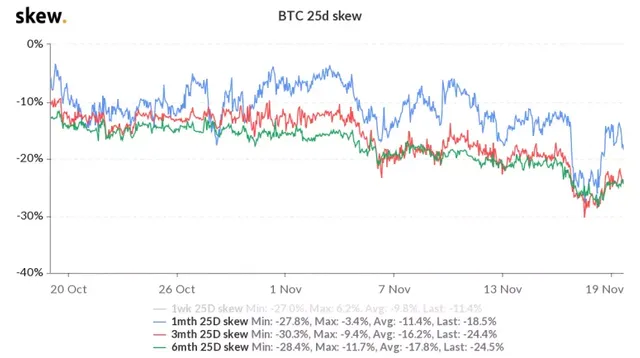 The price of Ethereum has risen above the $500 barrier for the first time since 2018. The last time the cryptocurrency was above $500 was July 2018.
Ethereum has been the talk of the town in recent months as the crypto community anticipates the release of Ethereum 2.0, a massive upgrade to the Ethereum network that aims to solve long standing scalability issues plaguing the Ethereum network. But while we wait for this upgrade, Ethereum's price has kept rising.
"Ethereum has the network, it has the attention and now we are starting to see the true price discovery start," Charles Storry, co-founder of PhutureDAO, told Decrypt.
The Institute of International Finance (IIF) says global debt will soar to a record $277 trillion by the end of 2020 as governments and companies continue to spend in response to the COVID-19 pandemic. Already, the debt has ballooned by $15 trillion this year to $272 trillion through September. Governments from developed markets account for more than half of that increase, according to the IIF's Global Debt Monitor.
Governments from Developed Markets Are the Biggest Borrowers
According to a report, debt repayments will prove to be "much more onerous" despite the "record-low borrowing costs across the globe." Declining revenues to emerging market governments will be partly to blame. IIF data shows that emerging market debt-to-GDP hit nearly 250% in the third quarter.
Risks of Deleveraging
Meanwhile, the IIF data shows that the US, which has borrowed heavily in the year, will see its debt hitting $80 trillion in 2020 up from $71 trillion in 2019. Similarly, in the Euro area, the "debt rose by $1.5 trillion to $53 trillion through September."
🗞 Daily Crypto Calendar, November, 20th💰

"Want to learn more about the Lisk Center Berlin and get updates about the Research and Development progress? On November 20th, at 6pm..."
Wabi masternodes rewards distribution.
"November 20th - Opening of CATT DeFi webpage"
"Crypto VIP Signal will host #AMA with @NwcPublic on 20th Nov/Tommorow"
"#BKEX will list #CRO @cryptocom | - Trading pair: CRO/USDT - Trading time: 15:00 on Nov 20 (UTC+8)"
Last Updates


➡️ Be paid daily to browse with Brave Internet Browser
➡️ A secure and easy wallet to use: Atomic Wallet
➡️ Invest and Trade on Binance and get a % of fees back
➡️ Youtube
➡️ Twitter
➡️ Hive
➡️ Publish0x
➡️ UpTrennd
➡️ Read.cash
➡️ LBRY
➡️ Check out my video on Unstoppable Domains and get 10$ off a 40$ domain purchase
➡️ Get 50$ free by ordering a free Visa Card on Crypto.com using this link or using this code qs4ha45pvh


20% of this article rewards wil go to the @hodl-fund account in order to support HODL Community Initiatives.
Find out more about HODL Community: Crypto Social Community and by following our community account @hodlcommunity

If you would like to delegate some HP to our community and support us; we give you back 90% of the curation rewards on a daily basis ! APR > 12% !
500 HP - 1000 HP - 2500 HP - 5000 HP
Make a good APR Curation by following our HIVE trail here