Welcome to the Daily Crypto News: A complete News Review, Coin Calendar and Analysis.
Enjoy!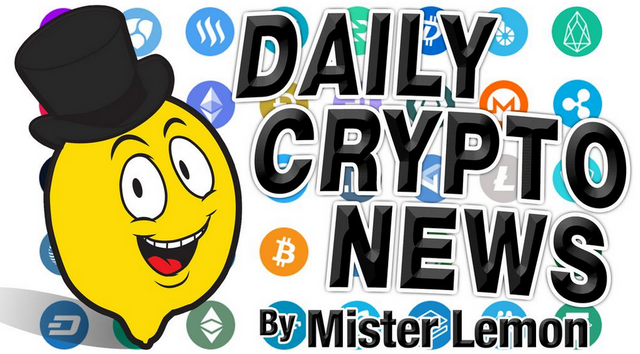 As it is Sunday, no Daily Crypto News Video but below are the most important news of the day
Have a great weekend.
The price of Ether (ETH), the native cryptocurrency of Ethereum, has surpassed $547. Following the breakout, traders are pinpointing several key resistance levels in the near term.
In the short term, traders generally foresee $600 as the major resistance area for Ether as it marked the beginning of a bearish trend starting in May 2018. As such, $600 could act as an area of interest for sellers.
But, traders also believe that if Ether surpasses $600, it would likely enter the $700 to $900 range. Above it, there is little resistance until the all-time high.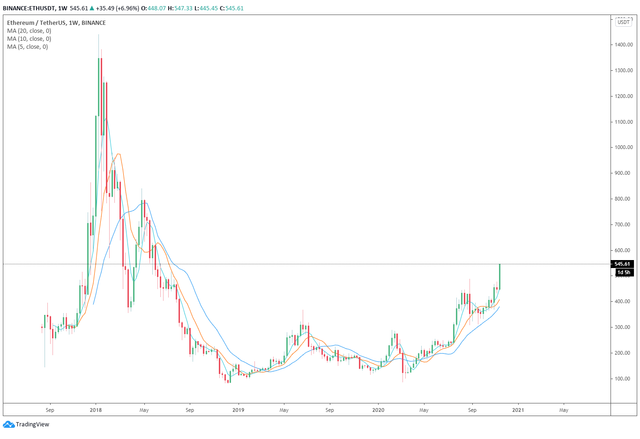 Ethereum's outlook remains positive
The Ethereum network has seen numerous catalysts come into play in recent months.
First, the Ethereum 2.0 network upgrade is progressing, as a large number of Ether continues to flow into the deposit contract address.
"Following in $BTC's footsteps, $ETH has hit a 29-month high of $509. June 21, 2018 was the last time the price was this high for the #2 market cap asset. #Ethereum's top 10 holders rising, combined with coin supply on exchanges, have fueled this rally."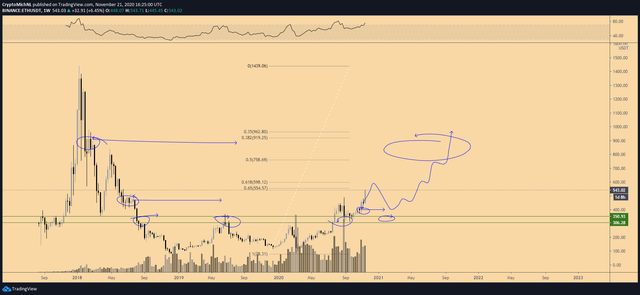 XRP has surged to 16-month highs, leading a pack of cryptocurrencies all benefiting from bitcoin's rally toward historic levels.
XRP (XRP, +27.39%), the native asset of the XRP ledger, developed by payment-focused blockchain firm Ripple Labs, climbed to as high as $0.437564 before retreating to $0.413853 at press time, reaching the highest price point since July 2019, according to The CoinDesk 20.
The third-largest cryptocurrency by market value has gained over 33% in the past 24 hours, extending the year-to-date gain to 116%.
*$19,783 reached in December 2017.
"Altcoins are high beta assets and usually move in the same direction as bitcoin, but more,"* trader and analyst Alex Kruger tweeted on Friday. Alternative cryptocurrencies can be considered as leveraged bitcoin plays, according to Kruger.
Bitcoin, the top cryptocurrency by market capitalization, has charted a steep rally from $10,000 to nearly $19,000 in the past eight weeks.
Pickle Finance, a DeFi protocol, was hacked to the tune of almost $20 million.
The hackers' approach is still unknown, though some analysts are saying it doesn't resemble a typical flash loan attack.
But why create stablecoins of currencies as damaged as the Argentine peso and Brazilian real, which respectively lost 30% and 20% of their value relative to the dollar in the past year?
The coffers of Pickle Finance, a decentralized finance (DeFi) protocol with a native token that looks suspiciously like Pickle Rick, of Rick and Morty fame, were drained today of $20 million in what appears to be a hack.
Pickle Finance shifts investors' money around different DeFi protocols to maximise returns, a little like a traditional robo-advisor.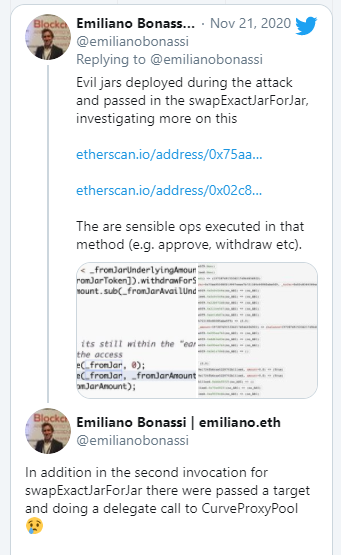 During the last two years since the initial bear market after the 2017 bull run, stablecoins have been extremely popular. Today, statistics show that the market capitalization of all the notable stablecoins today is hovering above the $23.9 billion mark. Out of more than 30 stablecoins in 2020, tether is still a behemoth capturing 76.15% of the entire market share. Since January 2016, the stablecoin tether's market valuation has grown a whopping 1.9 million percent from $951k to $18.5 billion.
Tether's Market Cap Jumps from a Million to Over $18 Billion in a Four-Year Time Span
The stablecoin tether (USDT) is by far the most used dollar-pegged token in existence today and the project has grown massively since its inception. At the time of publication, the token USDT was issued 2,236 days ago on October 6, 2014, on the Bitcoin blockchain by leveraging the Omni Layer Protocol.

Statistics show that Binance and Huobi Global are the top two exchanges swapping USDT today. The concentration of large tether (USDT) holders is 29% on November 21, 2020, while USDT's price correlation with BTC is -0.37. During the last seven days, recorded USDT transactions above the $100k region show $16.1 billion has been settled this past week. 45% of USDT transactions stem from the western hemisphere, and 55% come from the eastern side of the world.

🗞 Daily Crypto Calendar, November, 22nd💰

Verus reward halving at block 1,278,000, which is anticipated to occur on Nov 22.
"D2M studio, a gaming pioneer on KardiaChain, launches a Battle Royale named $KAI Zodiac Hunger Games."
AMA with the Vision Network creator discussing Proof of Vision 100$ for the best question.
Last Updates


➡️ Be paid daily to browse with Brave Internet Browser
➡️ A secure and easy wallet to use: Atomic Wallet
➡️ Invest and Trade on Binance and get a % of fees back
➡️ Youtube
➡️ Twitter
➡️ Hive
➡️ Publish0x
➡️ UpTrennd
➡️ Read.cash
➡️ LBRY
➡️ Check out my video on Unstoppable Domains and get 10$ off a 40$ domain purchase
➡️ Get 50$ free by ordering a free Visa Card on Crypto.com using this link or using this code qs4ha45pvh


20% of this article rewards wil go to the @hodl-fund account in order to support HODL Community Initiatives.
Find out more about HODL Community: Crypto Social Community and by following our community account @hodlcommunity

If you would like to delegate some HP to our community and support us; we give you back 90% of the curation rewards on a daily basis ! APR > 12% !
500 HP - 1000 HP - 2500 HP - 5000 HP
Make a good APR Curation by following our HIVE trail here