Welcome to the Daily Crypto News: A complete News Review, Coin Calendar and Analysis.
Enjoy!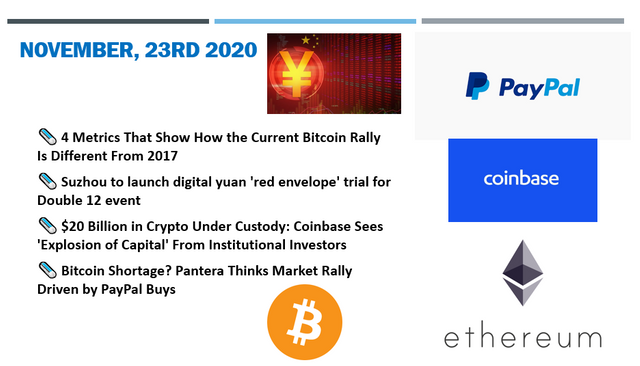 Video Coming up !
Crypto markets have historically been led by retail investors, with professional investors following. Is that changing? After all, high-tech innovation in the past 15 years has executed an opposite about-face, flipping an enterprise-led pattern into a consumer-led pattern.
?Retail's lead was evident in the fourth quarter of 2017, as media hype soared, alongside the price. There's no doubt the retail hype is quieter this time around. CNBC had nearly 100 "bitcoin (BTC, +2.89%)" headlines in the first half of Q4 2017. These past six weeks, as bitcoin ran to a new all-time high in market value, it's put up less than 40. Where the hell are Davy Day Trader and the "Robinhood effect" investors? Did their stimulus checks run out?
Bitcoin whales and trading vs. holding
The number of addresses holding at least 1 bitcoin increased at an unrelenting pace from the end of 2013 to the 2018 crash. It picked up again in 2019, then leveled off again this spring. This is different from the end of 2017, when it soared to a peak with the bitcoin price.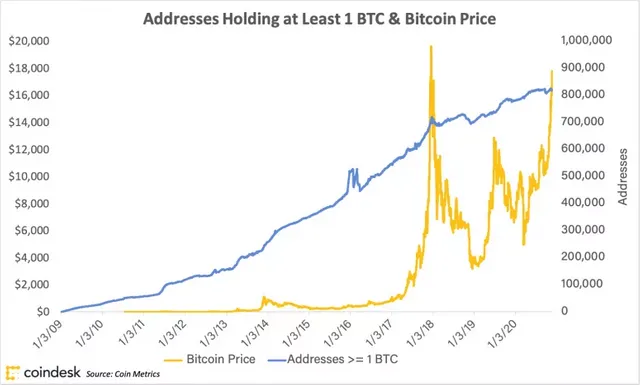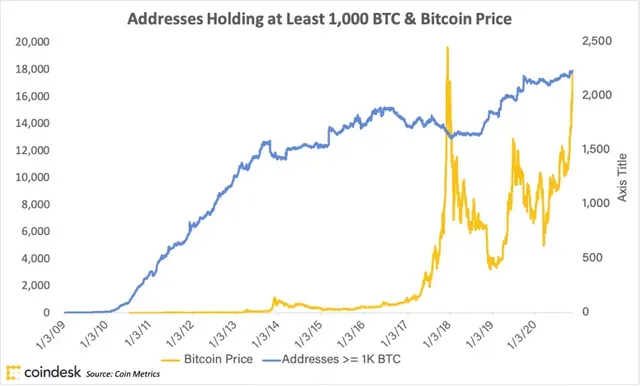 Bitcoin vs. ether and everything else
The 2017 bull market is remembered as a phenomenon driven by enthusiasm for initial coin offerings (ICOs) on Ethereum (ETH, +10.53%). However, by the time the frenzy reached its fever pitch, ether (ETH) had largely completed its run. At the midpoint of 2017 Q4, bitcoin returns were 23.9%; ether returns were 6.9%. It was bitcoin's Q4 catch-up run that fed the bulls.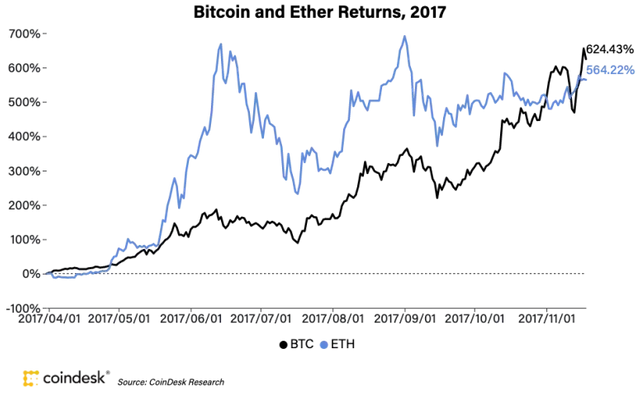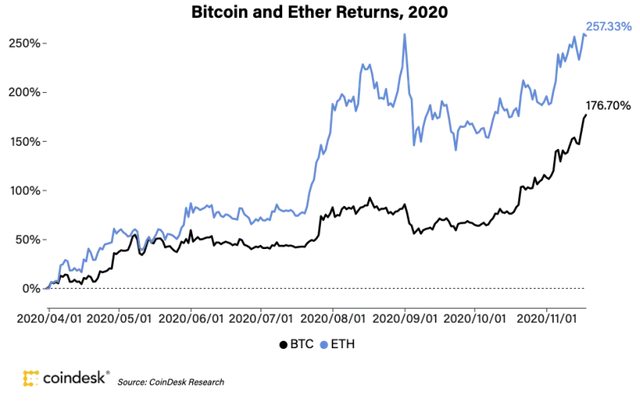 Regulated vs. off-shore futures markets
The "institutions are here" chorus can sing about the growth of the CME Bitcoin Futures market, signaling increasing demand for regulated exposure to bitcoin via established operations channels. Open interest on the CME hit $1 billion this week, an all-time high.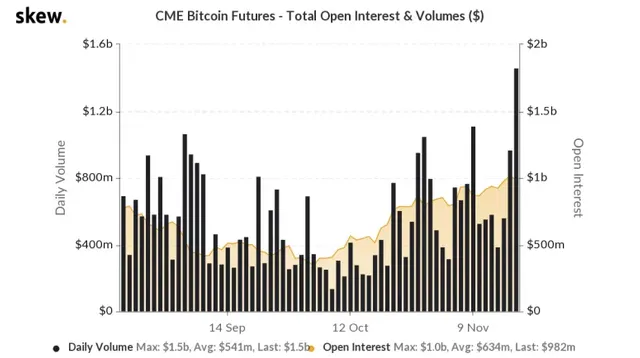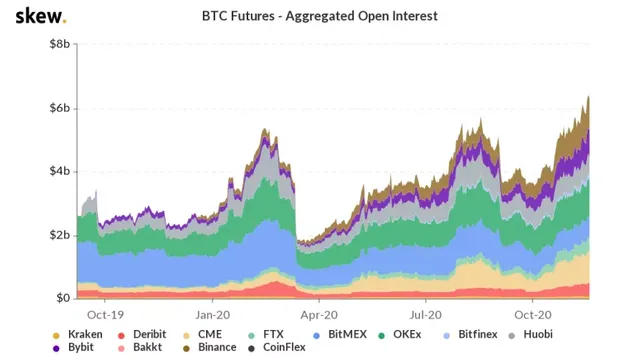 N. America vs. E. Asia investors
Parallel to the growth of CME futures is the flow of bitcoin onto North American exchanges, and off of East Asian exchanges.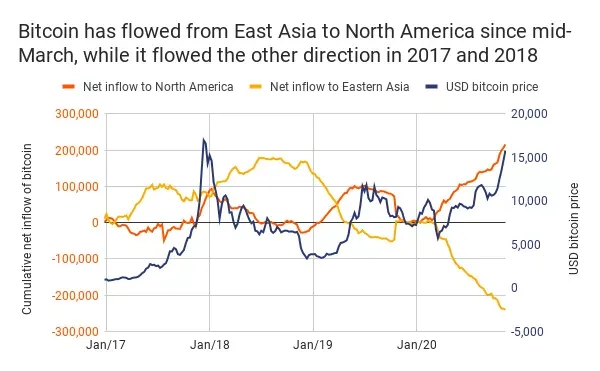 The Chinese city of Suzhou will be the second to roll out a "red envelope" trial for the forthcoming digital yuan, according to a report in local media outlet The Paper.
Following the successful pilot scheme run in the city of Shenzhen last month, insiders say that the Suzhou district of Xiangcheng will be launching the giveaway to coincide with the country's Double 12 shopping event on Dec. 12.
Many businesses in the district have reportedly already installed near-field communication QR codes in anticipation of the trial.
The previous Shenzhen trial saw a total of 10 million digital yuan distributed to 50,000 winners of red envelopes in a lottery format draw.
Coinbase has revealed that it has had "an explosion of incoming capital." Its assets under custody currently stand at $20 billion, $14 billion of which were accumulated since April. Coinbase highlights a string of bullish events that have "really unleashed" a wave of institutional adoption.
Coinbase Has $20 Billion Under Custody
Coinbase's Head of Institutional Coverage, Brett Tejpaul, talked about institutional demand for bitcoin in an interview with Heidrick & Struggles International, published on Friday.
Tejpaul has 25 years of experience in sales and trading, with almost 17 years at Barclays, and nine years at JPMorgan. He explained that he joined Coinbase six months ago, and is now "responsible for growing the institutional adoption of cryptocurrency, across sales, trading, custody, and Prime." Prime is Coinbase's services for institutional clients, including asset managers, hedge funds, and VCs.
He then highlighted recent bullish events in the crypto space, beginning with famed hedge fund manager Paul Tudor Jones, who said in May that he put about 2% of his portfolio into bitcoin. In October, Jones said that he saw much upside to bitcoin.
Jones' decision "was important because it served as a calling card to other traditional macro firms, which are thinking about bitcoin as a store of value, bitcoin as a potential tail risk hedge to the portfolio," Tejpaul detailed, adding:
We have seen an unbelievable wave of institutions follow Paul's lead.
PayPal's recent leap into the crypto market is helping to drive the current bitcoin rally, according to Pantera Capital, a prominent cryptocurrency and blockchain investment firm.
Indeed, all eligible PayPal account holders in the U.S. can now buy, hold and sell those cryptocurrencies – sooner than the payments firm anticipated, due to steep customer interest. Additionally, the firm recently upped its weekly crypto purchase limits to $20,000 from an initial $10,000.
"BOOM! The results are already apparent," Dan Morehead, chief executive and founder of Pantera, wrote in the November letter. "When PayPal went live, volume started exploding."
Pantera claims that PayPal is already buying almost 70% of the new supply of bitcoins. Together with Square's Cash App routine bitcoin buying, more than 100% of all newly minted bitcoins is accounted for, Pantera alleges.
🗞 Daily Crypto Calendar, November, 23rd💰

2XDN tokens are going to be distributed FREE via airdrop to those who will be holding DigitalNote XDN coins at the block number 300,000...
"Reminder - On Monday 11/23/2020 at 1600 UTC, validators will hold the vote to upgrade the public network to Protocol 15."
Team updates at 3:30 PM UTC/ 11:30 AM EDT: Engineering, Node network, Product/UX, Helpdesk, Legal, BD, Marketing, CEO Closing thoughts, AMA.
Every week our dev-team shares our progress and updates to the Community.
"Deposit $ARPA on #Bella Flex Savings on Nov 23rd and start smart, auto and secure farming. Also, the current APY for $ARPA on..."
Last Updates


➡️ Be paid daily to browse with Brave Internet Browser
➡️ A secure and easy wallet to use: Atomic Wallet
➡️ Invest and Trade on Binance and get a % of fees back
➡️ Youtube
➡️ Twitter
➡️ Hive
➡️ Publish0x
➡️ UpTrennd
➡️ Read.cash
➡️ LBRY
➡️ Check out my video on Unstoppable Domains and get 10$ off a 40$ domain purchase
➡️ Get 50$ free by ordering a free Visa Card on Crypto.com using this link or using this code qs4ha45pvh


20% of this article rewards wil go to the @hodl-fund account in order to support HODL Community Initiatives.
Find out more about HODL Community: Crypto Social Community and by following our community account @hodlcommunity

If you would like to delegate some HP to our community and support us; we give you back 90% of the curation rewards on a daily basis ! APR > 12% !
500 HP - 1000 HP - 2500 HP - 5000 HP
Make a good APR Curation by following our HIVE trail here