Welcome to the Daily Crypto News: A complete News Review, Coin Calendar and Analysis.
Enjoy!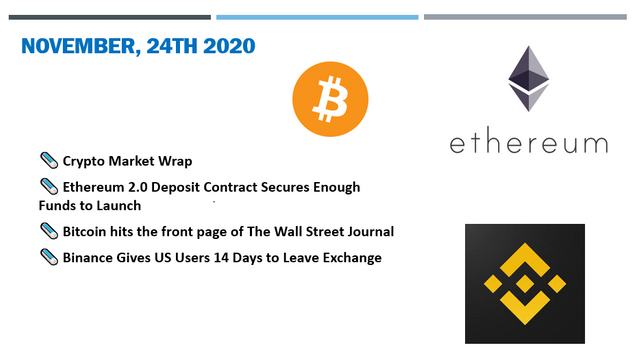 Bitcoin dipped below $18,000 before recovering on higher-than-average spot volume. Meanwhile, ether's price performance is showing a divergence from bitcoin.
Bitcoin (BTC) trading around $18,374 as of 21:00 UTC (4 p.m. ET). Slipping 0.85% over the previous 24 hours.
Bitcoin's 24-hour range: $17,990-$18,752 (CoinDesk 20)
BTC below its 10-day and 50-day moving averages, a bearish signal for market technicians.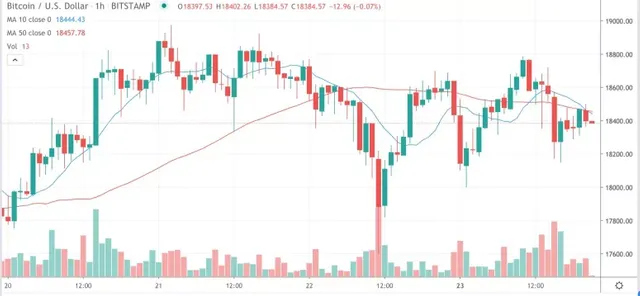 Another week has begun with higher-than-normal USD/BTC spot volumes, a factor that led to bitcoin's bullish run last week. As of press time, daily volume hit $907 million, much higher than the past month's daily average of $489 million.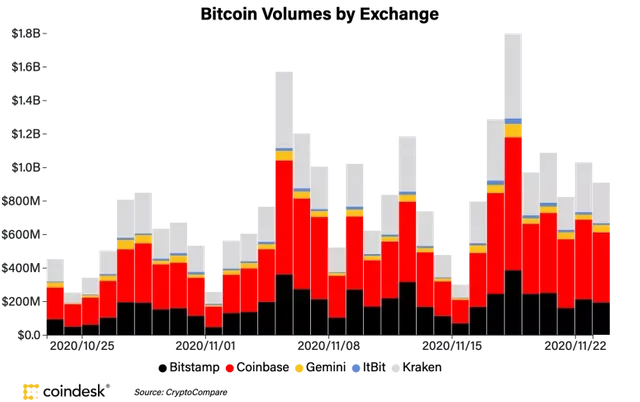 Darius Sit, managing partner of quaint firm QCP Capital. said OXEx "possibly contributed" to the price rise, but a bigger problem has been cropping up on the mainland. "It's not just OKEx but across the board – difficulties with getting fiat" out of China, Sit added.

BTC, ETH correlation breaking
Since Nov. 20, the price of bitcoin has been relatively stagnate, up only 3% as of press time.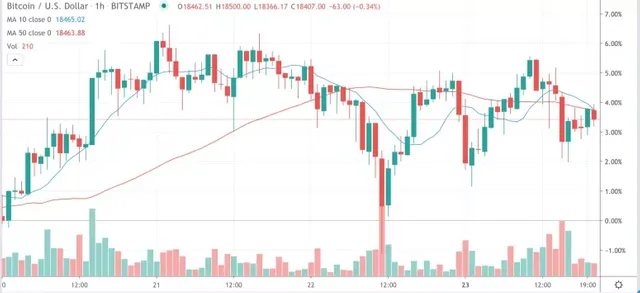 According to data from CoinDesk Research, returns of bitcoin and ether were highly correlated in March, April and May on a 90-day rolling basis – even before the early March sell-off that took its toll on assets across the board. However, since June, correlations have mostly been lower.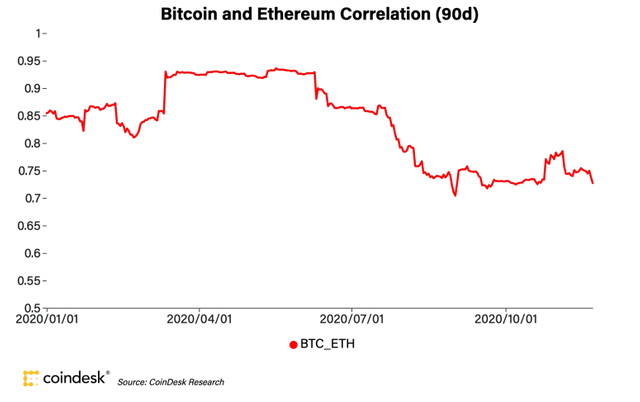 The smart contract required for triggering the first phase of Ethereum 2.0 has enough funds to begin activation of Ethereum's most ambitious upgrade yet, which will radically shift Ethereum's economic model, resource usage and governance.
The Ethereum 2.0 deposit contract, which was released in early November, has accrued more than 540,000 ETH (worth over $325 million) late Monday night, ensuring that the beacon chain for Ethereum 2.0 will launch next week, formally beginning the second-largest cryptocurrency's shift from a proof-of-work consensus mechanism to a proof-of-stake one in hopes of solving a number of issues, including scalability.
The Ethereum Foundation had previously set a soft launch date for Dec. 1, assuming the deposit contract saw 524,288 ETH staked by Nov. 24. It hit the target with hours to spare, after more than 150,000 ETH were deposited in a 24-hour period.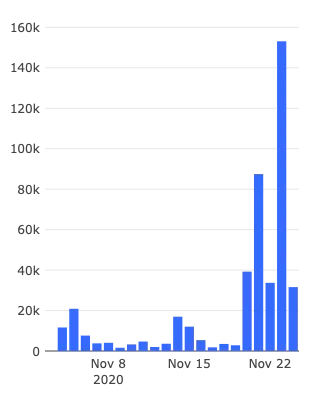 Beacon chain
To be clear, the network itself isn't launching just yet. The launch of Ethereum 2.0 will activate a parallel proof-of-stake blockchain dubbed "the beacon chain" to run in parallel alongside the existing Ethereum network. The initial phases of its development will not impact existing users and decentralized applications on Ethereum.
After rallying 80% in two months, Bitcoin is recapturing media interest from the top end of town, with The Wall Street Journal discussing the cryptocurrency's adoption among institutional investors on the front page of its Nov. 23 issue.
The report notes that Bitcoin has recently found support from "Wall Street billionaires" Paul Tudor Jones and Stanley Druckenmiller, alongside other public figures including a sports radio host.
https://pbs.twimg.com/media/EnhMGFQW4AguTWM?format=jpg&name=small
"As paper money slowly dissipates and disappears from how people are using transactions, central banks especially on the retail side will need to replace paper money with forms of digital fiat currency."
Some Binance users in the US have received emails giving them 14 days to transfer their holdings out of the exchange.
According to the email, if they fail to do so, their account will be locked.
This is an escalation of earlier efforts to keep US users off the exchange.
Binance is again clamping down on US-based customers. And this time, it might really mean it.
The world's largest cryptocurrency exchange has begun sending email notifications to users in the US, where Binance has no regulatory standing, giving them 14 days to close their account.
"Dear user, as we constantly perform periodic sweeps of our existing controls, we noted that you are trying to access Binance while having identified yourself as a US person," the email, a copy of which Decrypt has obtained, reads. "Please note that as per our terms of use, we are unable to service US persons. You have 14 days to close all active positions on your account and withdraw all your funds, failing which your account will be locked.
That warning came a day after Binance announced that it would be launching Binance.US in partnership with relatively unknown BAM Trading. Binance.US offers fewer token pairings and isn't available in all states, but it is regulated, theoretically providing a soft landing for those who want to transfer their account balances.
Binance's most recent crackdown comes less than a week after it announced it was suing Forbes and two of its journalists for defamation after Forbes published an article claiming the exchange had planned to set up an American subsidiary, ostensibly Binance.US, to "distract regulators with feigned interest in compliance."
🗞 Daily Crypto Calendar, November, 24th💰

"The main network will launch on November 24, 2020 at 19:00 UTC"
AMA for the upcoming Stacks 2.0 Mainnet Launch that will answer all your questions about Stacks 2.0 and how it ties STX and BTC altogether.
"#Ampleforth's next Geyser will be the Beehive V3 Geyser | Beehive V3 will launch in ~15 Days"
"We are happy to announce our next #AMA event with @fsarrias presenting @Jelurida and #Ardor, hosted by @CryptoGalaxy_! Nov 24, 2020..."
"Upcoming AMA with @bsnbase at 4pm Nov 24 (UTC+8)"
Last Updates


➡️ Be paid daily to browse with Brave Internet Browser
➡️ A secure and easy wallet to use: Atomic Wallet
➡️ Invest and Trade on Binance and get a % of fees back
➡️ Youtube
➡️ Twitter
➡️ Hive
➡️ Publish0x
➡️ UpTrennd
➡️ Read.cash
➡️ LBRY
➡️ Check out my video on Unstoppable Domains and get 10$ off a 40$ domain purchase
➡️ Get 50$ free by ordering a free Visa Card on Crypto.com using this link or using this code qs4ha45pvh


20% of this article rewards wil go to the @hodl-fund account in order to support HODL Community Initiatives.
Find out more about HODL Community: Crypto Social Community and by following our community account @hodlcommunity

If you would like to delegate some HP to our community and support us; we give you back 90% of the curation rewards on a daily basis ! APR > 12% !
500 HP - 1000 HP - 2500 HP - 5000 HP
Make a good APR Curation by following our HIVE trail here