Welcome to the Daily Crypto News: A complete News Review, Coin Calendar and Analysis.
Enjoy!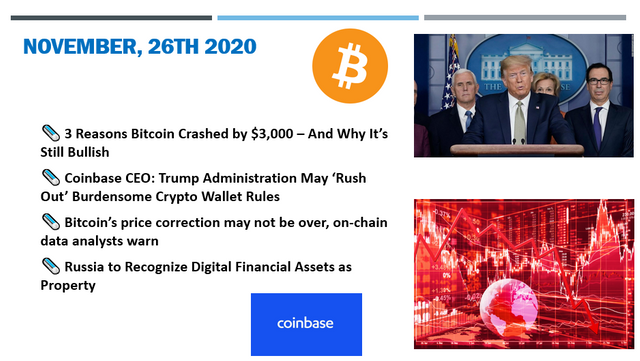 No Video today, I got too busy with all the things going on ! You chan check yesterday's where I say as usual becareful we are in the extreme greed compartiment 90+ so do not leverage your trade too much...
Stay safe.
Bitcoin suffered a price crash earlier on Thursday, having missed record highs by a narrow margin earlier this week.
The top cryptocurrency by market value fell from over $19,300 to $16,327 during the early European trading hours and was last seen trading near $17,200, representing a 10% drop on a 24-hour basis, according to CoinDesk 20 data.
Excess leverage
Nearly $2 billion-worth of derivative positions have been liquidated in the past 24 hours. Of that, more than $1.6 billion-worth has been closed in the past 12 hours, according to data source Bybit.
Technical pullback
Bitcoin's rally from $10,000 to $19,400 seen over the past seven weeks looked overstretched on the technical charts.
The momentum was so strong that the cryptocurrency consistently traded above its 10-day moving average (MA) throughout the ascent, despite an overbought reading on the 14-day relative strength index (RSI).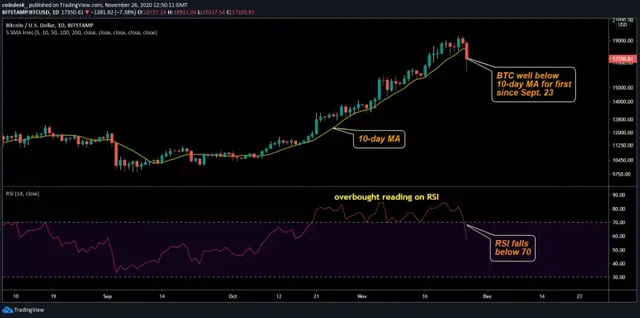 Other factors amplified sell-off
According to trader and analyst Alex Kruger, Coinbase CEO Brian Armstrong's tweet thread about the U.S. Treasury Department's rumored plans to track owners of self-hosted cryptocurrency wallets weakened the bullish move, allowing a price pullback.
"This [regulatory concerns], against a backdrop of euphoria and unsustainable high leverage among longs led to the largest 24-hour drop since March," Kruger told CoinDesk in a Telegram chat.
Brian Armstrong is worried the Trump Administration is about to send the cryptocurrency industry a parting gift.
The Coinbase CEO took to Twitter Wednesday night to blast the U.S. Treasury Department's rumored plans to attempt to track owners of self-hosted cryptocurrency wallets with an onerous set of data-collection requirements.
If the whispers are to be believed, outgoing Treasury Secretary Steven Mnuchin is preparing to tamp down on one of the fundamental tenets of the cryptocurrency ethos: the ability of the individual to hold their crypto (unmolested) themselves.
If true, the regulation would represent a broadside against the U.S. cryptocurrency industry like few ever levied by the federal government. It would force corporations to know every counterparty to their users' crypto transactions, keeping logs, tracking movements, and verifying identities even before a transfer could take place.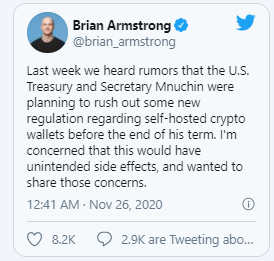 Analysts say a larger Bitcoin (BTC) price pullback or a consolidation period could occur. The two factors that could trigger more downside include increasing whale activity and short-term resistance.
Bitcoin whale watching
As Cointelegraph reported, Bitcoin crashed after it surpassed $19,400 across major exchanges. It dropped to below $16,400 before slightly recovering. But analysts foresee another possible drop incoming, especially if BTC does not rebound strongly in the near term.
Two key trends caused the recent Bitcoin correction. First, whales began to sell BTC at around $19,000, resulting in a downside volatility spike. Second, this relatively small price drop triggered a cascading wave of liquidations in an overleveraged futures market.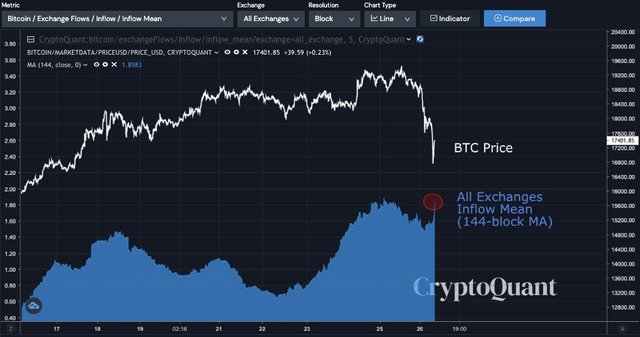 Ki Young Ju, the CEO of CryptoQuant, said that more corrections might come in the short term. The All Exchanges Inflow Mean indicator, for instance, is still hovering at a high level, suggesting that there is still a lot of selling pressure in the market. He said:
"More $BTC corrections might come. All Exchanges Inflow Mean (144-block MA) remains still high. In my opinion, we'll face some corrections/sideways this week and it will break $20k by December this year. I'll stack some sats a few days after."
The government of Russia plans to classify digital financial assets as property, said prime minister Mikhail Mishustin.
Potential amendments should also hamper "shadow schemes," he added.
However, his comments mostly relate to security token-like assets and not cryptocurrencies, experts explained.
The Russian government plans to lead the development of the local cryptocurrency market in a "civilized direction," so that owners of such assets could protect their rights and interests, the country's prime minister Mikhail Mishustin stated during a meeting held today.
"We will make a number of changes to the Tax Code. Digital financial assets will be recognized as property, and their owners will be able to rely on legal protection in the event of any illegal actions as well as defend their property rights in court," said Mishustin.
🗞 Daily Crypto Calendar, November, 26th💰

STX Nigeria AMA for the upcoming Stacks 2.0 Mainnet Launch that will answer all your questions about Stacks 2.0 and how it ties STX and BTC.
"Stay tuned for a livestream and announcement from Pantos and @iotatoken on November 26 2020."
Wabi CEO sharing updates and announcements. Twitter @alex_taelpay.
"The Stratis development roadmap will be released tomorrow, including a few surprises that are not on the roadmap being released in the..."
Last Updates


➡️ Be paid daily to browse with Brave Internet Browser
➡️ A secure and easy wallet to use: Atomic Wallet
➡️ Invest and Trade on Binance and get a % of fees back
➡️ Youtube
➡️ Twitter
➡️ Hive
➡️ Publish0x
➡️ UpTrennd
➡️ Read.cash
➡️ LBRY
➡️ Check out my video on Unstoppable Domains and get 10$ off a 40$ domain purchase
➡️ Get 50$ free by ordering a free Visa Card on Crypto.com using this link or using this code qs4ha45pvh


20% of this article rewards wil go to the @hodl-fund account in order to support HODL Community Initiatives.
Find out more about HODL Community: Crypto Social Community and by following our community account @hodlcommunity

If you would like to delegate some HP to our community and support us; we give you back 90% of the curation rewards on a daily basis ! APR > 12% !
500 HP - 1000 HP - 2500 HP - 5000 HP
Make a good APR Curation by following our HIVE trail here