Welcome to the Daily Crypto News: A complete News Review, Coin Calendar and Analysis.
Enjoy!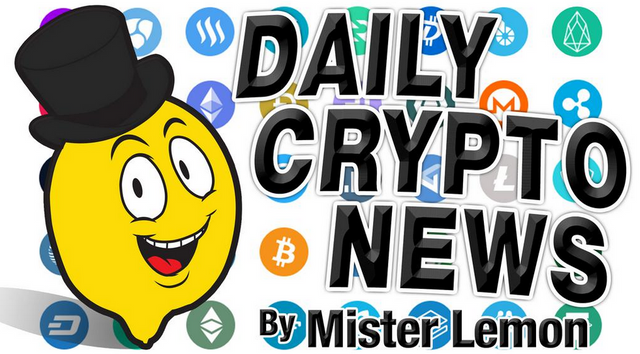 Crypto index fund provider Stack Funds has labeled yesterday's pullback as a "healthy correction" that was needed before Bitcoin continues its upward trajectory.
Bitcoin broke through $19,000 earlier this week after posting seven weeks of consecutive gains. According to the firm, the crypto has been at overbought levels since October, further supporting the need for a correction.
The firm examined metrics around market psychology, and says market participants are currently in the 'belief' stage of the cycle which will eventually to flow into a 'euphoria' stage.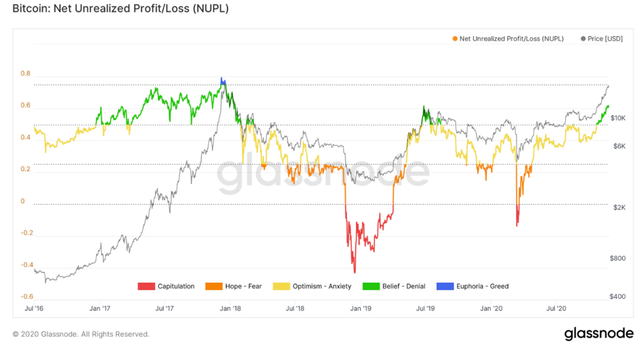 Other analysts also believe this is nothing more than a blip on the road, with Quantum Economics founder Mati Greenspan speculating that the correction may have already bottomed out, adding:
"A 17% pullback is rather tame for this stage of the cycle."
Libra, the Facebook-linked stablecoin targeted continuously by lawmakers, might get off the ground as early as January 2021, albeit in a more limited format than the original multi-currency basket envisioned.
According to a report by the Financial Times on Friday, the Libra stablecoin project might launch a single dollar-pegged stablecoin next year, according to "three people involved in the initiative."
The global stablecoin project was initially proposed to be pegged to a basket composed of multiple fiat currencies, but was walked back by project leaders in April as a result of regulatory pressure from lawmakers in the U.S. and abroad.
The project's leaders announced Libra could launch as a series of stablecoins, each pegged to a fiat currency, rather than one multi-currency basket during that revamp.
Now, Libra's "global stablecoin" will simply launch as a single coin backed 1:1 by the U.S. dollar, according to the FT, pending approval from the Swiss financial regulator FINMA.
Cryptocurrency exchange OKEx recorded a major bitcoin outflow just minutes after it lifted a five-week-long withdrawal suspension at 08:00 UTC Thursday.
About 2,822 BTC was moved from OKEx in block number 658,728 mined at 08:12 UTC. That's the biggest single-block outflow since May 2019, according to blockchain analytics firm CryptoQuant.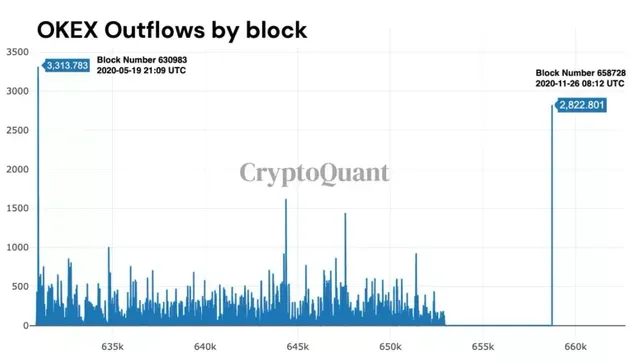 Of the 2,822 coins withdrawn, 456 were transferred to cryptocurrency exchange Binance and more than 400 were moved to other exchanges. Meanwhile, 54 accounts or addresses took direct custody of some coins.
The total amount of Bitcoin on all exchanges has fallen to a two year low.
This amount has been decreasing for most of 2020.
Over the last 24 hours, Bitcoin's bull run that saw price almost reach an all-time high came to an end.
The Bitcoin balance on all major crypto exchanges has fallen to levels not seen since August 2018—hitting a 27-month low—according to data from Glassnode. The current balance on exchanges is 2.3 million Bitcoin.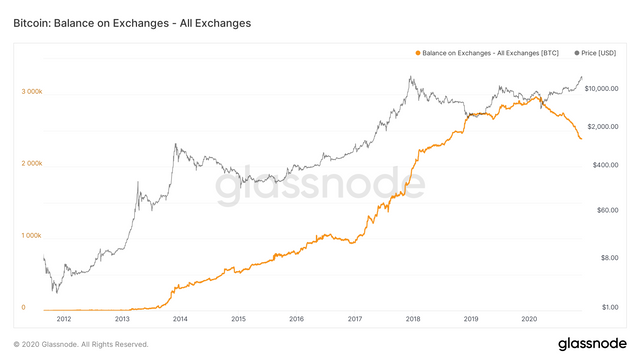 The total amount of Bitcoin on all exchanges has been steadily increasing since 2014. It moved from about 350,000 Bitcoin to just under 3 million in January of this year, an increase of over 750%.
From that point on, it began to decrease. In August, the total amount of Bitcoin on exchanges fell to 2.6 million. This week, the number is all the way down to 2.3 million. This represents a total decline of 23%—a significant amount.
🗞 Daily Crypto Calendar, November, 27th💰

Staking launches.
SnowGem expected to release next bi-weekly update.
We are announcing an upcoming partnership that provides great opportunities for the VEROS blockchain division. November 27.
Mandtory wallet update to version 1.5.0. Covers major security and stability issues on the chain at block 1,300,000.
Wabi masternodes rewards distribution.
Last Updates


➡️ Be paid daily to browse with Brave Internet Browser
➡️ A secure and easy wallet to use: Atomic Wallet
➡️ Invest and Trade on Binance and get a % of fees back
➡️ Youtube
➡️ Twitter
➡️ Hive
➡️ Publish0x
➡️ UpTrennd
➡️ Read.cash
➡️ LBRY
➡️ Check out my video on Unstoppable Domains and get 10$ off a 40$ domain purchase
➡️ Get 50$ free by ordering a free Visa Card on Crypto.com using this link or using this code qs4ha45pvh


20% of this article rewards wil go to the @hodl-fund account in order to support HODL Community Initiatives.
Find out more about HODL Community: Crypto Social Community and by following our community account @hodlcommunity

If you would like to delegate some HP to our community and support us; we give you back 90% of the curation rewards on a daily basis ! APR > 12% !
500 HP - 1000 HP - 2500 HP - 5000 HP
Make a good APR Curation by following our HIVE trail here