Welcome to the Daily Crypto News: A complete News Review, Coin Calendar and Analysis.
Enjoy!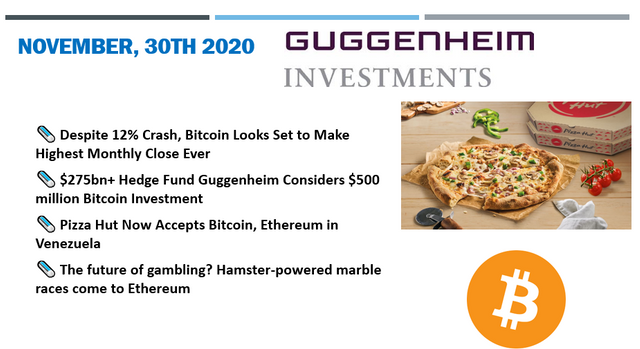 Despite the sharp pullback last week, bitcoin looks on track to post its highest-ever monthly price close.
The number one cryptocurrency by market value fell by over $3,000 to $16,242 on Nov. 26, clearing out excess leverage from the derivatives market. The dip was short-lived and prices have recovered more than 50% of the pullback in the days since.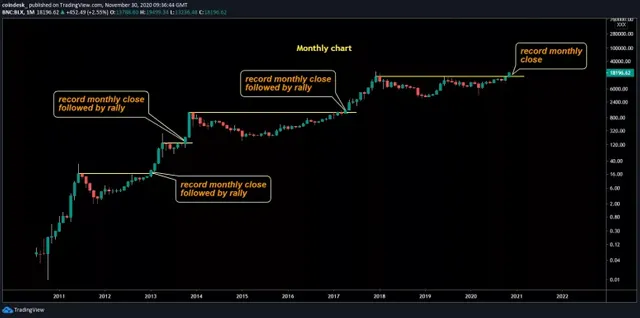 History to repeat itself?
Analysts are optimistic about the ongoing bull market's longevity, with some pointing to $36,000 as the level to watch once the immediate psychological resistance at $20,000 is scaled.
"People have been saying institutions will get into crypto for years, but it seems that this year, they already are," crypto exchange EQUOS noted in its daily bitcoin analysis email. "There's plenty more to join, of course, and the amount of funds along with the immutable scarcity of bitcoin will be felt in a very strong way."
Guggenheim Partners filed a note to the SEC Friday saying it would reserve the right to put 10%—up to $500 million—of its Macro Opportunities Fund in
Bitcoin via the Grayscale Bitcoin Trust.
It's the latest traditional investment firm to eye up the currency.
But the firm did note the risks involved.
Global investment firm Guggenheim Partners is considering investing hundreds of millions of dollars in a Bitcoin trust.
The firm on Friday made a filing to the US Securities and Exchange Commission saying that it would reserve the right for its $5.3 billion Macro Opportunities Fund to put 10% of its net asset value in the cryptocurrency via the Grayscale Bitcoin Trust.
"Cryptocurrency is a new technological innovation with a limited history; it is a highly speculative asset and future regulatory actions or policies may limit, perhaps to a materially adverse extent, the value of the Fund's indirect investment in cryptocurrency and the ability to exchange a cryptocurrency or utilize it for payments."
Thanks to a partnership with Cryptobuyer, Pizza Hut's customers in Venezuela can now pay for their food using Bitcoin, Ethereum, and other cryptocurrencies.
Pizza Hut restaurants in Venezuela now support cryptocurrency payments.
This is a result of a partnership between Pizza Hut and crypto payments processor Cryptobuyer.
The firm's point-of-sale solution supports Bitcoin, Binance Coin, Dash, DAI, Ethereum, Litecoin, Tether, and XPT.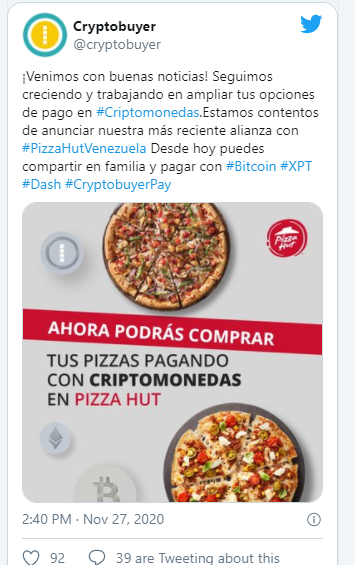 After just over two years of development, on Sunday a new form of gambling will be released to the Ethereum world on mainnet: hamster-powered marble races.
Powered by Mia, a female djungarian or "winter white dwarf" hamster and her trusty hamster wheel, the project, dubbed "Mia & the Marbles," is an automated marble-racing and gambling platform from a group of independent developers.
While the concept behind the project may seem… whimsical, in an interview with Cointelegraph the development team for 'M&M' revealed how carefully the racing platform has been thought out.
"We always loved the idea of blockchain gambling projects. But unfortunately, scams are not uncommon in the low-regulated crypto space," the team said. "So we were brainstorming ideas with the goal to make the provable fairness component easy to understand for anyone, while also being fun at the same time!"
🗞 Daily Crypto Calendar, November, 30th💰

Swipe X released by end of November.
"[Reminding] Mainnet is coming in this month, testnet and mining activity has been stopped."
"Mobile app is coming soon."
Open Beta
"This update lays the groundwork that will support our own DEX which is planned for release sometime mid-November and currently enables..."
Last Updates


➡️ Be paid daily to browse with Brave Internet Browser
➡️ A secure and easy wallet to use: Atomic Wallet
➡️ Invest and Trade on Binance and get a % of fees back
➡️ Youtube
➡️ Twitter
➡️ Hive
➡️ Publish0x
➡️ UpTrennd
➡️ Read.cash
➡️ LBRY
➡️ Check out my video on Unstoppable Domains and get 10$ off a 40$ domain purchase
➡️ Get 50$ free by ordering a free Visa Card on Crypto.com using this link or using this code qs4ha45pvh


20% of this article rewards wil go to the @hodl-fund account in order to support HODL Community Initiatives.
Find out more about HODL Community: Crypto Social Community and by following our community account @hodlcommunity

If you would like to delegate some HP to our community and support us; we give you back 90% of the curation rewards on a daily basis ! APR > 12% !
500 HP - 1000 HP - 2500 HP - 5000 HP
Make a good APR Curation by following our HIVE trail here