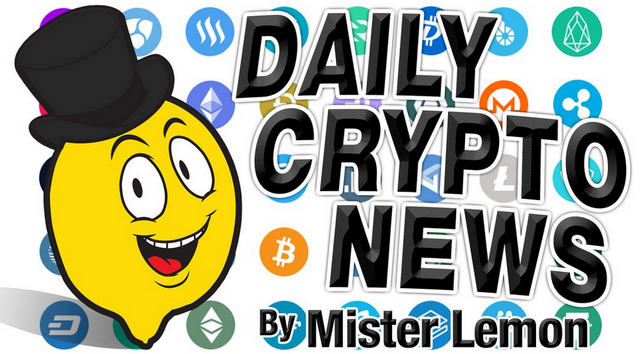 Bitcoin Price Rallies to $9.6K as Record CME BTC Contracts Expiry Looms;
Enjin's New Minecraft Plug-in Lets Players Spawn Blockchain Assets;
Bitcoin Shrugs Off Goldman Sachs' Criticism With Price Spike;
CoinMarketCap Unveils Further Changes to Ranking System ;
🗞 Daily Crypto Calendar, May, 29th 💰
Welcome to the Daily Crypto News: A complete Press Review, Coin Calendar and Trading Analysis. Enjoy!
Bitcoin (BTC) price continues to inch closer to $10,000, rallying 5.68% to reach $9,600 on May 28. After breaking out of the falling wedge pattern on Wednesday night, the top ranked cryptocurrency on CoinMarketCap pushed through $9,350, a level traders expected to present resistance and made a beeline for $9,500.
Interestingly, data from Cointelegraph and Skew shows a large number of BTC futures contracts, including $184 million in CME Bitcoin Futures scheduled to expire this Friday.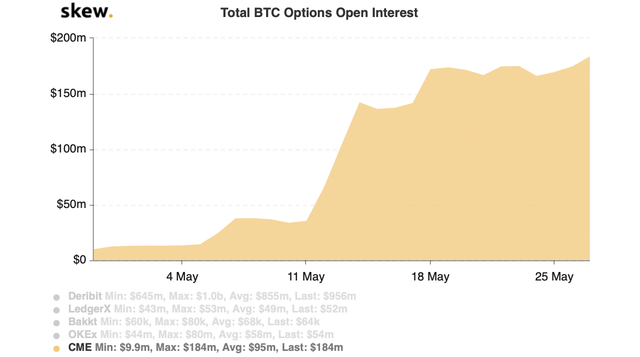 23k Bitcoin equivalent futures and 10k Bitcoin options are set to expire this Friday on CME. Approx 50% of open interest for each product. Watch the rolls!
What's next for Bitcoin?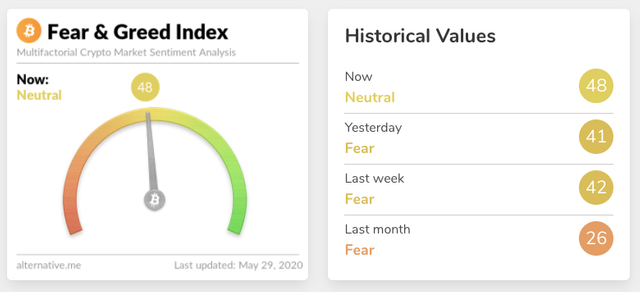 The daily chart shows that Bitcoin price has pushed above the lower trendline of the former ascending channel and the price is meeting some resistance at the VPVR high volume node at $9,675.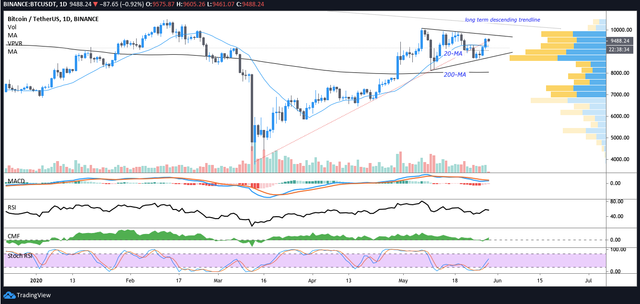 Minecraft, one of the world's most popular video games, has a new plug-in enabling players to place blockchain assets directly into their servers.
Built by gaming startup Enjin, EnjinCraft is an open-source blockchain plugin that enables players to spawn assets in the Minecraft Java Edition without the need to write any code.
The tool works by dropping the EnjinCraft file into a player's server "plug-ins" folder, where they can then begin integrating and distributing blockchain assets in the form of tokens.
The new offering allows server hosts to create their own localized Minecraft economies by providing their players with tangible ownership over in-game items and currencies. It also allows for players to securely trade their assets in peer-to-peer (P2P) fashion through the server or via external chat rooms and digital trading platforms like the Enjin Marketplace.
In this article, wee will continue to explore other drivers behind Bitcoin's adoption and look at the migrant workers trend. They have to send back home bns of USD.
Intermediary fees are usually very high; therefore these workers are using more and more Cryptocurrencies in order to preserve wealth and have faster and less expensive transactions.
We will look at the most significant example: India.
Migrant workers abroad
https://images.hive.blog/p/qjrE4yyfw5pJ4P4gXknUBZPr6Y1g3J1gaqUPWv8tUf497sFc5K5FU4bg5iRTJGUJYifXDEMb3hsPHk4ieLYwAJeez6Yptfg4cuvrsmShHtwi7aMgSknC9mWY?format=match&mode=fit
2 major application for cryptocurrencies in Inda:
Used as a cross-border remittance currency
Asset to protect wealth against depreciation
These remittances are very important for many emerging economies
https://images.hive.blog/p/HNWT6DgoBc1668URWLu5qeWj7bAnuVBquU8wEtQ2hsMRkariLNABJoKN6ZtzZcuJ3AE7ErxGNaBZAeBprmr4uK9ST11psVvGzxrizvCan1t1ig5zH9gUdZKbUVW?format=match&mode=fit
Crypto traders aren't taking advice from Goldman Sachs — with Bitcoin up by more than 8% since the investment bank slammed BTC in an investors call. Bitcoin has increased from the $8,800 mark to $9530, with the $10,000 barrier in sight
According to crypto derivatives tracker Skew.com, the price rise has seen approximately $40 million in BitMEX shorts liquidated over the last 36 hours, with trading sitting above the BTC spot price indicating confidence in a longer rally. The 24 hour trading volume has stayed constant over the last week.
"Hey Goldman Sachs, 2014 just called and asked for their talking points back. Bitcoin was declared a commodity by the CFTC in 2015 in the Coinflip order...so yea it's an asset whose price is set by supply and demand. Just like gold. Just like oil. It's a commodity."
Leading crypto data aggregator CoinMarketCap (CMC) has introduced new metrics ranking exchanges and market pairings based on a number of factors that are intended to reduce the impact of fake volume on the platform's data.
The changes build on others that were introduced recently that have proven controversial for benefiting CoinMarketcCap's new parent company Binance.
To flag suspicious volumes reported by exchanges, CoinMarketCap introduced its new 'Confidence' metric on May 29. The factor uses a machine-learning algorithm to examine all data ingested by CMC "to determine if the volumes reported by exchanges are inflated, and to what extent".
New CMC metrics accused of favoring Binance
On May 14, CoinMarketCap launched its new "web traffic factor." The criterion seeks to analyze the user activity on exchanges, including the number of page views, unique visitors, the time spent on site, search engine bounce rate, and search engine rankings.
CMC's new parent company, top-ranking crypto exchange Binance, received criticism for the web traffic metric's introduction because Binance claimed the top spot as a result. A similar metric was previously considered and rejected by CoinMarketCap prior to its recent change in ownership.
🗞 Daily Crypto News, May, 29th💰

"SINOVATE Native Mobile Wallets on all platforms will be released on Friday, May 29"
"More information [on biggest use case] will be revealed at an official webinar by NEN on May 29."
"... The founders of DREP are going to attend the AMA in English DREP Foundation telegram group at 18:00 GMT+8, 29th May..."
Team updates at 3:30 PM UTC/ 11:30 AM EDT: Engineering, Node network, Product/UX, Helpdesk, Legal, BD, Marketing, CEO Closing thoughts, AMA.
"Trading for OMG/USD and OMG/BUSD trading pairs will open tomorrow at 9am EST / 6am PST."
"Trading time: 20:30 on May 29 (UTC+8)"
Last Updates


➡️ Publish0x
➡️ UpTrennd
➡️ Minds
➡️ Hive
➡️ Twitter
➡️ Facebook
➡️ Be paid daily to browse with Brave Internet Browser
Proud member of: