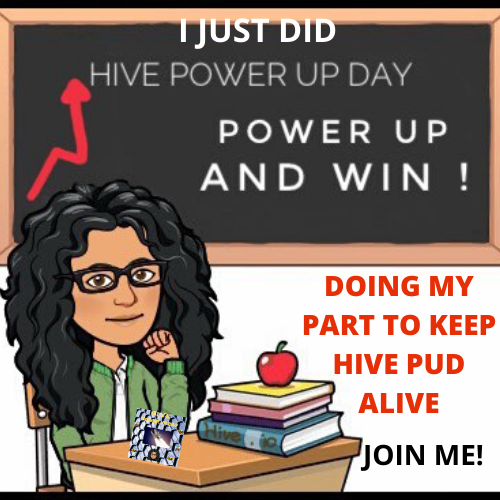 @streetstyle
@brittandjosie
HIVE POWER UP FOR JUNE, 2020

Thanks @brittandjosie for your blog on behalf of @streetstyle for the June HIVE Power UP Day. I'm ready to participate today.
I made a simple table to show my beginning balances on 6/1/2020:
| | HIVE | HP |
| --- | --- | --- |
| Beginning Balance | 403.163 | 2,410.076 |
| Rewards Claimed | +0.000 | +0.000 |
| New Balance | <403.163> | <2,410.076> |
| Powered Up | -403.163 | +403.163 |
| Current Balance | 0 | 2,813.254 |

First I captured a screenshot of my Wallet before I started my transaction.


I powered up my Hive. Capturing this step in a screen print is important. Below are the steps and proofs for my power up.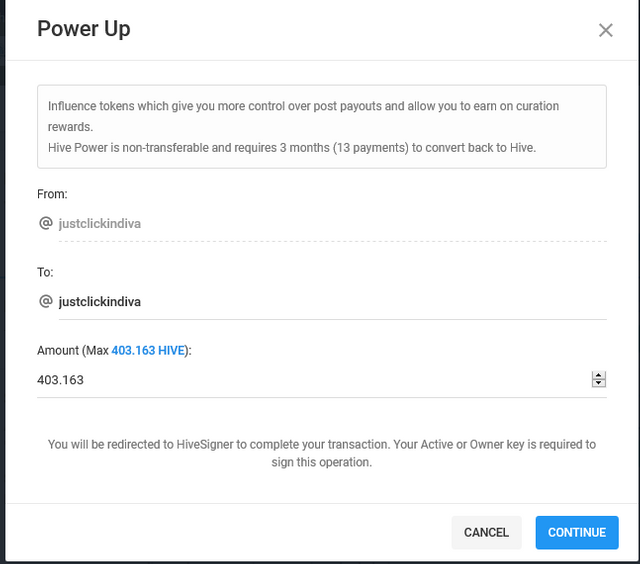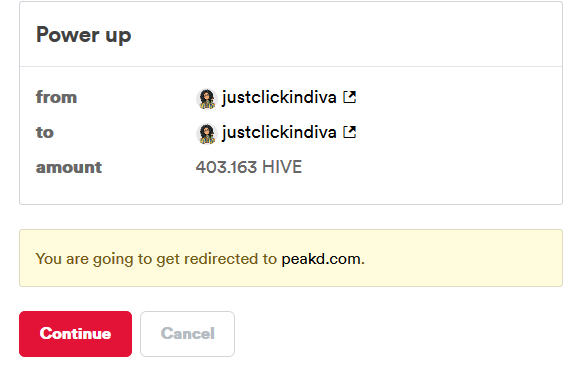 Below is a screenshot of my current balances after powering up.


Thanks for this initiative. I enjoy participating each month. Happy HPUD day today everyone! See you in July.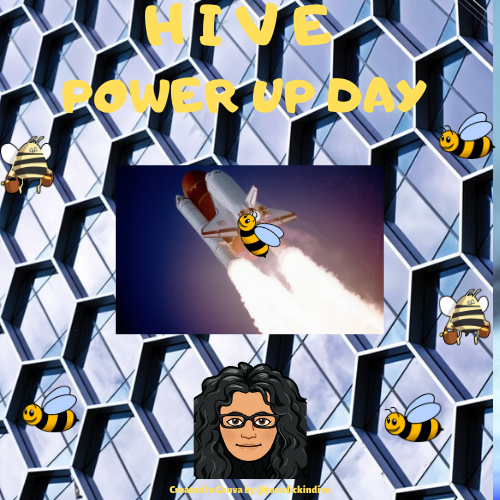 WHAT IS HIVE-PUD?
@streetstyle states in his post cited above:
HIVE-PUD stands for HIVE POWER UP DAY, (HIVE-PUD) takes place the first day of every month.
On this day:
• We ask that all that are able, to POWER UP any amount of HIVE they have on HIVE-PUD day.
• We ask accounts that are currently Powering Down, to put a Stop on Powering Down for that Day, and if desired to commence the Power Down the following day.
• We ask that those that trade or sell Hive to Not Sell or Trade Hive on HIVE-PUD Day, but to do it the day before or after if possible. Also, to cancel any type of Sell Order on the Exchanges.

HOW DOES IT HELP?
Powering up your HIVE tokens give you special abilities on Hive for:
Greater voting power on content blogs;
More curation rewards when you vote on other bloggers' posts;
More resource credits to perform transactions on the Hive Blockchain.

RULES TO PARTICIPATE:
Reputation score BELOW 70.00 (so 69.99 is good and can participate);
Hive Power: more than 300HP and less than 8,000HP; [doesn't include any delegation received];
Reputation score of 39 & ABOVE (so rank of 38.99 will Not Win);
1 Hive post in your blog about Hive-PUD (prior to the power up day on the 1st of each month);
Power up Hive on 1st day of each month.
On the 1st of each month, you MUST make a post about your POWER UP. It can be as simple as "I powered up X amount of HIVE COIN" to a simple picture/screenshot of your Power Up and posted to your HIVE blog, or it could be a super long dissertation on HIVE Power.
IMPORTANT:
Use HIVE-PUD-INTL hash tag so that your posts can be located quickly.
The winners Must meet all 5 requirements, and it will be based on the Biggest HIVE Power Up PERCENTAGE, not the biggest Power Up. This means that it will be based on the ratio between your current amount of HIVE Power and the amount you power up on the 1st.
Please visit @streetstyle's blog for specific instructions, rules, and prizes before entering HIVE-PUD. The link to his contest is cited above.

@flaxz initiative @iamalivechallenge: (Posted my HIVE Power Up blog today)

Thanks,
@justclickindiva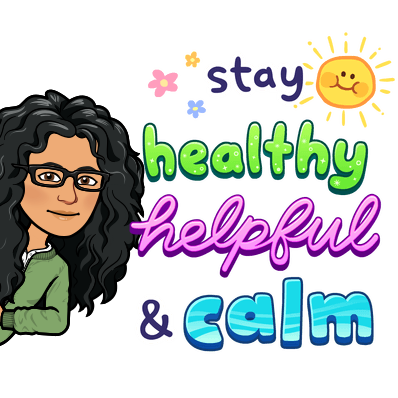 Happy rest of the week everyone with whatever your endeavors.
---
SOURCES:
a) JustClickindiva's personalized PHC signature created by and purchased from PHC.
b) Unless otherwise noted, all photos taken by me with my (i) Samsung Galaxy 10" Tablet, (ii) Samsung Phone, & (iii) FUJI FinePix S3380 - 14 Mega Pixels Digital Camera
c) Purple Butterfly part of purchased set of Spiritual Clip Art for my Personal Use
d) Separator Lines Free ClipArt Belt from Public Domain Vectors & ShadedLine from ClipArt-Library
e) All Tribe logos used with permission of Tribe Discord Channel admins.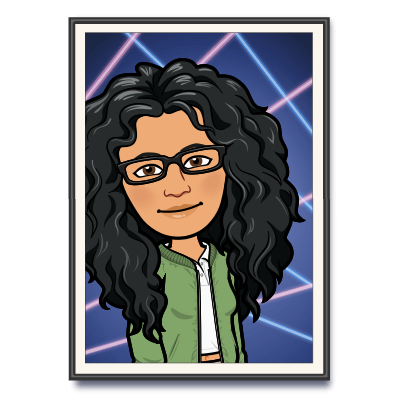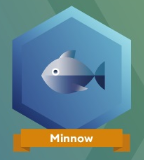 I SUPPORT THE FOLLOWING GROUPS: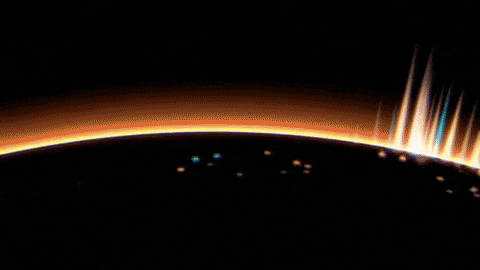 Your Personal Terminal Discord Invite
If you are an account under 500HP or 500SP and want to win prizes or delegations, then you can request to enter the REDFISHRALLY by going to @theterminal blog and read how it can help you learn and earn.


Si tiene una cuenta de menos de 500HP o 500SP y desea ganar premios o delegaciones, puede solicitar ingresar a REDFISHRALLY yendo al blog @theterminal y leer cómo puede ayudarlo a aprender y ganar.