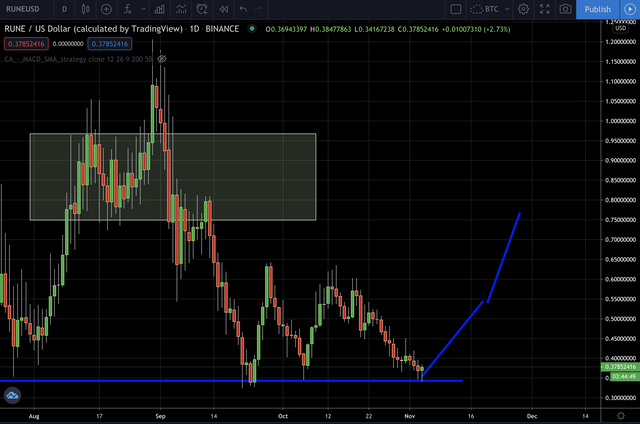 RUNE is one of the interesting cryptocurrencies in the DeFi space. The question is: is it a good buy right now around $0.35?
I have seen a number of users on LeoFinance talking about this currency and mentioning it as a long term hodl. As a trader, we need to consider the real price potential of RUNE as opposed to lofty long-term expectations.
Having long-term expectations is not a bad thing nor a good thing. It's just a particular way of finding things to buy and hodl.
For what I do, I want to see a crypto that has deep potential to increase in price from a certain range. RUNE seems to have broken down several times in the past alongside the rest of the crypto market.
While I aim to make some short-term profits in the coming rally that I think we'll see in alts, RUNE has jumped to the top of the list.
On the last major DeFi cycle, RUNE jumped all the way to $1.15. This is a huge move for a currency of this size.
On the next alt cycle, we could see RUNE return to these previous ATHs and break thorough. A conservative target is $0.75 / RUNE - which I think is achievable by years end if we see any amount of alt strength return.
Posted Using LeoFinance Beta