Count down 1 week before BCH hard fork. Even though 75% miner node will stick to BCHN and remaining only go ABC, but as small user like us also would like to gain for the 1 to 1 split .
But unlike the support of the XRP fork, Celsius doesn't support for the BCH hard fork (as of 8 Nov). So basically no choice but to transfer out Celsius to other exchange which support the hardfork in order to get the new coin.
1 week ahead, list of exchanges supporting this hardfork as in this article:
The Looming Bitcoin Cash Hard Fork: Here's What You Need to Know
Luckily Binance also one of the exchanges.
Announcement Regarding the Upcoming Bitcoin Cash Hard Fork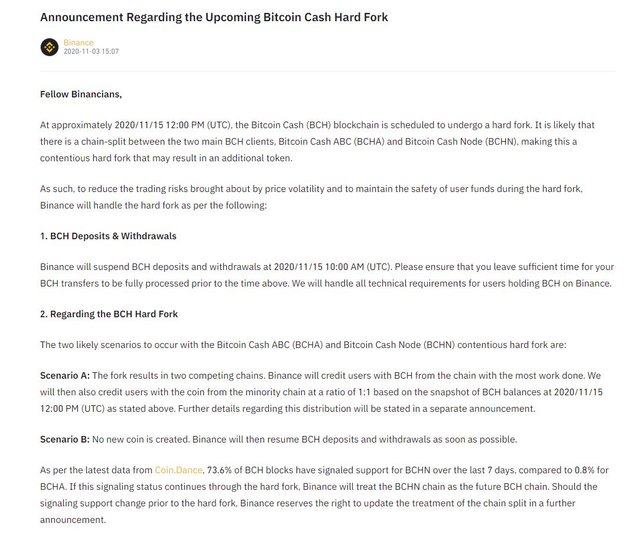 Photo Source: Binance
One thing good about Celsius is transferring out crypto is free, so just need to add the Binance BCH wallet to receive hassle only.
Through this process, I also found out the BCH speed from Celsius to Binance doesn't really impressive. I have to wait for good 15minutes before reflecting into my Binance account.
Hopefully everything goes smoothly for the BCH hardfork.
Posted Using LeoFinance Beta