The second edition of the Gem 101 series is here, and DIA (Decentralised Information Asset) is what I am personally looking at.
Oracles are a hot topic these days, with Link and Band gaining a lot of attention in the last few months, as they posted some massive gains.


Image source: Diadata Website.
$DIA is an open-source data and oracle platform that enables market actors to source, supply and share trustable data, mainly focused around the DeFi landscape.
It leverages crypto economic incentives to drive supply, share and use transparent, crowd-verified price data and oracles on financial and digital assets.
---
Here's a disclaimer:
I'm not a certified financial advisor, and even though I've been trading for quite a few years, I urge people reading this, and my other posts to #DYOR (Do your own research) before taking any decisions!
Of course I'm going to help you out if you have some queries/doubts, so feel free to let me know in the comments, or on Twitter :)
I have also not been contacted by DIA team to shill this project :P
And I do hold some (not significant) amount of DIA tokens, at the time of writing.
---
We must understand the need of Oracles, before diving into this.
Oracles provide the necessary data to trigger smart contracts to execute when the original terms of the conditions are fulfilled.
These oracles are the only way for smart contracts to interact with data outside of the Blockchain environment.
In the off chain world, there is no recording of the events in the specific sequence that they have taken place, which can create conflicts with price, and many other factors.
For more information, there is a nice article covering about Oracles here. Do check it out
---
Token sale was held through Bonding curve, an you may check out this article for a more detailed explanation.
Here's something that caught my attention:
DIA aims to fully distribute governance to become a full DAO by 2025.
Now, personally, I usually avoid making any long term commitments for that long time period, but here's how I'd like to play it out:
For example, My personal preference would be:
If I invested $100 (just for an example), I'll always take out the principal amount whenever I see some good gains, and then keep holding the remaining coins like forever, so that I have nothing to lose. (Again, I must say that I learnt it the hard way)
Link to the official website: https://diadata.org/
As the bonding curve token sale ended, we have seen a few big events on this already:
Okex listing
Kucoin Listing
BitMax listing
And a whopping 20 million token burn events.
For further reading, you may refer to their official Medium posts, or their twitter handles.
Here is a brief about the Transparent Oracles
and
Here is how the Governance tokens work
---
From the development perspective, they seem to be active on Github, with 733 commits so far, over a period of two years, with the latest activity happeing 4 days ago.
Here's the link to the source code: https://github.com/diadata-org/diadata
Even though I'm not a blockchain dev, I'd love if any blockchain engineer can shed some light on this, in the comments section :)
---
Coming to the Technical charts:
It is currently changing hands at $3.205 on Poloniex, up by around 15% since the last 24 hours, and on seeing the 1 hour chart, it seems like it has found support around the $2.3 zone.
Chart: DIA/USDT, 1h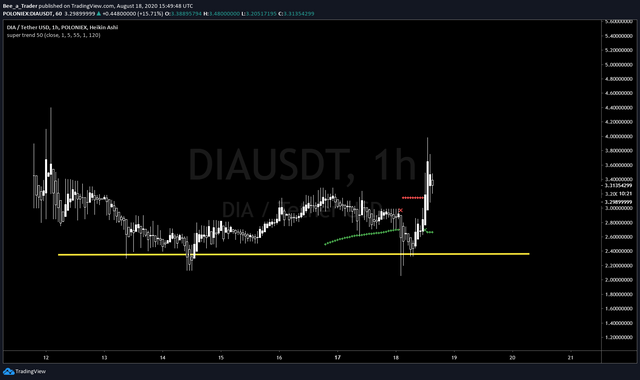 link: https://www.tradingview.com/x/ReJWzxKd/
Points:
It is a new coin, currently in full price discovery mode, so probably, not worth analysing at this point imo.
If you ask for recommendation, I'd say, get in with an amount you are absolutely okay to lose, and wait it out! But again, DYOR!:)
This may not be an exhaustive article on Dia data, and my main intention was to find gems and share them here. If you want to know more about them, consider checking their medium posts:
https://medium.com/dia-insights
---
If you wish to buy Dia tokens, you may follow the link to Kucoin and get some.
P.S. Using this link will give you discount on fees, and will also get me a small commission, and it's completely up to you if you want to use it
---

---
If you liked the article, please this with your friends and circles, and also spare an upvote for me, so that I get motivated to keep sharing market insights and analysis:)
---
Did you know that you will get some rewards for curating this content?

Posted Using LeoFinance