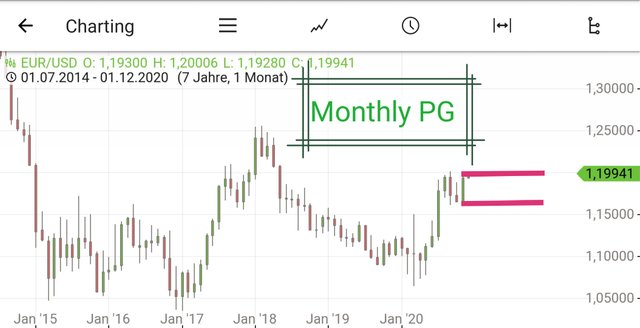 EUR/USD has formed a PG on the monthly weekly chart
There appears to be a major movement in the EUR/USD currency pair.
I have already mentioned the crossing of the long-term trend line. Now, two PGs have been formed in addition and make this currency pair very interesting.
All signs point to a breakout on the upper side, but confirmation of a breakout is also advisable.
On the monthly chart the PG has now been completed and offers enormous potential for movement.
A smaller PG has also formed on the weekly chart and could serve as a kick starter.
Targets on the top side are of course the old highs on the chart. I have marked these once and maybe we will see them sooner than I thought.
Of course there is always the possibility of a very weak Euro but that's not what it looks like at the moment. Goals on the bottom would be first of all parity and then we'll see. So there could be volatile times ahead and these will always reflect on the other currency pairs, so the Forex market should become more interesting again.
| PG | Trigger point top side | Trigger point bottom side |
| --- | --- | --- |
| month | 1.20$ | 1.16$ |
| Woche | 1.196$ | 1.179$ |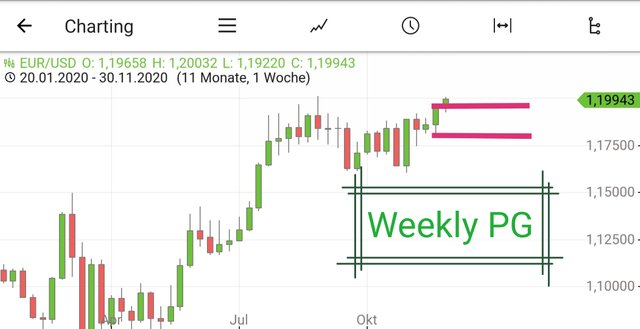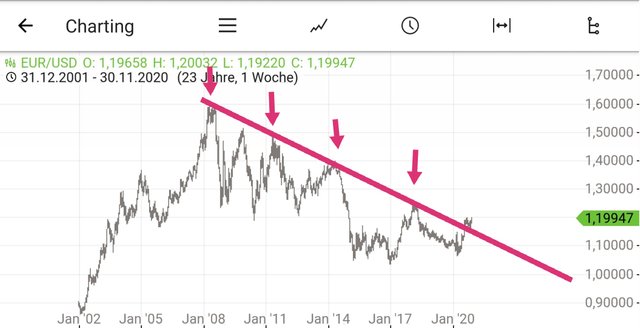 EUR/USD hat eine PG auf dem Monats-Wochenchart gebildet
Es scheint sich eine größere Bewegung in dem EUR/USD Währungspaar anzukündigen.
Die Überschreitung der langfristigen Trendlinie habe ich ja schon mal erwähnt. Jetzt wurden zusätzlich noch zwei PGs gebildet und machen dieses Währungspaar sehr interessant.
Alle Zeichen sprechen für einen Ausbruch auf der Oberseite aber eine Bestätigung für einen Ausbruch ist auch hier ratsam.
Auf dem Monatschart ist die PG jetzt fertig geworden und bietet ein enormes Potential für Bewegung.
Ein kleinere PG hat sich zusätzlich auf dem Wochenchart gebildet und könnte als Kickstarter dienen.
Ziele auf der Oberseite sind natürlich die alten Hochs im Chartbild. Ich habe diese mal markiert und vielleicht sehen wir diese ja schneller als gedacht.
Es gibt natürlich auch immer die Möglichkeit für einen sehr schwachen Euro aber danach sieht es momentan nicht aus. Ziele auf der Unterseite wäre zunächst mal die Parität und dann mal sehen. Es könnten also Volatile Zeiten auf uns zu kommen und diese strahlt auch immer auf die anderen Währungspaare ab, sodass der Forexmarkt wieder interessanter werden dürfte.
| PG | Triggerpunkt Oberseite | Triggerpunkt Unterseite |
| --- | --- | --- |
| Monat | 1.20$ | 1.16$ |
| Woche | 1.196$ | 1.179$ |
Source/Quelle Charts: (Guidants/Godmode Trader) & JFD Broker & Binance
Für mehr Informationen rund ums Trading empfehle ich meinen
Discord Channel: https://discord.gg/j5A3CUq
Twitter: https://mobile.twitter.com/TraderOut
Gehandelt werden meist KO-Scheine, Futures und Aktien, günstige Broker habe ich hier mal verlinkt.
Werbung wegen Markennennung.
Deutscher Broker für Aktien und Derivate.
Trade Republic: https://ref.trade.re/vwxxl228
Marktplatz für Kryptowährungen mit Spot, Future und Optionsmarkt.
Binance: https://www.binance.cc/en/register?ref=QB18DEMH
Risikohinweis:
Dieser Post stellt keine Anlageberatung oder sonstige Empfehlung dar.
Die dargestellten Analysen, Techniken und Methoden dienen ausschließlich Informationszwecken
und stellen weder eine individuelle Anlageempfehlung noch ein Angebot zum Kauf oder Verkauf
von Finanzinstrumenten dar, sondern spiegeln lediglich die Meinung des Referenten wider.
Eine Haftung ist ausgeschlossen.
Legal Disclaimer:
I am not a financial advisor
nor is any content in this article presented
as financial advice. Never invest more
than what you can afford to lose.
This post is my personal opinion,
do your own research before making any investment decisions.
If you make any trades after reading this post,
it is completely in your responsibility.
I am not responsible for any of your losses.
By reading this post you acknowledge and accept that.
Posted Using LeoFinance Beta