This morning I got up, prepared breakfast, turned on my computer and entered the Leofinance page, for what is my surprise my post had generated 60.26 Leo, hug my daughter with emotion, grateful to my brother who invited me to this platform, double happiness because today is your birthday. We were happy in my house, because the first time that a post generated so much money, apart from feeling very welcome for the comments they left:
@taskmaster4450le, @hitmeasap, @rollandthomas, @ecency, @chekohler, @lebah, @sgt-dan.
You made me feel like the Leofinance.io family, for your advice and suggestions, thank you guys for your words. Continued after I responded to the comments, I dedicated myself to making this post that has only been 16 hours my first post in Leofinance is generating almost two years of salary in my country Venezuela, equivalent to almost $ 20 and its value continues to rise.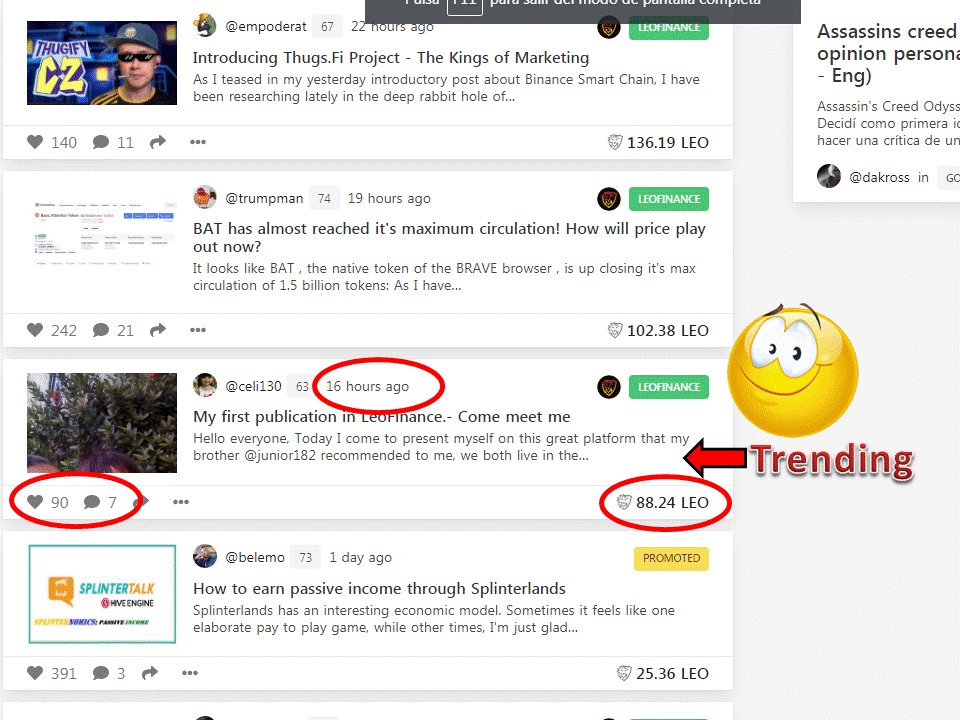 Leofinance.io platform screenshot image (Modified in Power Point)
Although it is 20 months of salary, it does not mean that I have 20 months of food security with a single post, the value of food here in Venezuela is equivalent to more than $ 2.
$ 20 Earnings
2 $ Each product Food
10 Product approximately that could buy.
This is a blessing for my daughter and for me, that with a single post I generate that amount. Grateful to the Leo family, for receiving me with open hugs and supporting me. Which are fundamental things for users to move forward. Have a person guide you what you did wrong in a post, or what you can do. People when they come to make a post are not only discouraged by not having good scores. If not, they do not know what they did wrong for it, or that many whales are bouncing among themselves, which are just little fish, only observe the Tranding of other people wishing to be in those places too.
Talking about being in the first places that other good news that I saw today in the morning my post is in the first places of Trending, this is double happiness for me, I never believed that some of my post was in the first places on this platform as I said it in my previous investment, I have no experience, but the desire to learn, support, comment and vote.
Finally, yesterday I made an investment with @ leo.voter's curandería project. 100 HP, which little by little I will increase when my power increases., I made this investment after reading a post from
@coyotelation
, where it mentions about these stakes. It is the first commitment that I am making with the platform.
My purpose of the Post
Show other people that if you can, that Leofinance has the door open for new users who wish to participate that do not have investment knowledge, you can learn every day here. That we have to leave our comfort zone to obtain new and better results, until we obtain Success and a better future.
I am proof of this, I quit my job because I found doing post I was earning more, now here in Leofinance is where my future is, so I invite you to make your first post on this Leofinance.io platform, where you will find a great family that what they most want is to help you and to stay on this platform and not decay.
Come to Leofinance is the best platform ...
Posted Using LeoFinance Beta