Dear Hivers,
Today I'd like to share with you a quick look at one of the older coins Lisk (LSK).
Even though LSK is looking fairly good on the long term, I noticed that its chart has a very nice looking pattern which might result in a fairly quick short term 100% gain.
While all of my recent posts on Viacoin (VIA), NANO, BAT, ZIL were all on based on the long term this trade is for the short term time frame.
Let's look at Daily candles in order to see which pattern I'm noticing there: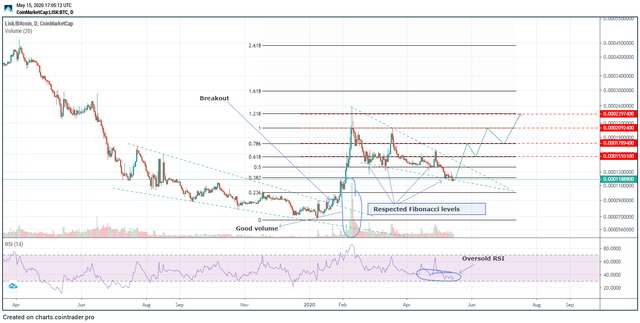 https://charts.cointrader.pro/snapshot/Lpis8
Lisk just recently broke through a big falling wedge and made a very strong and convincing buying volume which is marked on the chart.
Zooming out, you could notice how this volume on LSK is the highest volume this coin has had ever since February of 2018 when the price was almost 20x higher and it was 0.003350 BTC. Right now, with the price sitting on 0.000115 BTC, we can notice how this old phenomenal coin still has a lot of demand on it.
Looking at the Fibonacci levels, we can see how LSK is respecting every Fib. level and because of oversold RSI, high volume and recent price surge which moved LSK out of falling wedge and created a bullish flag, I suspect another run is more than likely to happen.
Anyways, short term targets are marked on the chart and are:
Target 1: 0.000155 BTC
Target 2: 0.000178 BTC
Target 3: 0.000209 BTC
Target 4: 0.000239 BTC
That's it for me today. Make sure to comment and share your thoughts if you agree or disagree with this idea.
Talk to you soon.
Kind regards,
~ crixus