Hello, dear members of LeoFinance!
Today I will comment make another exception and will comment not on cryptocurrency, but on the price chart of EUR/USD. Actually, it will be a slight updated on my previous EUR/USD analysis that I published on October 16th.
So, in the monthly time frame (MN), EUR/USD is at the trend line (Downtrend line):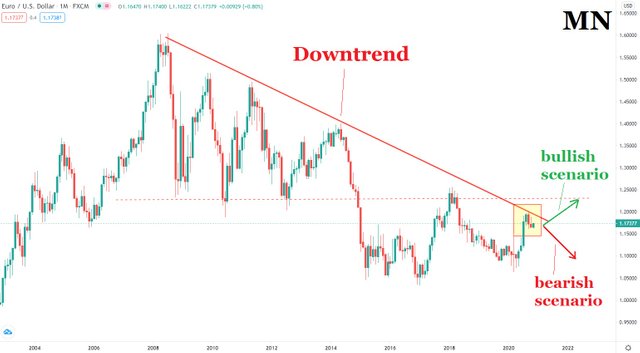 I am really very curious what the impact of the presidential elections in the U.S. on this FX pair will be.
In the monthly time frame I view two major scenarios: a bullish one - the price breaks through the trend line and reaches the previous local high at approximately 1.25, and a bearish one - the downtrend resumes and the price sinks to the level of the previous local low at approximately 1.10.
So, fellow LeoFinancier, how do you think the outcome from the presidential elections will impact EUR/USD?
p.s. at the time of writing EUR/USD is at the level of 1.17377, according to TradingView.
---
A few words about me:
Just to let you know: I've been working professionally as a currency analyst for the last 14+ years, and as a cryptocurrency analyst for the last 3+ years.
---
Important!
Keep in mind, that thoughts expressed here are my own, and they should not be regarded as recommendations for any cryptocurrency trades, investments and etc.
---
Learn How To Earn PRE Tokens By Using Presearch Decentralized Search Engine
Join the crypto exchange Binance: https://www.binance.com/en/register?ref=28017531
Join the crypto exchange Bittrex: https://bittrex.com/Account/Register?referralCode=3GB-QAJ-BMW
Posted Using LeoFinance Beta