On Twitter and YouTube, I have been seeing many crypto folks talking about the golden cross forming on BTC daily chart. For the uninitiated, the golden cross is a chart pattern where a short-term moving average crosses above a longer-term moving average. Most TA folks look at the 50 SMA (simple moving average) crossing above the 200 SMA.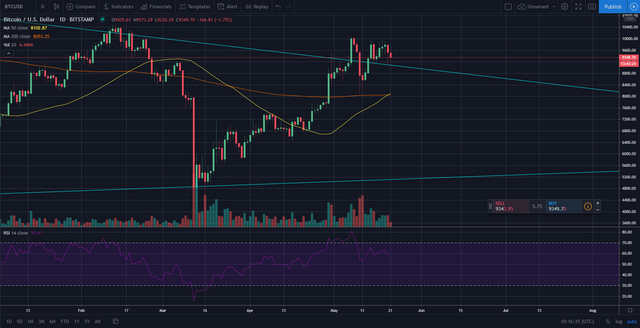 As you can see from the chart above, the 50d SMA is crossing above the 200d SMA on the BTCUSD chart and this is the golden cross which people are talking about. The golden cross, as its name suggests, is typically a bullish signal. However, it does not always lead to bullish outcome. As we can see in the prior golden cross (18 Feb 2020) circled in green, BTC took a major dive soon after.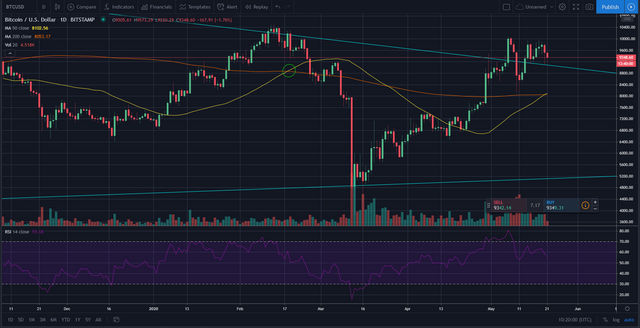 As a result, the sentiments are rather mixed in this golden cross. Perhaps it is due to recency bias, I am actually seeing more bearish sentiment than bullish one on Twitter.
One thing which people often overlook in a golden cross is the trend. For a golden cross to have a higher probability of being a bullish signal, the trend of the longer-term moving average should be upwards. Let's look at a few historical examples on the BTC chart. One interesting thing to note here is that there aren't many golden crosses in the history of BTC. The TradingView chart which I found to have the longest history is the one from BitStamp (if you know of any with longer history do leave a comment and let me know 🙏) and I counted 7 golden crosses.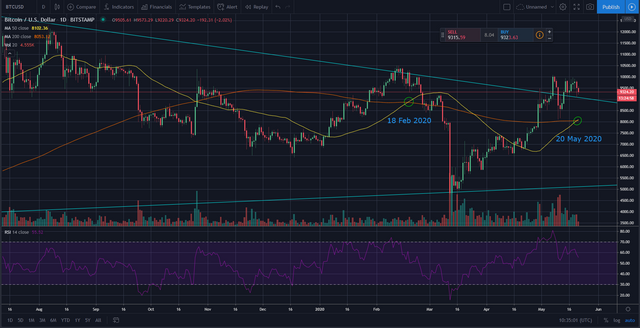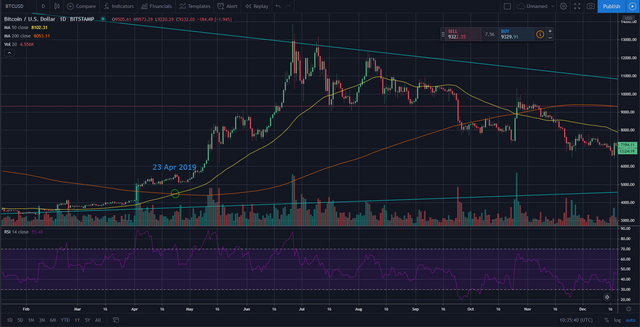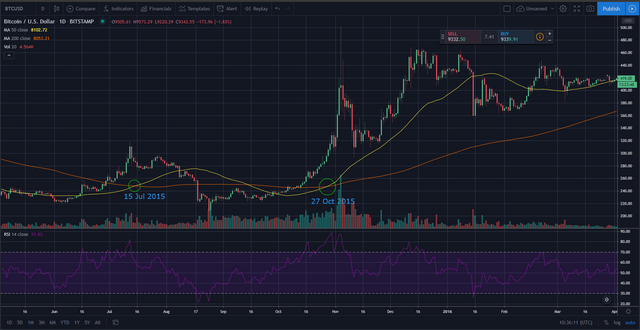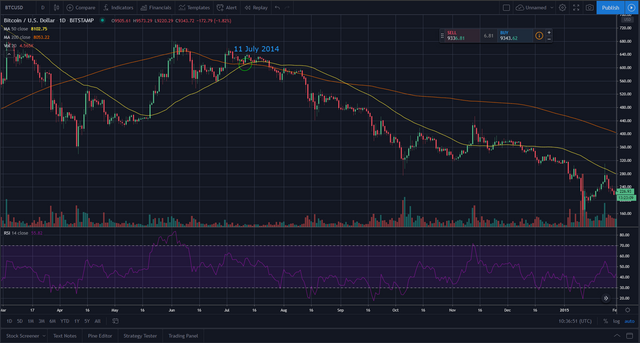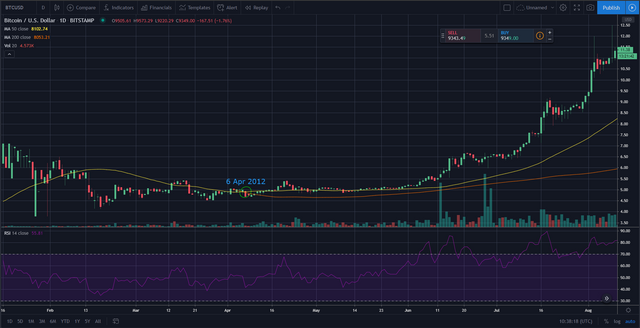 | Golden Cross Date | 200d SMA Trend | Outcome |
| --- | --- | --- |
| 6 Apr 2012 | Unknown | Bullish |
| 11 Jul 2014 | Descending | Bearish |
| 15 Jul 2015 | Descending | Bearish |
| 27 Oct 2015 | Ascending/Flat | Bullish |
| 23 Apr 2019 | Descending | Bullish |
| 18 Feb 2020 | Descending | Bearish |
| 20 May 2020 | Ascending/Flat | ??? |
To summarize, of the 6 prior golden crosses observed, only 3 were bullish (50%). However, of the 4 golden crosses that had a descending 200d SMA, only 1 was bullish (25%). We have only seen one golden cross with an ascending/flat 200d SMA, and that led to bullish outcome. I am not going to call for a 100% here because there is only 1 sample, however, I will like to draw your attention to the uncanny resemblance of the 27 Oct 2015 golden cross to the one we are seeing now.
Prior to the 27 Oct 2015 golden cross, we saw a bearish golden cross about 3 months earlier on 15 July 2015. Similar to 27 Oct 2015, in this current golden cross, we saw a bearish golden cross 3 months back on 18 Feb 2020. We also see that the current 200d SMA is ascending/flat. Given all these similarities, I personally think that this current golden cross is more likely to be bullish than bearish.
Another reason for me to be bullish is that BTC has broken and closed above the long-term downward sloping trendline on the weekly chart (trendline in cyan). This in my opinion is a bullish sign. As long as BTC remains above the trendline, I think it will serve as a support for the next run up.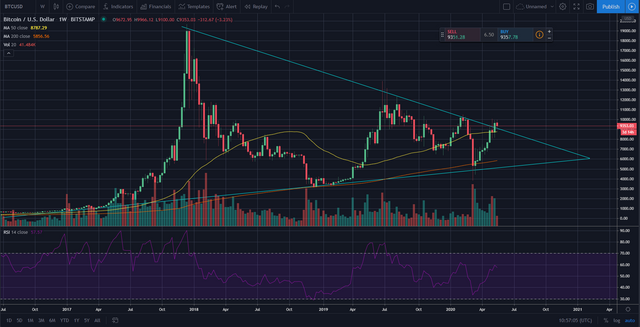 There is also a possibility for a bearish turn of event. As you can see BTC is forming a short-term double top pattern with $10,200 being the resistance. If BTC goes below the cyan trendline and fail to make it a support, then I will turn bearish. At that point, I think the potential downside targets will be $8k, $7.2 then $6k.
For now, I have more reasons to be bullish than bearish. However, nothing is 100% in technical analysis, this is just my thought process and please do not take it as financial advice. Due diligence and research are still required for your own investment. What do you think of this golden cross? Leave a comment and let me know 😁.
---
This article is created on the Hive blockchain, an immutable and censorship-resistant content platform.
20% of post rewards goes to @ph-fund and 5% goes to @leo.voter to support these amazing projects.

Posted Using LeoFinance