It has been a which since I last wrote a post about ETH. In fact the last post I wrote on ETH was 28 days ago. I see from the current ETH chart that it is testing a couple of long-term resistances. If these are broken, I will be very bullish. Hence, I thought it is a good time to write about ETH.
Exactly 2 months back, on 3rd April 2020, I wrote this click-baity post called "The last time this happened, ETH rallied over 110%". In the post, I shared how ETH is forming a similar pattern from its last rally which we saw a 110% gain over 40 days. Since that post, ETH has gained 66% over 2 months, from $144 to $239. Not too shabby but still far from the gains I expected 😅. In any case, let's look at the charts...
As you can see, ETH is now testing the long-term downward sloping line which I drew in cyan. The line stretches all the way to July 2018, almost 2 years ago. This resistance line was last tested in Feb 2020 but it turned out to be a fake out and the huge crypto dump came.
4 months later, ETH is testing that level again. What really separate this test with the last one is the weekly RSI level. In the last test, the RSI was over 70, which is a little overbought. However, this time we are well below that level. Similarly on the money flow index (chart below) we can see that it was way overbought back then but now we are well below.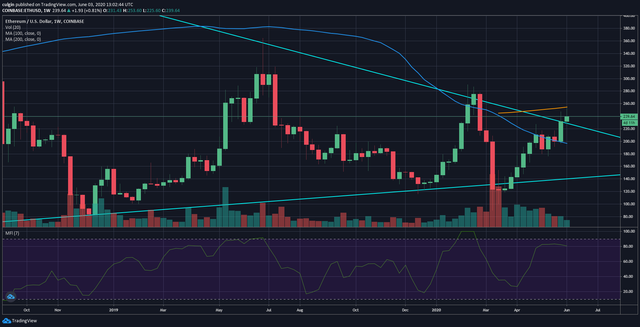 This indicates to me that there is still some strength in this rally before it corrects itself.
You might have also noticed the orange line which looks like a trend line. It is not. It is actually the 200w SMA. Yes, ETH is finally traded long enough to see a 200w SMA and it is about to test that level. The 200w SMA is an interesting level as it has served as a strong support for the BTC chart in the past 1-2 years.
Notice how the 200w SMA nicely served as support for BTC during the Nov/Dec 2018 dump and the recent Feb/Mar 2020 dump. Now with the 200w SMA available on ETH chart, perhaps we can see it being used as a support as well for ETH? If that is the case, then ETH price crossing the 200w SMA will be a bullish sign.
With all the bullish talks, now lets consider the bearish scenario. The next couple of weeks will be quite critical for ETH in my opinion. Notice how in Feb 2020 we had a fake out when ETH tested the long term trendline? We are now seeing that same pattern. If ETH fails to convincingly close above that trendline, then we might see a dump to the long-term support line in cyan instead. Thereby erasing most of the recent gains 😭.
---
Conclusion
I think ETH is now at a cross-road. If ETH convincingly crosses the 2 resistances (long-term downward trendline + 200w SMA), I think it will be a bullish sign and represent a sustainable rally moving forward. By convincingly, I will want to see at least 2-3 weekly candles closing above those levels. On the other hand, if it does not happen, then the bearish scenario will be increasingly likely.
Though I think the chances of the bullish scenario is higher than the bearish one, at this point, I will sit on the sideline and not add on to my positions for the time being. I think it will be more prudent to wait for those resistances to be broken before I add more.

Source
Oh, I just want to also point out that the other factor which led me to be more bullish than bearish is again the premium which was priced into the Grayscale Ethereum Trust. As you can see from the screenshot above, there is a whopping 677% premium being priced in. In other words, in the eyes of those who invested in the Grayscale trust, ETH is worth over $1,800. Eventually this divergence will be closed. Will we see the trust crashing down or ETH shooting further up? Or perhaps we can hit a middle ground. Let's see how it goes...
Again, I am just sharing my thought process and please do not take it as financial advice. Due diligence and research are still required for your own investments.
---
This article is created on the Hive blockchain, an immutable and censorship-resistant content platform.
5% of post rewards goes to @leo.voter to support this amazing project.

Posted Using LeoFinance