It has been a while since my last TA on BTC. In my last post on BTC, I gave my long-term price analysis on Bitcoin. One of the comments I made was,
Following each halving, the 21 weekly SMA of Bitcoin served as a support until it peaks in that halving cycle. After the peak of each Era, the 200 weekly SMA became the support.
Now let's look at the BTC chart.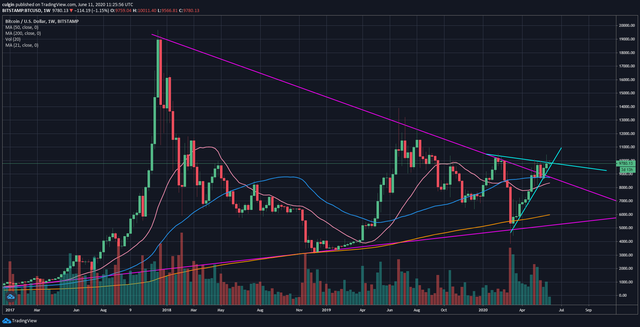 On the bigger time frame, BTC has broken the bigger triangle pattern in magenta. This means that BTC has likely broken out from the longer term down trend since its last all-time high. It is a good sign and it means BTC is likely on a move to set a new all-time high moving forward.
However, BTC is now also approaching the end of the cyan triangle pattern on the smaller time horizon. If BTC fails to break above the cyan resistance line, I will consider it as short-term bearish. If that happens, I think there is a strong possibility of BTC heading towards the downward sloping magenta line and turn it into support. Coincidentally, that is also the 50w SMA level which is around $8750. If that level fails to hold, I think we should be able to find support at the $8330 level which is the 21w SMA. I will take those 2 levels as opportunities to accumulate some more if they ever come 😅.
Switching over to the daily chart, I do not see any clear indication of reversal from the RSI and money flow. However, we know that the stock market is starting to look a little wobbly now. S&P 500 futures market is down more than 2% as this post is written. Hence, there is a fair chance that we might be seeing some downward action in the crypto market as well.
The failure to break resistance in addition to the potential correction in the equities market may result in a short-term BTC dump. If that happens, the 2 levels of support ($8750 and $8330) will be key. As always, this is just my thought process and please do not take it as financial advice. Due diligence and research are still required for your own investment. Let me know what you think could happen to the stocks or crypto market in the comments section.
---
This article is created on the Hive blockchain, an immutable and censorship-resistant content platform.
5% of post rewards goes to @leo.voter to support this amazing project.

Posted Using LeoFinance