As someone who plans to completely migrate over to Hive, one of my big questions is, when do I sell my STEEM 🤔? After I sell my STEEM, I want to convert a portion of it into HIVE. Hence, the ideal situation for me is to see STEEM temporarily outperform HIVE in terms of price so that I can accumulate more HIVE with the same amount of STEEM.
From the daily chart, I see that STEEM had bounced from the green trend line which acted as a support on multiple occasions. Notice that during the last pump, STEEM price bounced from the supporting trend line and then broke the triangle pattern. After which, the strong pump followed. We are now seeing a similar pattern.
In addition, I am also seeing a slight bullish divergence in the money flow index. This might signal a reversal in price which was also seen prior to the last pump.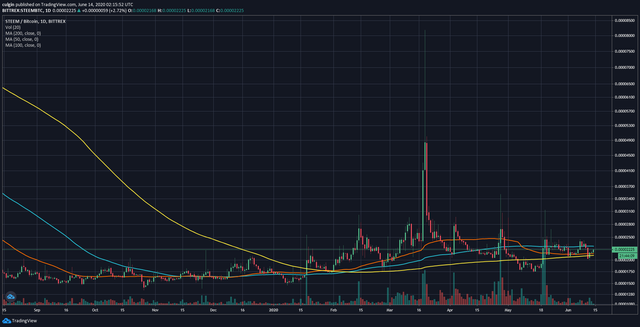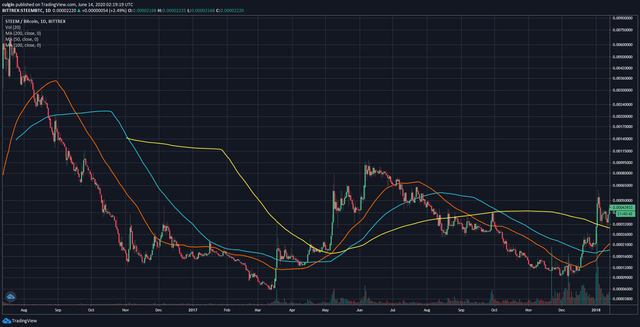 Looking at the moving averages, we can see a convergence of the 50d, 100d and 200d simple moving averages with the 200d SMA turning positive. The last time this happened was in May 2017. Following that, there was a strong up move for a period of time. On this, one might argue that we have already seen that strong move in April and I agree. However, I see that the current STEEM price held on to the 200d SMA as support pretty well, which is rather bullish in my opinion. Hence, I think there could be another wave of upward movement.
---
Steem Hardfork 23
The recent Steem HF 23 reduced powering down period from 13 weeks to 4 weeks. While that is music to my ears (since I want to sell), it is certainly not a good thing for STEEM price in the short term. The reason is simple, there are many Hivers who will be powering down their STEEM Power and making market orders to sell.
The selling pressure is evident if you look at the 4H chart as it has been making lower lows from the 27 May onwards (27th May would be the first batch of liquid STEEM from SP if someone powered down on 20 May, the day of HF23).
My point is that this selling pressure will dissipate as Hivers who are doing market sell finish selling after about 4-5 weeks post-HF23. Hence, I think STEEM price might have already reached a local bottom, if not, the next lower low would be the near-term bottom.
---
Quick TA on HIVEBTC
HIVE chart is also looking good. Again, it is difficult to do a good TA on a chart with such a short history. But if I look at the bollinger band, I see that it is narrowing and moving sideway. This indicates some kind of accumulation with a potential for a big move quite soon. When coupled with it holding on to a support level (e.g. the yellow trend line) it is overall a bullish sign in my opinion.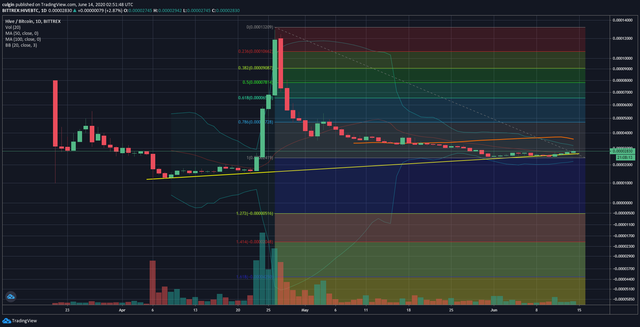 ---
Conclusion
I think there is a strong possibility for STEEM to move upwards in the coming weeks. However, I am not sure if it will outperform HIVE in the short-term. For now, I think my best strategy is to still wait for STEEM to move up while I wait for all my Steem Power to be powered down.
Again this is just my thought process and please do not take it as financial advice. Due diligence and research are still required for your own investment. Have you sold all your STEEM or are you also waiting for a better price? Let me know in the comments section.
---
This article is created on the Hive blockchain, an immutable and censorship-resistant content platform.
5% of post rewards goes to @leo.voter to support this amazing project.

Posted Using LeoFinance