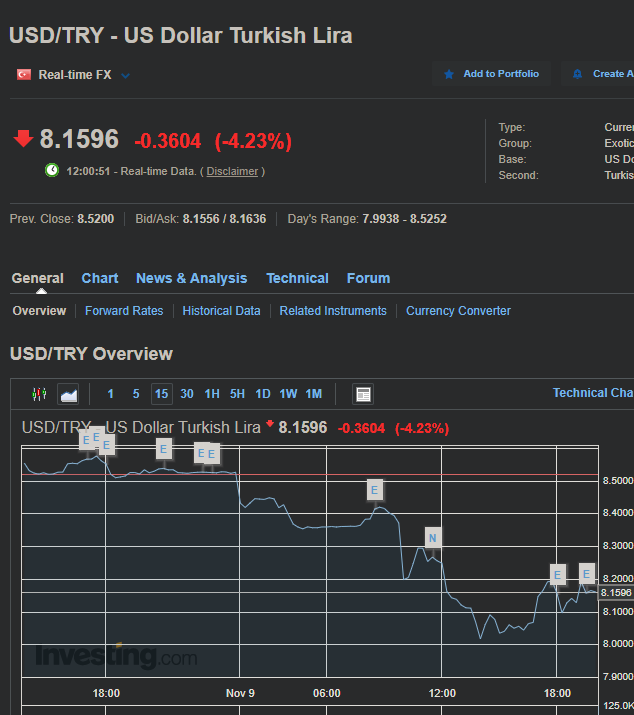 ---
EN: I want to write a short summary in English as well, today (well yesterday evening, Sunday, 7pm in Turkey) the Minister of Economy, Berat Albayrak (who is also the son-in-law of President Recep Tayyip Erdogan) has resigned from his position. As soon as the markets opened a couple of hours after, USD/TRY dropped a massive 5%.
Beklenen eylemlerden bir tanesi geldi, sonuc olarakta dolarda dev bir dusus gorduk. Demek ki insanlarin TL'ye olan inanci aslinda tam da kaybolmamis, tabii yapay bir yatirim gostergesi de olabilir, balinanin birisi bilerek TL'ye yatirim yapip, dusurup daha da alip, satabilir. Bilemiyorum. Fakat sunu goruyorum ki, istifa haberi geldikten saatler sonrasinda hemen dolarin ciddi bir dususe gecmesi, 5% civarinda dusmesi (ki bu 40-50 krs'a denk geliyor) ciddi bir gosterge.
Tabi bu akillara herkesin sormak istedigi ama soramadigi soruyu (Silivri F Tipi Cezaevi) getiriyor. Eger Erdogan bugun istifa etse, nasil bir tablo ile karsi karsiya gelirdik?
Anlasilan o ki, ekonomimiz, basinda bir bakan olmadan daha iyi calisiyor. Turkiye ekonomisi bu saatten sonra otopilotta olsun. :)
Posted Using LeoFinance Beta