In our past updates we have shown how the DEC mechanism works and explained that it is now a very low price. But since our last update, we have come across some information that we believe it is important to share, and essential to share in a responsible manner.
As Lebowski said, 'New shit has come to light.'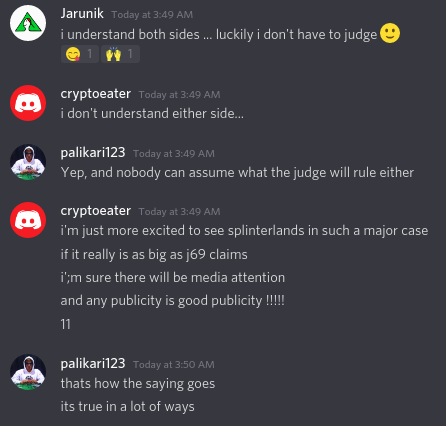 With a trigger warning, we will let you in on a discord server called Splintered Lands where, over the last 2 weeks j6969 has laid out his personal case against Splinterlands, and has begun to sell off his card collection.
The first thing to note are the market mechanisms at force. Because a major collector is liquidating, and now the only currency being used is DEC, the DEC price is being forced down, and will require even more DEC to purchase cards off the market. This 'sticky pricing' will force the sellers to continually list prices lower on the market to make up for the fact that their DEC dumping is making their own cards expensive.

Not all of the greivances that caused this sell off are the same. It appears that some, especially Jarunik, are disgusted with the way the HIVE transistion was handled, without warning, without permission.
Users in this discord claim that since their assets have been moved from their steem wallets to their hive wallets without permission (one user even claims he changed the HIVE keys, sold the wallet, then Splinterlands gave his cards to that wallet, now in the hands of another user without his permission, though he fails to provide proof, so they may just have identified this as a possible problem, whether or not it actually happened to them) then this is demonstrable proof that the game is neither decentralized nor cryptographicly secure.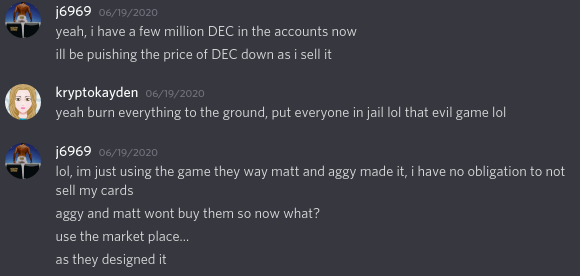 The main actor J6969 is dumping hundreds of thousands of cards, the entire collection. This once ran a bot network. This user bought into splinterlands with a special deal. They now claim that in that special deal, @aggroed and @yabbapmatt mislead him, that they claimed he was buying 'decentralized NFTs'.
After dumping, he claims to be sueing the Splinterlands company for fraud. He was sold 'decentralized assets', and instead got something else.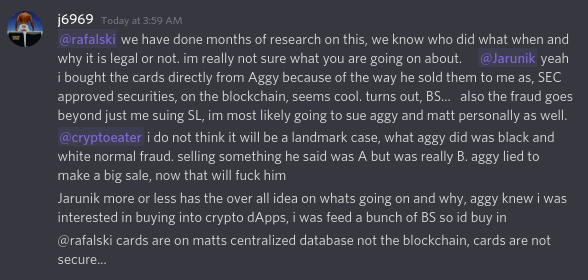 Now, the outcome of this is quite uncertain, and not all of it is necessarily true. But certainly it might be important for people to know what is happening in the markets. There is some speculation that this may even be a boon to the crypto space, as having some actual court case would make everyone working in the space feel better.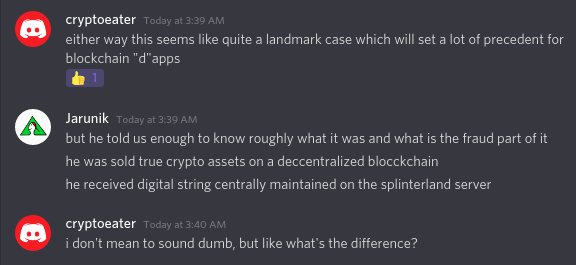 What is the difference indeed? And will it matter? These appear to be questions for some courts in the U.S. What the overall effect of this lawsuit will be on Splinterlands, we cannot know. But the major asset selling that has led us here is quantifiable, through the specific accounts that are selling. Whether the 'marketing effect' of going to court is bullish or bearish, time will tell!
One humorous piece of note, the law as J6969 understands it, appears to have a loophole which we noticed: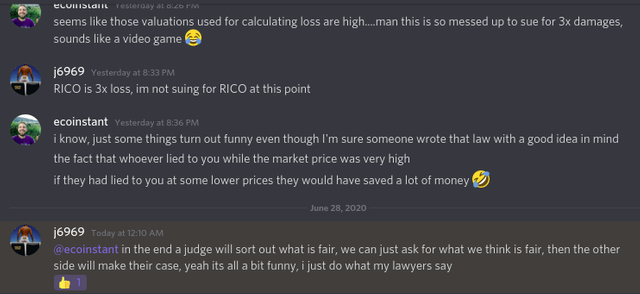 We are not lawyers or experts in legal matters. And none of this post is advice. It is just History, and Due Diligence is expected of all readers and buyers in today's world.
Posted Using LeoFinance